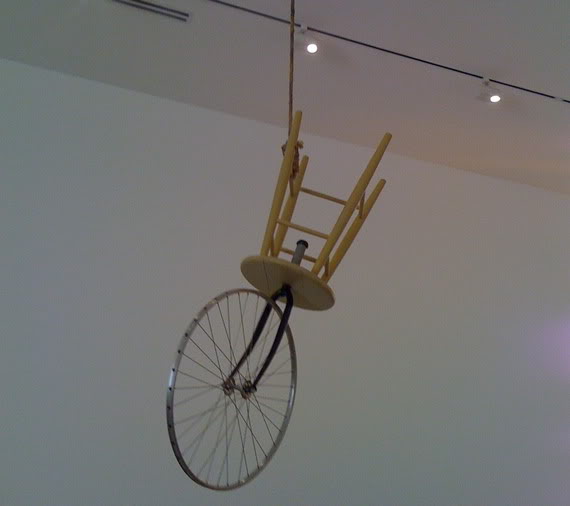 Richard Pettibone. Photo courtesy of
fishercott
.
[

Part 1 of our ongoing
feature on contemporary art in Mexico City
]
I had never witnessed a piece of art being put to death before.
Walking into
An Unruly History of the Readymade
at the Jumex Collection, though, it's the first thing one sees. Marcel Duchamp's notorious
Bicycle Wheel
(1913) has been slid through a noose and hung from the ceiling of cavernous warehouse. Consulting my guide, I learned that it was actually a sculpture by serial reproducer Richard Pettibone.
Laid out on the floor as a gigantic chessboard that spirals chronologically toward the center of the room, the show (organized by Tate Modern curator Jessica Morgan) comprises about 100 works culled from the collection of juice scion Eugenio Lopez, presenting interpretations of Duchamp's act of selection that range from the ludic to the staid, the hilarious to the banal.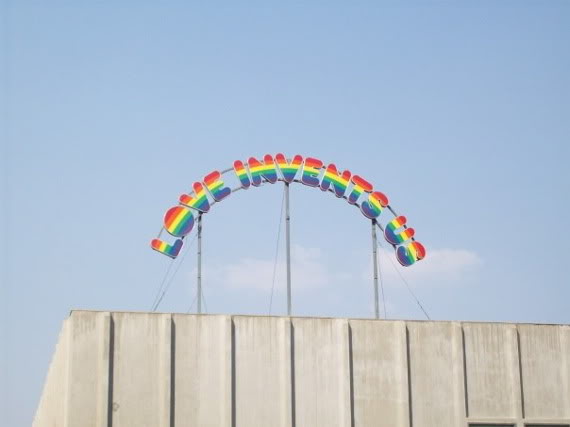 Ugo Rondione,
Love Invents Us
, 1999.
Given the sheer abundance of ideas that have been attributed to his work, it's no surprise that the breadth of artists included in the rambling survey is enormous. A Warhol
Jackie
(Pettibone's miniature copy is in a vitrine a few feet away) is hung a few spaces from On Kawara date paintings (with Mexico City newspapers included, of course). Elsewhere, artists like Johns, Jonathan Horowitz, Kippenberger, Kelley Walker, Elmgreen & Dragset, and Jim Hodges are present. Damian Ortega, Abraham Cruzvillegas, Sofía Táboas, and Gabriel Kuri form a portion of the Mexican contingent. (Interestingly, they're all represented by Kurimanzutto, for which Mr. Lopez seems to have a particular obsession.)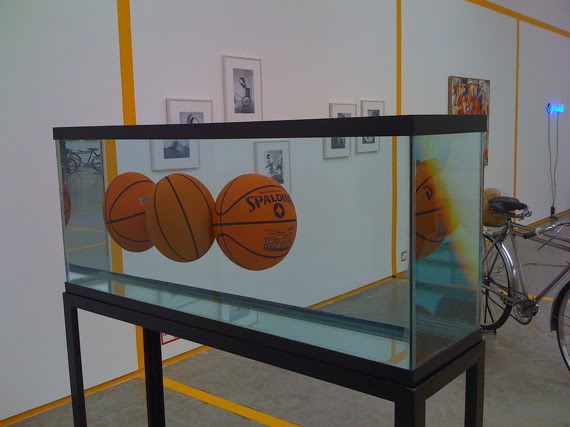 Jeff Koons,
Three Ball Total Equilibrium Tank
, 1985. Photo courtesy of
fishercott
.
Sturtevant's meticulously replicated Johns painting represents the appropriation wing of the party, suggesting the choice of object could actually be another work of art. Warhol's inclusion foregrounds the readymade as commercial image, Jackie Kennedy's face plucked from a page in a newspaper. Rirkrit Tiravanija's polished cooking equipment and its carrying case (shades of Boîte-en-valise) pursues the readymade into every day life, selecting a relational moment instead of a hat rack as the art. Cataloguing the complete set of readymade possibilities would yield scores of factions.
Maurizio Cattelan's piece
Dynamo Secession
(1997) is where I paused for the first time, suddenly shaken out of my art history reverie. Twin bikes that can be pedaled to power a light bulb, he reanimates the bicycle wheel, as Duchamp did originally ("In 1913 I had the happy idea to fasten a bicycle wheel to a kitchen stool and watch it turn," "Apropos of Readymades," 1951.) It's cute but also sinister. Simply lighting a bulb in a gallery already flooded with light, it uncomfortably highlights the self-referential (self-reverential) discourse at play. For a lot of people outside the hermetic seal of contemporary art, the readymade represents the moment that modern art became incomprehensible.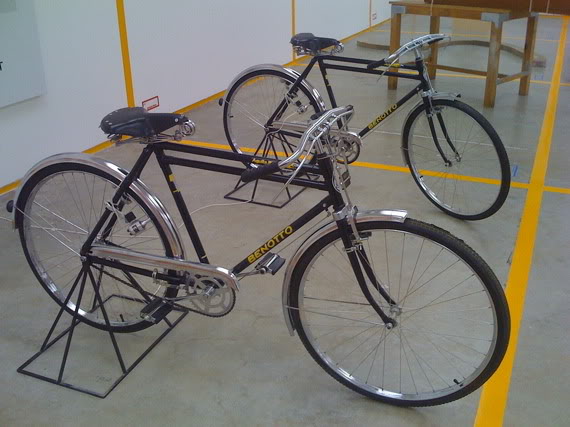 Maurizio Cattelan,
Dynamo Secession
, 1997. Photo courtesy of
fishercott
.
At the very center of the space, the final work is a banana skin tossed on the ground. Authored by Adriana Lara, the peel is replaced every day after someone from the museum consumes a banana. We can spot the references (to Warhol's
Velvet Underground & Nico
cover and the food happenings of relational aesthetics) and get the joke. It may be too easy. The obsessive repetition of its production mirrors Cattelan's piece. Put another way, we're just spinning our wheels. There's a tremendous amount of great, sublime, perplexing work here, and the show is generally crisply edited. There's also a real danger of falling into a theoretical
mise en abyme
.
Overhead is a sculpture by Cerith Wyn Evans, a neon text (
In Girum Imus Nocte et Consumimur Igni
, "We enter the circle at night and are consumed by fire") spun into a halo. It's an ancient Latin palindrome, used by Guy Debord for the title of his final film. One thinks of one of the final lines from that film of 1978: "This civilization is on fire; the whole thing is capsizing and sinking." It will take more than banana peels to confront that.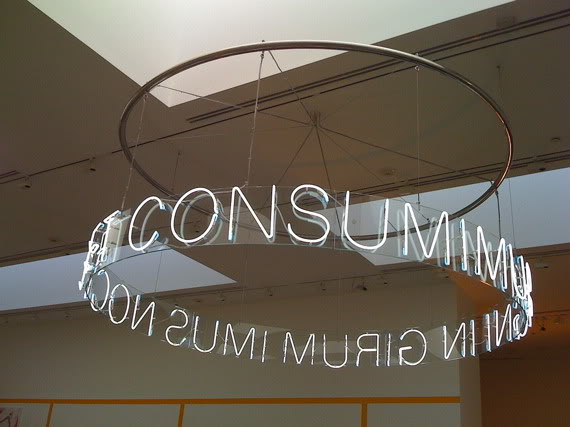 Cerith Wyn Evans,
In Girum Imus Nocte et Consumimur Igni
, 2006. Photo courtesy of
fishercott
.
An Unruly History of the Readymade
Via Morelos 272, Col. Sta. Maria Tulpetlac, Ecatepec
Through February 2009