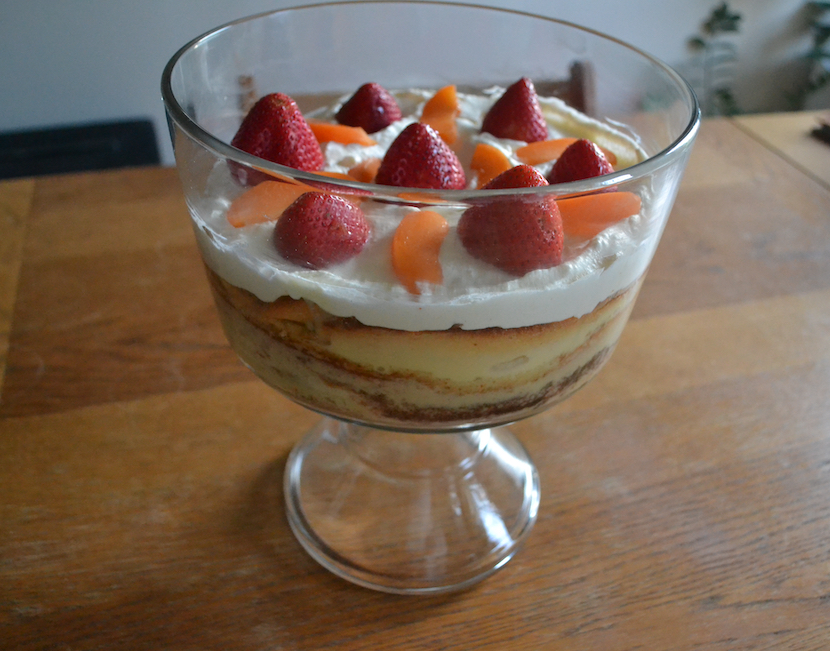 The zuppa inglese. (Food photography: an art I have not yet mastered.)
There are many reasons to love
Dorothy Iannone
. Now 87, she has spent a lifetime making wildly colorful, utterly captivating artworks that are about pleasure—and that impart pleasure. Everyone is naked in
her paintings
, and everyone is having a great time, especially the women, who are typically in charge of the scene, reigning as benevolent deities.
Iannone has also been an unwavering crusader against censorship, famously
filing the suit
in 1961 that led to the overturning of the ban on
Henry Miller
's work in the United States.
And there is still more: she is, in addition, a tremendous chef and baker, as evidenced by a
hand-drawn cookbook
she began assembling in 1968, which was published by JRP Ringier last year. She started on the project,
she's written
, because she wanted "to have my favorite recipes always with me when I cooked for my peripatetic beloved who, although he loved the experience of arriving somewhere, loved even more the going away." (That beloved was artist
Dieter Roth
.)
During the global lockdown, Iannone's French gallery
Air de Paris
, has been blogging up a storm on a page called
Open Air
, and a few days ago it posted her recipe for the Italian delicacy known as
zuppa inglese
, a layering of custard and sponge cake. (The
Oxford Companion to Sugar and Sweets
—which I am thrilled to learn exists—has a
great entry
on its possible origins. Don't call it a trifle!)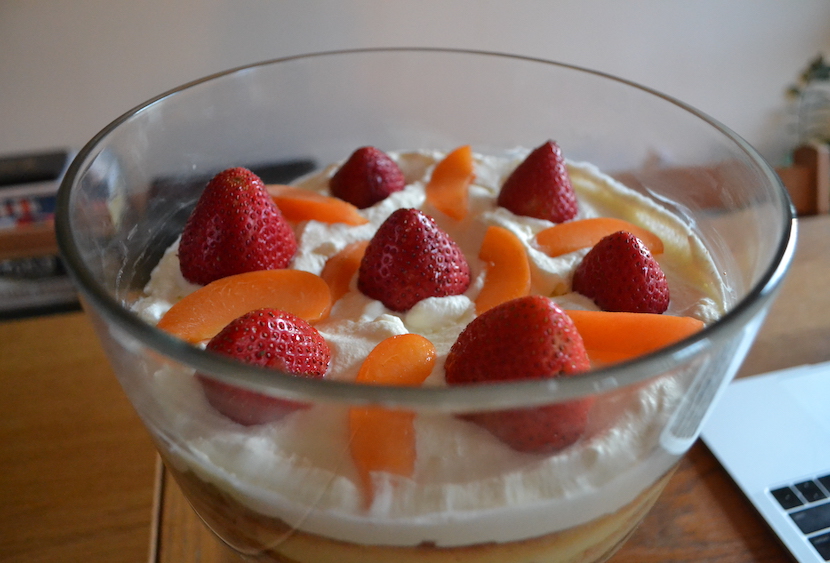 A close-up, with apricots substituted for peaches.
I attempted to assemble the dessert this week, and while I could not get my cakes to rise quite as much as I would have liked, the result was still satisfying. Give it a try. It takes a bit of time, but requires only a few ingredients, making it ideal for right now.
Iannone's recipe calls for four layers of cake, each doused with white rum and sandwiched around three layers of custard, flavored respectively with vanilla, more rum, and crème de cacao. The whole pile is then bedecked with a bounty of whipped cream, strawberries, and peaches. (Unable to locate the latter, I opted for apricots.)
At first glance, this is a decadent beast of a dessert, but the sponge and the whipped cream lend the whole affair an airy buoyancy. Not unlike Iannone's art, it is a sweet committed to gratification that is joyous and light and never weighed down by any notion of guilt. It is also very, very boozy, exuding some of the heady energy of her erotic paintings. Perhaps best of all (and this is very fitting), as the
zuppa
sits in the fridge longer and longer, it just keeps getting richer and richer, more filled with intricate flavors, more intoxicating.
–
Previously: a butterscotch pudding celebrated by the great Lutz Bacher, who died exactly one year ago.