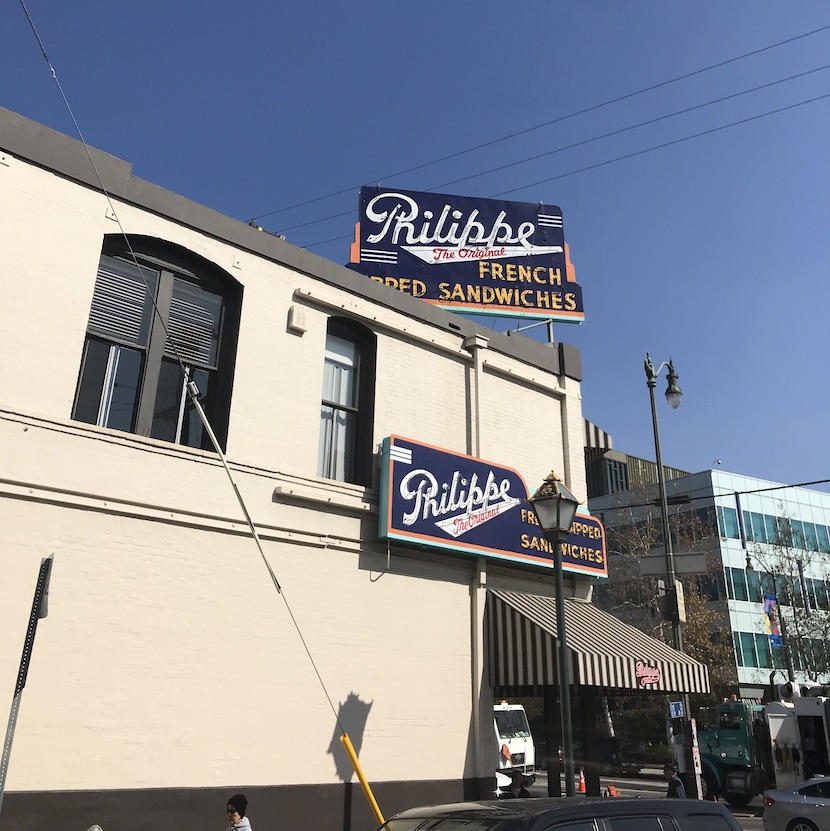 Philippe, the home of epic French-dipped sandwiches, on February 14, 2020.
Screenings of the only two films that
Ed Ruscha
ever made are fairly rare. It's been about a decade since I was introduced to the pleasures of his two bizarre shorts—
Premium
(1971) and
Miracle
(1975)—at Film Forum in New York, and I've been hoping to do a repeat viewing ever since. While awaiting that moment, I was recently gobsmacked to learn that Ruscha actually made a new film last year, apparently after a 44-year break. It is titled
L.A. Restaurants
, it was shot in HD video, and it is streaming through Monday, June 29,
on Gagosian's website
. You should watch it.
In classic Ruscha fashion, the work's title handily describes the proceedings: over the course of about 20 minutes, we're treated to drive-by views of more than three dozen restos around Los Angeles, like the French-dip haven
Philippe
(which I just went to for the first time back in February) and the palatial sushi purveyor
Yamashiro
. These are classic venues—tried and true, charmingly stuck in time, and a joy to visit and revisit with friends. They are exactly what they want to be.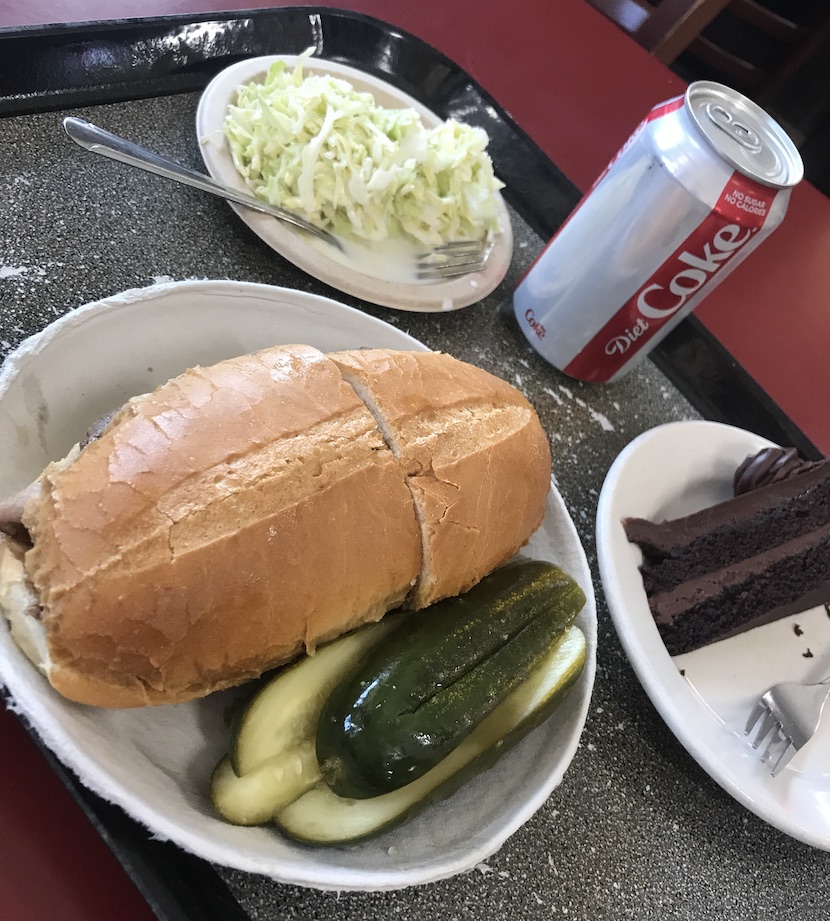 A beautiful Philippe sandwich with coleslaw, pickles, chocolate cake, and a Diet Coke.
Ruscha's camera, handled by
Gregg Heine
in a car driven by
Gary Regester
, glides past these places, often in the middle of the day. People are typically coming and going, but in some shots the boîtes appear to be closed, or they're just quiet. Conviviality and celebration are out of sight, maybe still a few hours off. Soon, another night of festivities is going to be added to decades of history.
Watching the video during lockdown is a melancholy experience. For months, these restaurants have been shuttered or offering only takeout. Employees have been laid off, some have no doubt gotten sick and died, and it will be some time before these old haunts are thrumming again. Some may never reopen. A deadpan tribute to the city's storied watering holes (and a study of their architecture) has become something more profound. It's a time capsule now, and a memorial to the way we used to live.
When restaurants eventually do get fully up and running again—that will be a glorious day—I can't wait to cruise the streets of L.A., trying out locations that Ruscha highlighted and returning to old standbys. (Maybe, in the spirit of the
Damien Hirst Spot Challenge
, there could even be a modest prize for people who visit every stop.) A map of the restaurants in the video follows below, with addresses beneath it in order of appearance.
Coles
: 118 East 6th Street, Los Angeles
Clifton's Cafeteria
: 648 South Broadway, Los Angeles
Philippe
: 1001 North Alameda Street, Los Angeles
Eastside Deli
: 1013 Alpine Street, Los Angeles
Pantry Cafe
: 877 South Figueroa Street, Los Angeles
Pacific Dining Car
: 1310 West 6th Street, Los Angeles
Langer's Deli
: 704 South Alvarado Street, Los Angeles
Taylor's
: 3361 West 8th St, Los Angeles
Cassell's
: 3600 West 6th Street, Los Angeles
HMS Bounty
: 3357 Wilshire Blvd, Los Angeles
El Cholo
: 1121 South Western Avenue, Los Angeles
Tommy's
: 2575 Beverly Boulevard, Los Angeles
Little Dom's
: 2128 Hillhurst Avenue, Los Angeles
Dresden
: 1760 North Vermont Avenue, Los Angeles
Tiki-Ti
: 4427 Sunset Boulevard, Los Angeles
Taix
: 1911 Sunset Boulevard, Los Angeles
El Compadre
: 1449 Sunset Boulevard, Los Angeles
Tam O'Shanter
: 2980 Los Feliz Boulevard, Los Angeles
Bob's Big Boy
: 4211 West Riverside Drive, Burbank
Art's Deli
: 12224 Ventura Blvd, Studio City
Jerry's Deli
: 12655 Ventura Blvd, Studio City
Casa Vega
: 13301 Ventura Boulevard, Sherman Oaks
Hamburger Hamlet
: 4419 Van Nuys Boulevard, Sherman Oaks
Smoke House
: 4420 Lakeside Drive, Burbank
Yamashiro
: 1999 North Sycamore Avenue, Los Angeles
Musso & Frank Grill
: 6667 Hollywood Boulevard, Hollywood
Miceli's
: 1646 North Las Palmas Avenue, Los Angeles
El Compadre
: 7408 Sunset Boulevard, Los Angeles
Greenblatt's
: 8017 Sunset Boulevard, Los Angeles
Rainbow Bar and Grill
: 9015 Sunset Boulevard
Formosa
: 7156 Santa Monica Boulevard, West Hollywood
Barney's Beanery
: 1037 Broxton Avenue, Los Angeles
Il Piccolino
: 350 North Robertson Boulevard, West Hollywood
Dan Tana's
: 9071 Santa Monica Boulevard, West Hollywood
Troubador
: 9081 North Santa Monica Boulevard, West Hollywood
Craig's
: 8826 Melrose Ave, West Hollywood
Du-par's
: 6333 West 3rd Street, Los Angeles
El Coyote
: 7312 Beverly Blvd, Los Angeles
Pink's
: 709 North La Brea Avenue, Los Angeles
Rao's
: 1006 Seward Street, Los Angeles
Marino
: 6001 Melrose Avenue, Los Angeles
Lucy's El Adobe
: 5536 Melrose Avenue, Los Angeles
Canter's Deli
: 419 North Fairfax Avenue, Los Angeles
Johnie's
: 6099 Wilshire Blvd, Los Angeles
Tom Bergin
: 840 South Fairfax Avenue, Los Angeles
Lawry's
: 100 La Cienega Boulevard, Beverly Hills
Lucques
: 8474 Melrose Ave, West Hollywood
Ago
: 8478 Melrose Avenue, West Hollywood
Norm's
: 470 North La Cienega Boulevard, West Hollywood
Nate 'n Al's
: 414 North Beverly Drive, Beverly Hills
Spago
: 176 North Canon Drive, Beverly Hills
La Dolce Vita
: 9785 South Santa Monica Boulevard, Beverly Hills
Giorgio Baldi
: 114 West Channel Road, Santa Monica
Toscana
: 11633 San Vicente Boulevard, Los Angeles
Vito
: 2807 Ocean Park Boulevard, Santa Monica
The Apple Pan
: 10801 West Pico Boulevard, Los Angeles
Rae's
: 2901 Pico Boulevard, Santa Monica
Chez Jay
: 1657 Ocean Avenue, Santa Monica
The Galley
: 2442 Main Street, Santa Monica
James' Beach
: 60 North Venice Boulevard, Venice
Pann's
: 6710 La Tijera Blvd, Los Angeles
Randy's Donuts
: 805 West Manchester Boulevard, Inglewood
Versailles
: 10319 Venice Blvd, Los Angeles
Akasha
: 9543 Culver Boulevard, Culver City
S&W Country Diner
: 9748 Washington Boulevard, Culver City