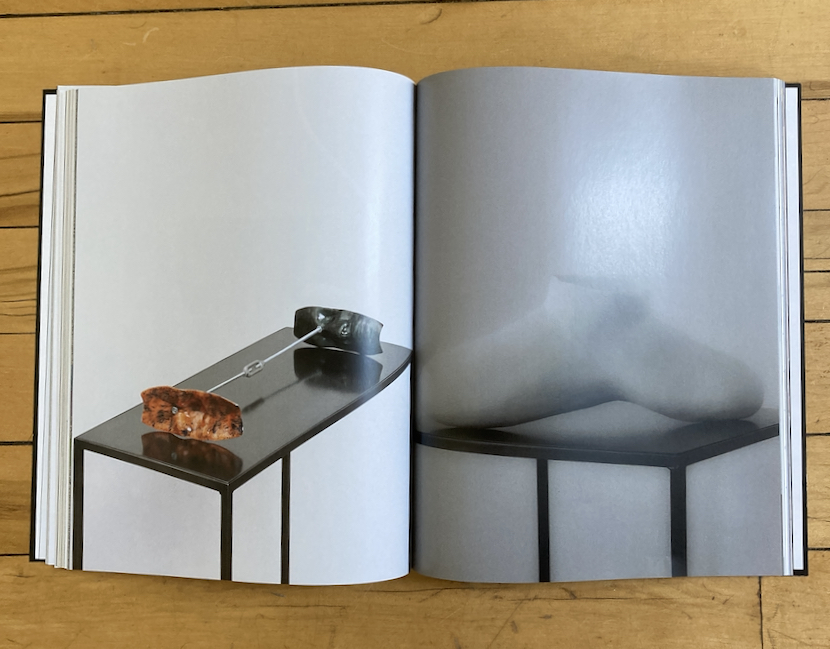 From 'The Unknown Dimension,' left: Julia Phillips, Distancer (#3), 2019, glazed ceramics, metal hardware, metal pedestal, sculpture: 2.75 x 18.5 x 6.75 in., pedestal: 37.25 x 25 x 11 in., listening suggestion: Nina Simone's "The Human Touch," 1969; right: Julia Phillips, Soul (work in progress), 2020, bisque fired ceramics, 5.75 x 16.25 x 5.5 in., listening suggestion: Alice Coltrane's "Turiya & Ramakrishna," 1970.
Whenever I hear the words "online viewing room," I involuntarily think of
David Lynch
delivering one of his
vintage diatribes
: "It's such a sadness that you think you've seen a film on your fucking telephone. Get real!"
Of course, not all of the online exhibitions necessitated by corona lockdowns have been bleak. A lot of video art—typically tricky to access—has been streamed by museums and galleries,
as I wrote in T magazine
. And some artists have inventively tweaked how their art is presented online, like
Elizabeth Peyton
, who put together a
bewitching slide show
. Still, it's been a relief to see more left-field approaches during this painful period of closed storefronts, like the move by New York outfit
Essex Street
to instead go analog and put together a lively (and, at times, heartrending) exhibition in the form of a handsome book. Titled "The Unknown Dimension" and published in May, it's more than 200 pages long and has contributions from over 50 invited artists (many of whom sent along never-before-seen material). "Thinking the next best thing to an object is not an online viewing room but a page," the gallery's proprietor,
Maxwell Graham
, writes in the volume. Hear, hear!
The artists' offerings run alphabetically by first name, which allows sumptuous, quiet paintings of empty interiors by the late
Adrian Morris
—whose
show at Essex Street
was cut short by the pandemic—to kick things off.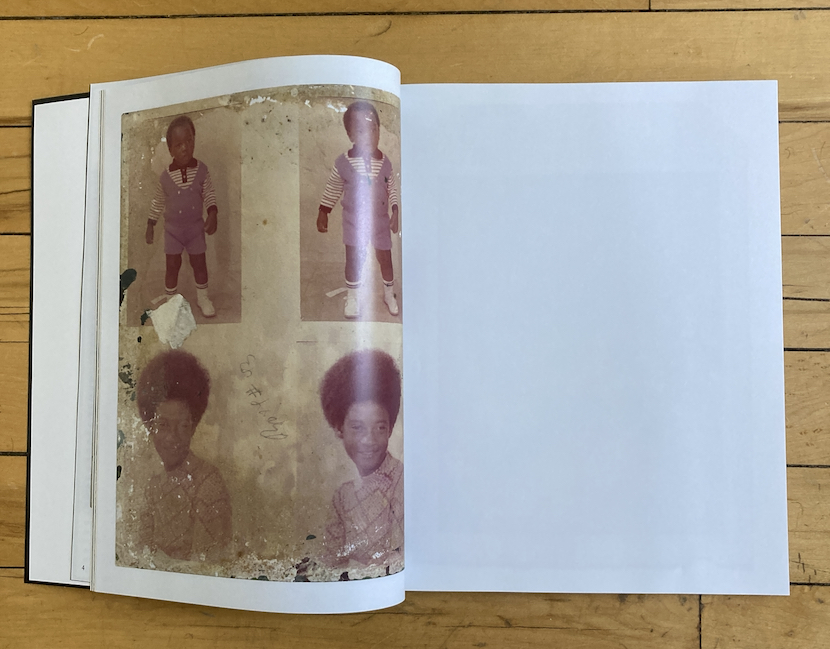 Carolyn Lazard, Recto Verso, 2020, 1 of 25 photographs, 11 x 9 in., in 'The Unknown Dimension.'
There are a lot of very excellent artists here.
B. Wurtz
sends along photographs of the fantastical tree-like sculptures he built from colanders and displayed in City Hall Park (now
Abolition Park
) in Lower Manhattan two years back (
via the Public Art Fund
).
Senga Nengudi
gives us an indelible self-portrait of her posing as if in prayer in her backyard in April, covered by a purple veil.
Zak Prekop
displays luscious details of his inimitable abstractions.
An index at the end of the book provides the requisite credits for the works along with some illuminating information that invites closer looking and deeper research. It was mind-blowing for me to learn that the reverse side of artworks that were photographed by
Carolyn Lazard
and that contain adorable photos of children (as pictured above) belong to the Antiguan master
Frank Walter
, who lived from 1926 to 2009. (They were commissioned by the Museum für Moderne Kunst in Frankfurt, which has a
Walter retrospective that runs
into November: one hopes we lowly Americans will be able to travel to Europe before then.)
Julia Phillips
, for her part, includes a link to
video documentation
for some of her art with listening suggestions paired to individual pieces. (See the captions above.)
Graham has also marshaled wonders by deceased luminaries like
Bill Bollinger
,
Sturtevant
, and
Yutaka Matsuzawa
, whose 1970 text piece
My Own Death
begins, "When you go calmly across this room, go my own death across your mind in a flash of lightning,———that is my future genuine death…"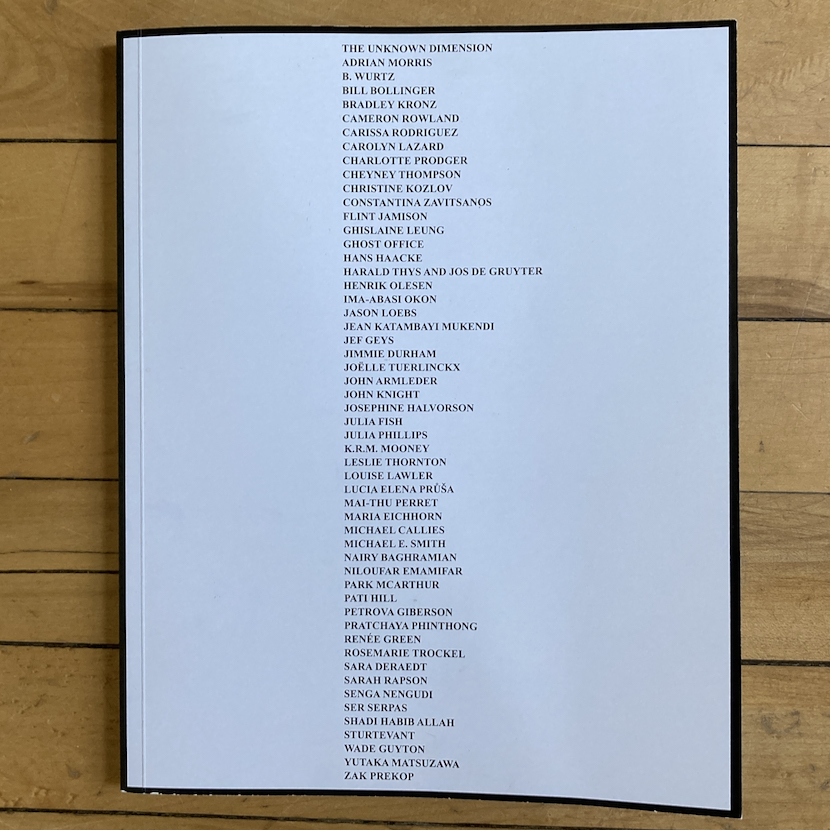 The cover of 'The Unknown Dimension.'
Some new pieces refer to the ongoing health and economic crises, whether directly or obliquely.
John Knight
includes an excerpt of
Paul Lafargue
's 1883 treatise
"The Right To Be Lazy."
Cameron Rowland
reproduces the agreement that must be signed by visitors to
Hart Island
, New York's heavily restricted public cemetery, where graves are dug by incarcerated people.
Maria Eichhorn
prints two maps that document the 30 percent drop in pollution that NASA satellites documented in the extended New York metropolitan area this past March versus the average for that month between 2015 and 2019. On a series of successive pages,
Louise Lawler
is showing a digital photogram of parts of a vinyl record of
an Aretha Franklin classic
. Its title reads, at the moment, as mordant and dark and maybe even a tiny bit hopeful: "Runnin' Out of Fools."
As I write, Essex Street, like many New York galleries, has finally reopened to the public, with a strong
Park McArthur
show. Life is continuing on. "The Unknown Dimension" has a kind of teaser (a non-site?) for one of the works included in McArthur's bracing exhibition, which exists in the physical gallery and
on a dedicated website
and "elsewhere," as the
gallery's press release counsels
. Elsewhere is a place where a lot of us find ourselves these days. It's a space and a condition that may be new, discomfiting, and also—just possibly—unifying. Happily, those looking to navigate the gallery version of the show at a distance can book a tour that will take place through Skype, Zoom, or FaceTime.