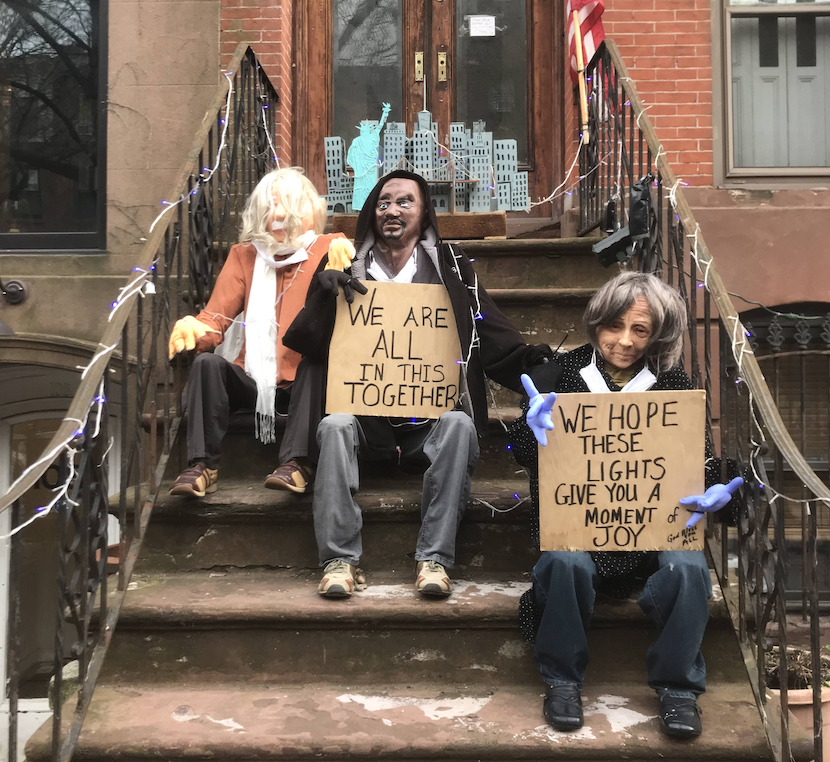 An anonymous art installation in Clinton Hill, Brooklyn, April 23, 2020.
Here's a continually updated list of art material to enjoy while galleries are closed. Most of the items resulted from the lockdown; a few other items join them.
COOKBOOKS
Artists and Recipes: Artist Abby Lloyd has tapped dozens of artists—Joshua Abelow, Tisch Abelow, Gina Beavers, and Robin Winters among them—to contribute recipes for a cookbook. Super fun design.
Perilla: Edited by curator Jamie Sterns, who runs the enterprising Interstate Projects in Brooklyn, this is a cookbook in the most wonderfully loose sense of the word, with toothsome recipes sharing space with poems, collages, and short essays, by some 30 artists and writers, including Rose Salane, Priscilla Jeong, Bryce Gates, and more. (I contributed an essay on the Stettheimers' dinner parties.)
Chicken Soup: Chef Mina Stone, who helms MoMA PS1's delicious cafe, is sharing recipes from artists, including Dara Friedman's "Perfectly Whatever" chicken soup and Anicka Yi's potent, enlivening lemon pasta.
WRITING
COLORING PAGES
EXHIBITIONS
High as Fuck: Most online art exhibitions are bland, banal affairs—JPEGs floating in space. Whatever you think of Josh Smith's entry into the field, it is certainly not boring. He's installed his latest paintings and some older ceramics on the roof of his Brooklyn home. In accompanying videos, he is on hand as deadpan narrator and gracious host. A little unhinged, and very wonderful, I say. (Some disagree.) A special bonus: sign the guestbook (in a manner of speaking) and you are sent a printable PDF of the show's pamphlet.
Bodybuilding: On its website, Performa is presenting this video-rich exhibition that examines how architects and designers have used performance. The stacked roster has been assembled by Charles Aubin, of Performa, and Carlos Mínguez Carrasco, of ArkDes in Stockholm, as an extension of the eponymous book they edited with RoseLee Goldberg.
NEWSLETTERS
FINANCIAL RESOURCES
Creative Capital: The nonprofit has compiled a lengthy, essential list of grants and funding available for people and organizations in the arts and is updating it as new initiatives are announced.