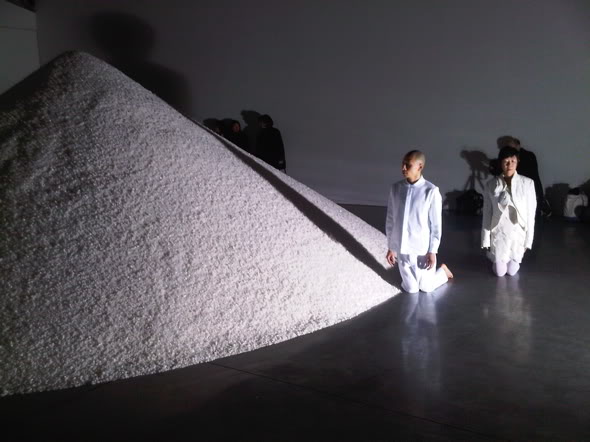 Terence Koh, performance still of

nothingtoodoo

, February 12, 2011, at the Mary Boone Gallery, New York. Photos: 16 Miles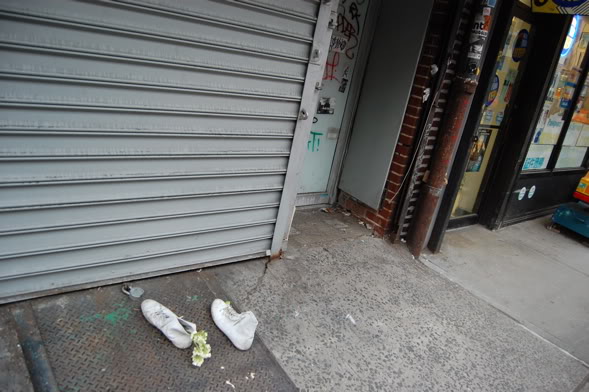 Outside of Koh's gallery, Asia Song Society, 45 Canal Street, February 13, 2011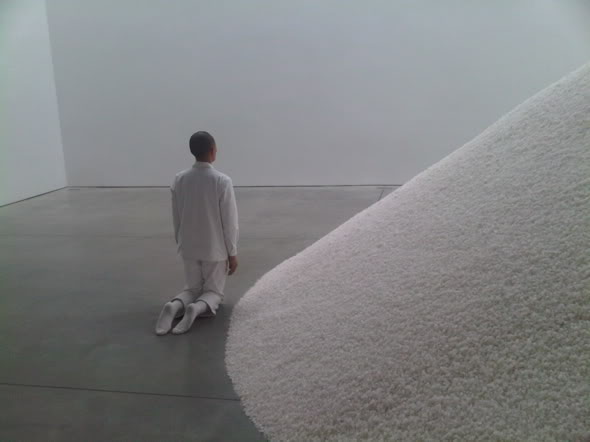 Terence Koh, performance still of

nothingtoodoo

, February 16, 2011, at the Mary Boone Gallery, New York
Sadly, there are no
white-chocolate mountains
on view in
Terence Koh
's one-person debut at
Mary Boone
. Koh has, at least for now, excised such easy, giddy pleasures from his work. Instead, there is a massive pile of salt sitting in the center of the gallery. There is also Koh himself, clad all in white, slowly working his way around the sculpture on his knees. This looks painful, though Koh gave no hint of discomfort on Saturday evening at his opening reception.
When I returned this afternoon, slipping through the white curtains that obscure the entrance to the main gallery, I was momentarily startled — first, to discover that Koh was still at it, and, second, that I was all alone with him. His back was faced away from me at that moment, as he went about his labor, which reads as a more masochistic, isolated version of
Marina Abramović
's recent
MoMA
performance,
The Artist Is Present
(2010). He performs for one more hour each day than she did, though he gets two days off to her one.
During one of those days off, Sunday, I walked from
Reena Spauling Fine Arts
and its charmingly low-key
Matias Faldbakken
show (more on that later) to
Canada
's divisive
Joe Bradley
affair, passing on the way the
Asia Song Society
, Koh's gallery and residence at 45 Canal. There were two white shoes sitting outside, one filled with flowers. Yesterday, I realized that he has been performing without shoes.
On Saturday evening, the gallery had been nearly still, as the crowd somberly watched Koh, silently rooting him on. Today, though, the silence was the result of emptiness. I felt guilty standing and watching as he went about his unending crawl, and I felt worse as I got ready to walk away. (Abramović had no shortage of supporters at MoMA.) I stayed for a few more minutes, and then, turning to go, quickly indulged an involuntary (and perhaps selfish) urge to pass in front of him, to let him know that someone had been staring.


Previously:
Terence Koh,

Silent March

, November 21, 2009