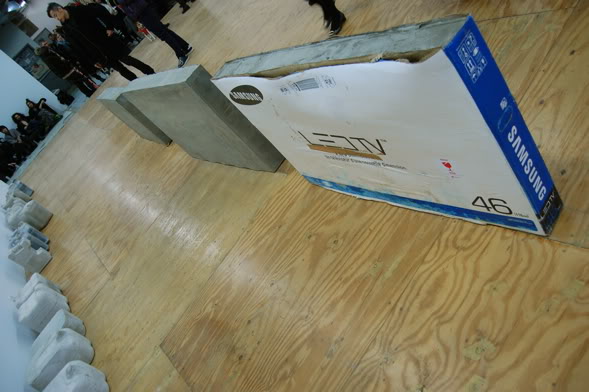 Installation views of Matias Faldbakken, "Television / Moonshine," at Reena Spaulings Fine Art, New York. Photos: 16 Miles [more]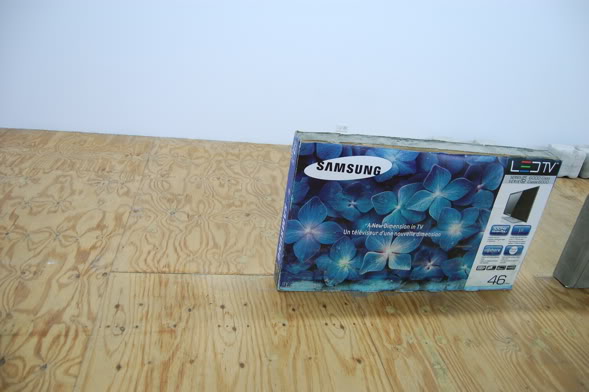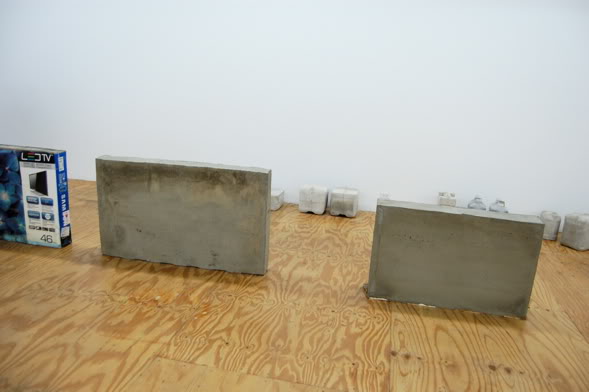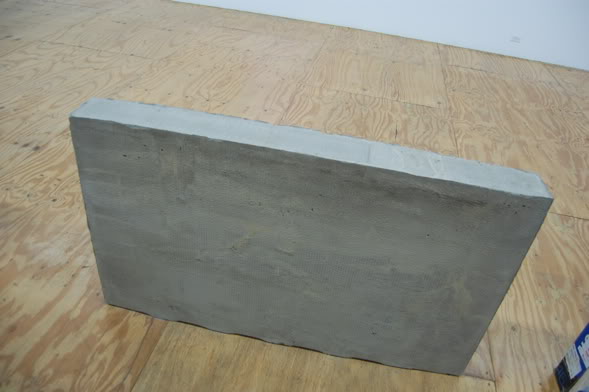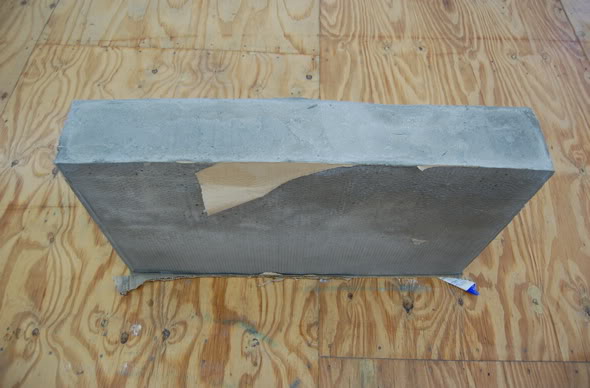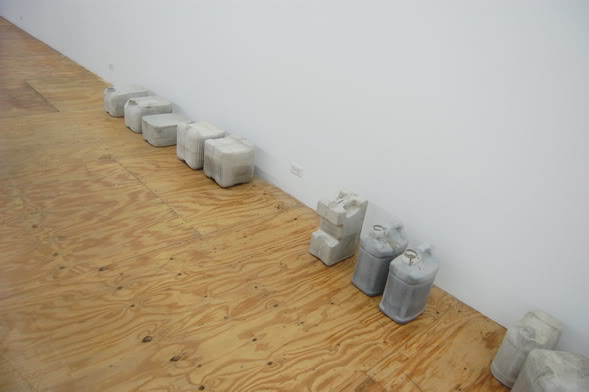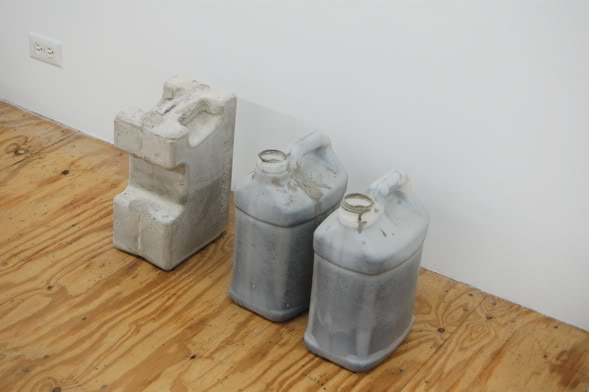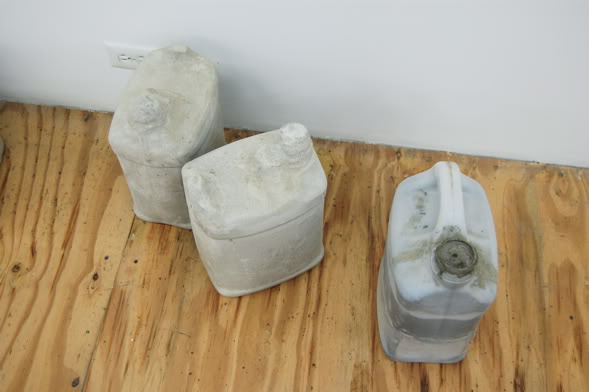 Matias Faldbakken
's
2010 show
at London's
Simon Lee
included
a sculpture comprised of 32 bottles of liquor
, from Tanqueray gin to Smirnoff vodka, which Lee's press release claimed "literally begs to be stolen." At the very least, it invites the possibility of all sorts of hilarious mishaps. "I need to pick up a bottle of Bombay Sapphire before
Phillips
appraises my Faldbakken," I imagine a collector explaining to a friend. "Somebody cracked one open at the party last week."
Faldbakken's sophomore outing at
Reena Spaulings
also involves alcohol, and it's higher proof this time — homemade moonshine instead of brand-name bottles — though there is none on hand to tempt gallery visitors, even at the opening on February 13. The Oslo–based artist has filled plastic jugs, used to transport Norwegian moonshine, with concrete, creating negative casts that Spaulings declares "could have been made by
Rachel Whiteread
's lazy teenage daughter."
Another series of concrete sculptures has been molded from flat-screen-television boxes. Bits of cardboard packaging cling to some of these sculptures, their sides marked with the subtle, undulating ripples of corrugated cardboard. One is almost completely wrapped — contained — in a Samsung box, and it seems to propose a reversal of
Brancusi
's
Bird in Space

case
, masquerading as a piece of home electronics equipment, concealing its status as art.
The television sculptures, wrapped in traces of their transportation materials, are presented as temporary visitors, goods in transit. They seem to respond
Martin Kippenberger
's 1990-91 proclamation, which art historian
David Joselit
quotes in his 2009 essay
"Painting Beside Itself"
: "Simply to hang a painting on the wall and say that it's art is dreadful. The whole network is important!" Presented on thin cardboard pedestals, the works look ready to move through contemporary art's circulation system, to be shipped to a collector's home or to a kunsthalle.
In "Painting Beside Itself," Joselit uses
Jutta Koether
's 2009 Reena Spaulings show as an example of what he calls "transitive painting," which "invents forms and structures whose purpose is to demonstrate that once an object enters a network, it can never be fully stilled, but only subjected to different material states and speeds of circulation." While Joselit is responding to specific historical conditions of painting, it also seems possible to conceive of "transitive sculpture," which, to borrow Joselit's language, "actualizes the
behavior of objects within networks
." [Italics in original.]
Not only do Faldbakken's sculptures look ready to ship (thanks to the cardboard on the television sculptures and the handles on many of the moonshine jugs), they also literally picture their systematic, networked creation. Molded from common, standardized objects, they are indexical records of their own forging, and consequently double as blueprints for a continuing, unending assembly line of sculpture production. (The mouth of one jug even looked wet, as if it was fresh out of the factory.)
Individual television sets and moonshine jugs are, of course, themselves tiny components of sprawling networks — one corporate and legitimate, the other informal and illicit. The international contemporary art market has long been defined as a mixture of these two forms, even as it has crept, in recent decades, closer to the regimentation and standardization — the banality — of the former. And yet Faldbakken's refreshingly modest sculptures show that there are still dissident ideas lurking, some as sensational and intoxicating as homemade liquor.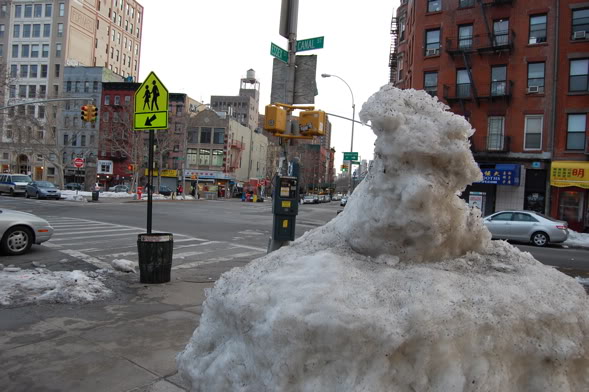 The northwest corner of Canal and Essex Streets, Manhattan, looking south, February 13, 2011
A solid skeleton of the gigantic snowman that appeared on the northwest corner of Canal and Essex Streets was still visible on Sunday, February 13. The ephemeral work was first spotted by a friend on a walk south following the triumphant opening of
Ramiken Crucible
's
new space
, at 389 Grand Street, on January 21. The Chinese-character-lined safety cone has disappeared.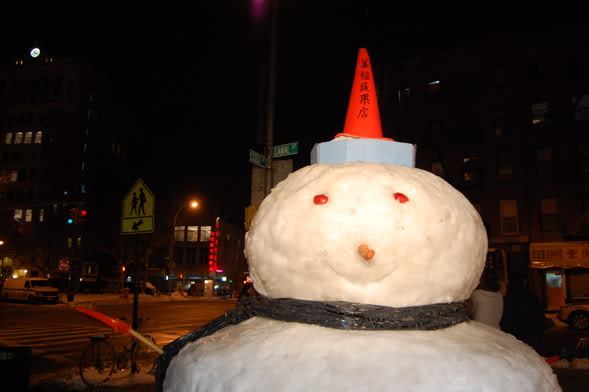 The northwest corner of Canal and Essex Streets, Manhattan, looking south, January 21, 2011
Tangentially related:
More geometric sculptures made from concrete, smoother this time, and created by
Pennacchio Argentato
for their 2010 show at Midway Contemporary Art in Minneapolis,
"The New Boring."