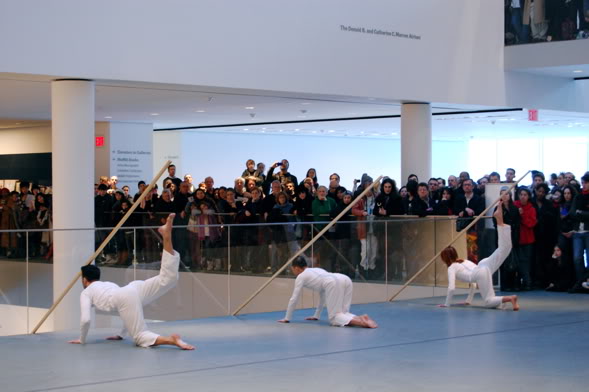 Trisha Brown Dance Company,

Sticks

, 1973, at the Museum of Modern Art, New York, January 16, 2011. Photos: 16 Miles [more]
"Raise a lot of money for me, I'll give you good architecture," architect
Yoshio Taniguchi
supposedly told
Museum of Modern Art
trustees when he was pitching his plans for the museum's 2004 redesign. "Raise even more money, I'll make the architecture disappear." Like
John Updike
, who reported that quotation, I think Taniguchi largely succeeded. And yet, standing in the museum's atrium on Sunday afternoon, waiting for the
Trisha Brown Dance Company
to appear, as the latest installment of the museum's
Performance series
, I wished that he had dematerialized just a bit more architecture. Viewers packed tightly into the space and lined the walkways that overlook it on the four floors above: the typically airy atrium had became a crowded amphitheater.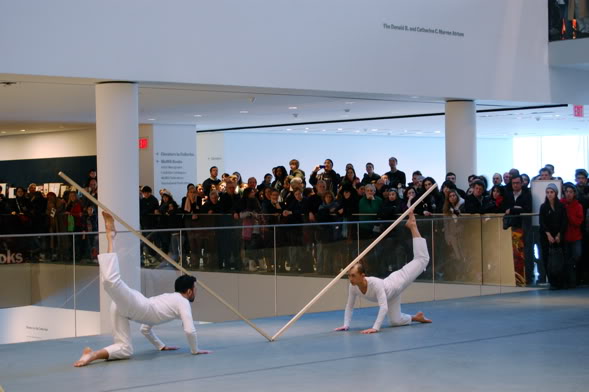 Just after 2 p.m., four dancers entered, each carrying a long wooden beam, which they propped against glass panels overlooking the lobby. Hands at their sides, they nimbly slid their heads and bodies down underneath each plank, transferring it behind their back to their foot and then their shoulder, flawlessly each time. The work, titled
Sticks
(1973), ended on the floor, with five performers creating a single line with the five of those beams pushed end-to-end against one of the atrium's columns. Then, as they held their tenuous construction in place, they slowly circumnavigated it. The wobbling line broke apart in a few instances, but each time the dancers recovered, displaying a heartbreaking mixture of balance, control, and communication.
Scallops
(1973), a witty journey around the edges of the square stage by five performers, came next, followed by
Locus Solo
(1973), a free-flowing one-person performance by longtime Brown dancer
Diane Madden
inside another square that was a fraction of the size of the main stage. (
Claudia La Rocco
's review of a previous performance is well worth a read for
a more complete summary of the program
.)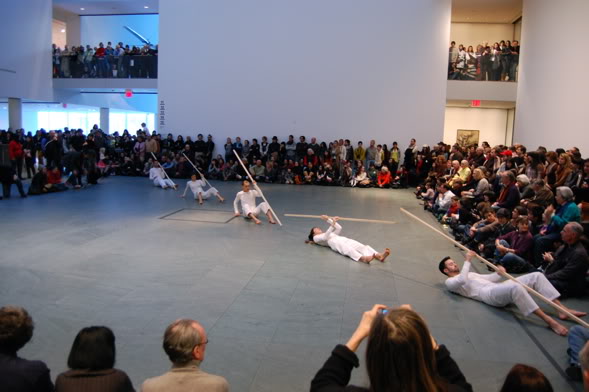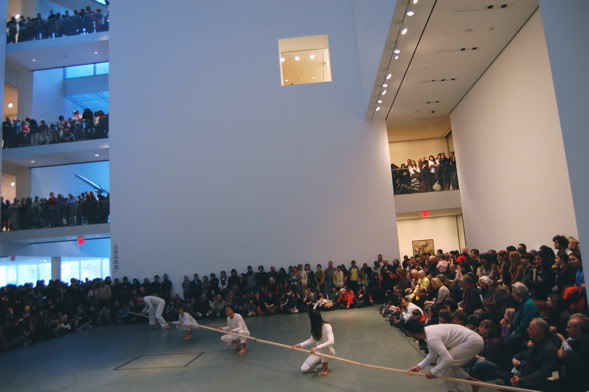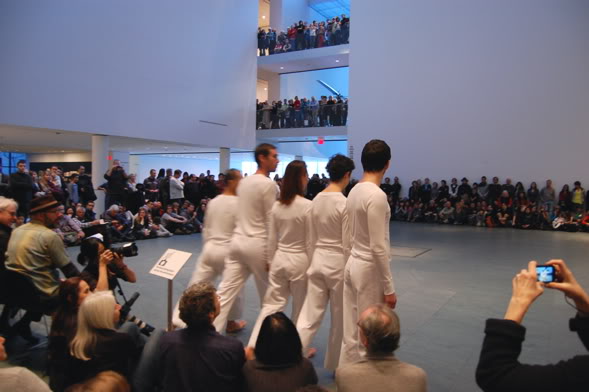 Trisha Brown Dance Company,

Scallops

, 1973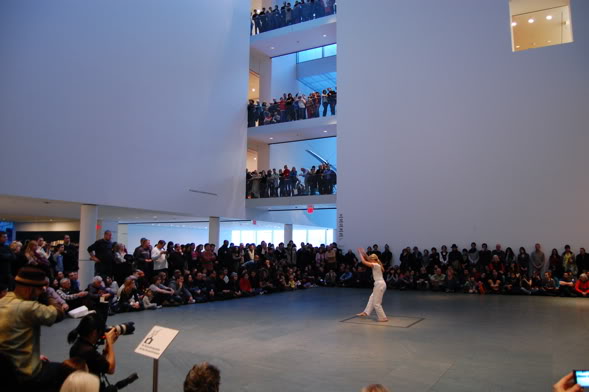 Trisha Brown Dance Company,

Locus Solo

, 1975
The afternoon ended with a new dance,
Roof Piece Re-Layed
(2011), Brown's reworking of her 1971
Roof Piece
. That work was first performed in 1973, with dancers transmitting dance movements in a meandering line across the rooftops of downtown Manhattan on two summer days for more than a mile north to south (and then south to north), like a choreographic version of the classic children's game
Telephone
. "It was like receiving messages from outer space," dance critic
Don McDonagh
wrote in the

Times
after seeing the performance.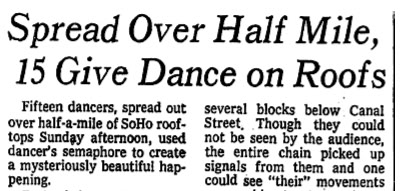 Excerpt from the

New York Times

, July 3, 1973
At MoMA, Brown's dancers appeared in nearly every space that opens onto the atrium, taking the positions once held by audience members as they worked to catch a glimpse of the action down below, where only a lone dancer stood now. They wore bright orange outfits, as in the original performance, and transmitted Brown's trademark broad, simple movements around the atrium, from one Taniguchi vantage point to another. A large crowd looked creating a scene markedly different from the original one
described by McDonagh
: "[O]ne of the eerie things was that you were up in a completely different world, totally removed, and there were people going around shopping down below."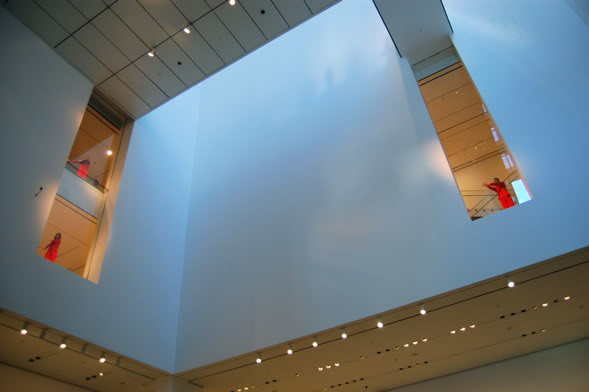 Trisha Brown Dance Company,

Roof Piece Re-Layed

, 2011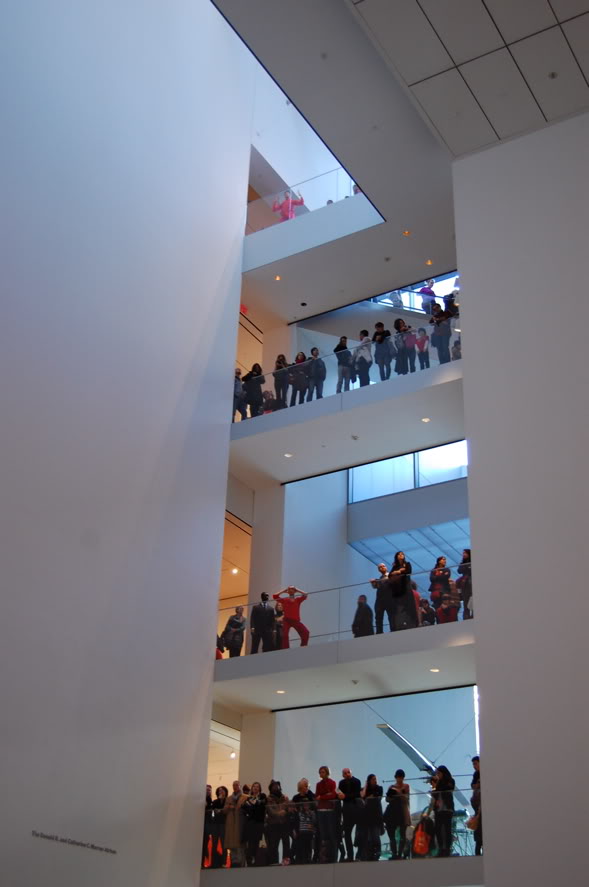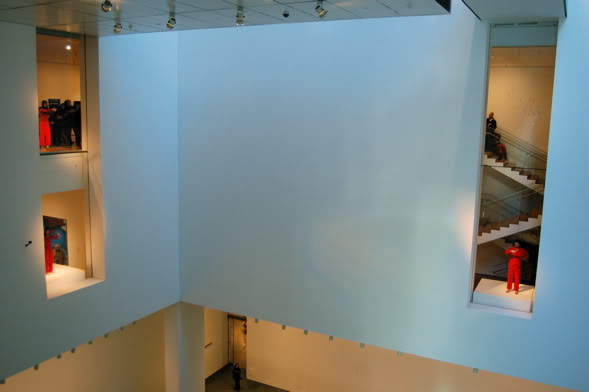 McDonagh's eerie urban environment is confirmed by
the best photograph
of Brown's 1973 performance that I know of, shot by photographer and filmmaker
Babette Mangolt
. (One wonders if
Barbara Probst
has seen it
.) Mangolte
wrote of

Roof Piece
, more than three decades after she documented it, "It also was about revealing the majesty and privacy of downtown roofs and the sculptural effect of its water towers." (Even if contemporary MoMA's hushed architecture lacks the unwieldy pleasures of early-1970s downtown Manhattan, it at least has one of those iconic water towers in the form of
Rachel Whiteread
's
translucent-resin

Water Tower
(1998), originally installed in SoHo.)
MoMA's "Performance" series has been hit or miss, but Sunday's hour-long event was, for me, a concise, thrilling multidisciplinary history lesson from a museum that has long been rigidly confined by medium-specific curatorial departments. (This is an art-world problem that is hardly confined to MoMA.) It is still relatively rare to see postwar shown with work in other mediums, even though it was often developed by choreographers in close dialogue with the visual artists, musicians, and filmmakers of the time. Artist
Mary Miss
, for instance, has
cited Brown's work
as a "strong impetus to this crossing of boundaries" between artistic fields that emerged in the New York cultural world of the 1970s. To state that point another way, with a fact: in the 1973 performances of
Roof Piece
, the northernmost dancer — Brown herself — was positioned atop the roof of
420 West Broadway
, where Leo Castelli would open a gallery
just a few months later
.