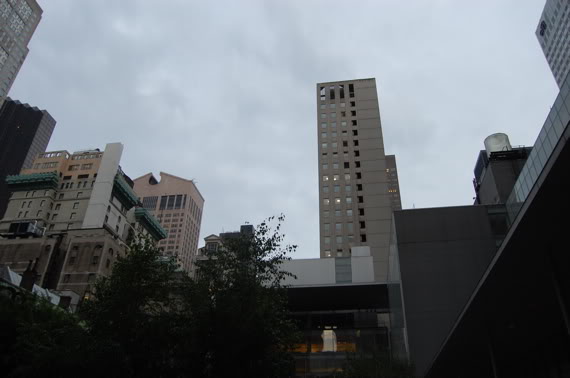 View of the Abby Aldrich Rockefeller Sculpture Garden at the Museum of Modern Art, New York. Photos: 16 Miles
There is art hiding in these photos of the
Museum of Modern Art
's sculpture garden.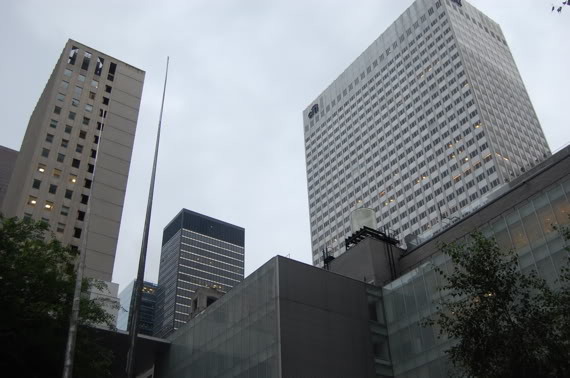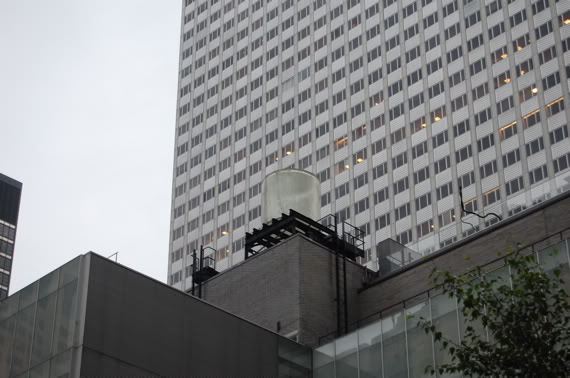 Rachel Whiteread, Water Tower, 1998. Translucent resin and painted steel, 12 ft. 2 in. high x 9 ft. in diameter.
Yes! It's up there on the roof: Rachel Whiteread's
Water Tower
. The work was first installed in SoHo, in June 1998, by the
Public Art Fund
,
which described it
as "its most ambitious project to date." A year later, the
Freedman Family
donated it to MoMA in honor of
Doris C. and Alan J. Freedman
. According to a
vintage Charlie Finch column
(filled with all sorts of uncomfortable artifacts from a bygone art world), the work was made of "9,000 pounds of resin so toxic" that "Whiteread's team had to wear spacesuits." (MoMA has a
nice little multimedia feature
on the work, and it
owns a preparatory drawing that Whiteread
made on a photograph of SoHo, which is the real reason for this post.)
The piece was on the roof of 60 Grand Street, at the northeast corner of Grand Street and West Broadway. Curious to see if there was still any trace of the project, I stopped by the intersection on the way to the office this morning. It turns out that the platform for the tower is still there, still serving as a quiet memorial to — as Finch put it in 1998 — "the dead and gone SoHo art scene." (Which, it turns out, was not quite so dead after all.) The
Coca-Cola
ad that is visible in the
photo that MoMA owns
has faded with time, though a bright and brilliant mural advertising
Coors
' faux craft beer
Blue Moon
has been painted onto the building.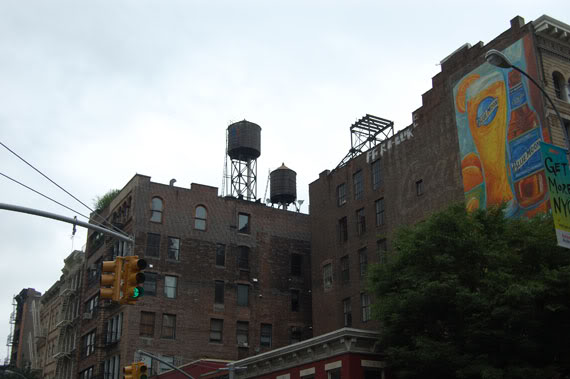 The northeast corner of Grand Street and West Broadway, SoHo, New York, July 14, 2010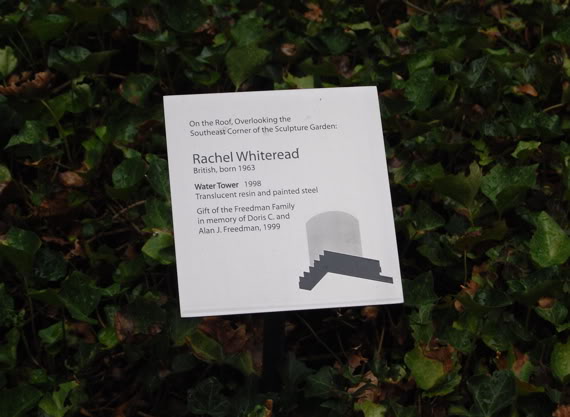 Also, MoMA's placard for the sculpture features this fun depiction of it.