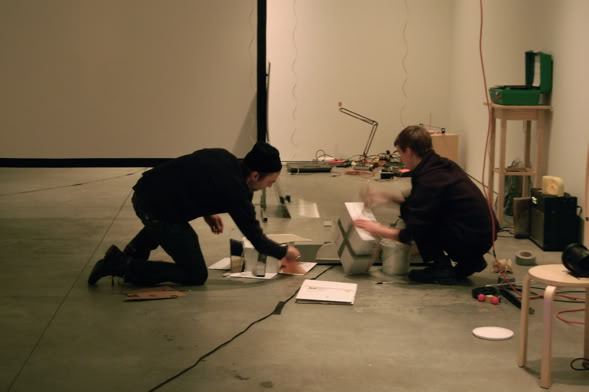 Performance of Tom Thayer's "Scenographic Play," at Tracy Williams Ltd., January 13, 2011. Photos: 16 Miles [more]
If Brooklyn artist and musician
Tom Thayer
so chose, I suspect that he could be a YouTube sensation, a music-video auteur courted by pop culture's most famous and adventurous performers. I say that because his video
Old Smelly Haircut
,
a three-minute jewel
that
SculptureCenter
curator
Fionn Meade
included in his delectable "Knight's Move" show last year remains one of the most exciting video works I have seen in a long while, a series of photomontages set in motion and allowed to swirl down weird visual pathways. It looked entirely fresh and fecund in SculptureCenter's wonderful old basement, and, should he ever tire of
George Condo
's paintings, I would like believe that
Kanye West
would swoon at the sight
it.
However, Thayer seems uninterested in such easy acclaim, much less anything resembling accessibility. His work feels most at home alongside the ostensibly shambolic music of freewheeling experimental Brooklyn groups like the
No-Neck Blues Band
and
Amolvacy
, whom he has collaborated with in the past. (
Wire
has
the video he did for a No-Neck track
in 2008). His videos, reportedly spliced together on outmoded equipment (think VHS apparatuses), display a virtuosic command of the possibilities of such lo-fi technology. People and animals cut roughly from bits of paper appear in these short videos, enact quick hints of a story, and then melt away in the wake of warm analog bleeds of pure color.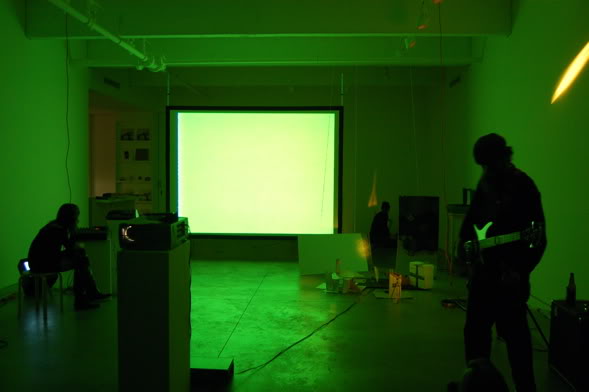 On the evenings of the 13th, New Yorkers had a chance to see more than 30 minutes of Thayer's video work on a large screen at
Tracy Williams, Ltd.
, as he performed with
Wednesday Knudsen
,
Kyle Clyde
,
Caleb Considine
,
Alex Hubbard
, and No-Neck member
Keith Connolly
. The doors for the show opened at 7 p.m., allowing the evening's gallery goers to swing by other openings beforehand — an ultra-minimal
Tony Feher
affair at
Pace
, followed by
Patrick Hill at Bortolami and Marcel Odenbach at Anton Kern
, in my case.
By 7:30, most of the standing room in the gallery — which is to say, the area that had not been filled with video projectors, keyboards, and a handful of the artist's installations, comprised of aging record players, televisions, marionettes and drawings — was occupied. The ensuing show was an amalgam of theater, performance art, and music compositions. Connolly looked imperious at the front of the action, sporting a large beard and a flat cap, brutally forcing a long curved metal rod under the strings of a bass guitar, sending knotted lines of notes through the amplifiers.
Knudsen manned a keyboard and saxophone, and at one point inflated balloons before noisily draining the air from them in long streaks, or popping them. Connolly dragged a metal walking stick across the floor, creating aching shrieks, as other rhythms and hints of melody bubbled around him. In the more theatrical realm, a towering giant of a man emerged from the gallery behind the audience, wearing a long cloak and bearing a bouquet of flowers. The crowd parted, allowing him through, and he passed in front of the video, disappearing into the gallery in the back. Then the performance continued.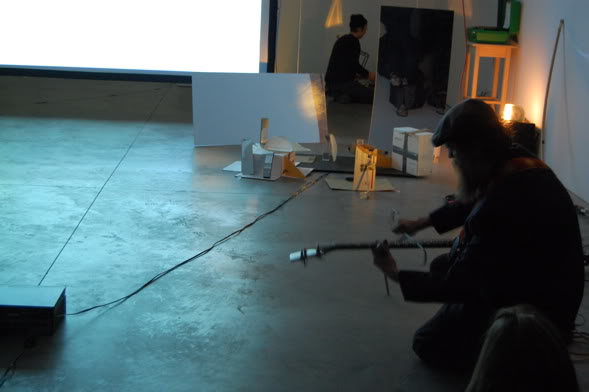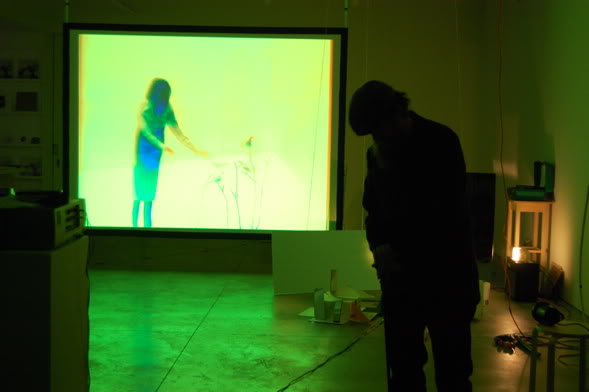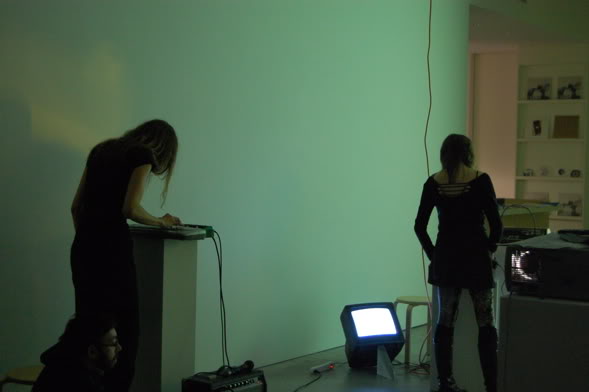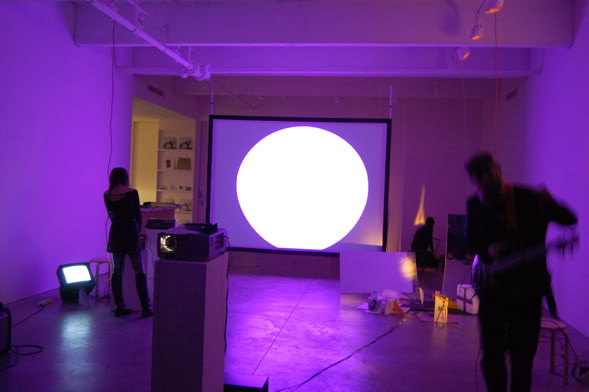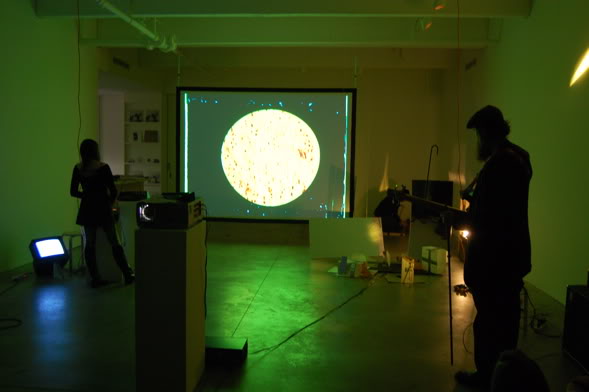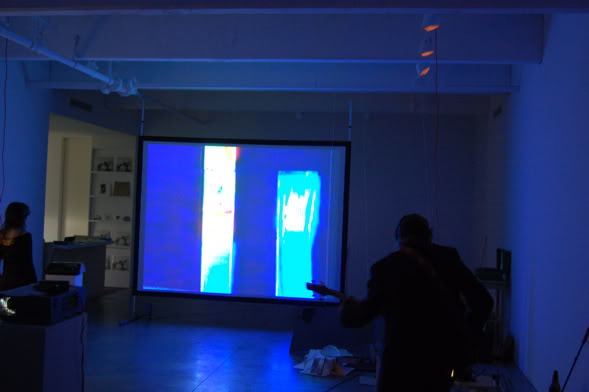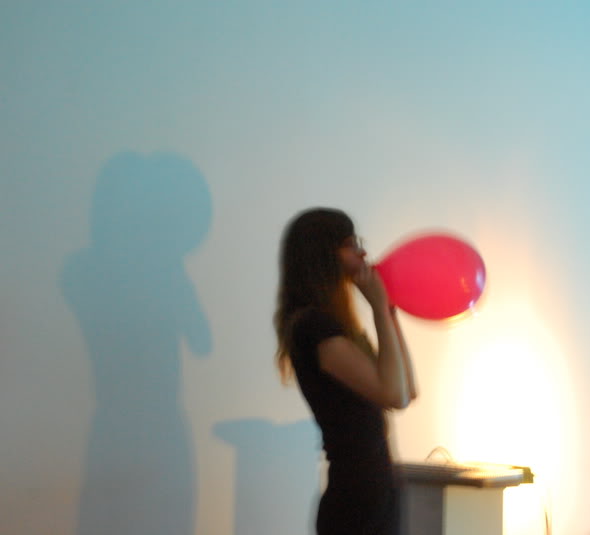 As the music finally came to an end and the lights came up, a bit after 8 p.m., I was entirely confused about what had just occurred. Was it a success or a failure? And by what standards? Friends that attended the second, final performance, two days later, shared similar feelings. Mixing and matching elements of various media, Thayer seemed to be slowly piecing together some strange, handmade new art form based on shared, lived experiences. In a statement accompanying the show, Thayer provides a hint about what
Scenographic Play
means. He asks: "What, in essence, comes to constitute our shared 'now'?" We go to art galleries to try figure that out.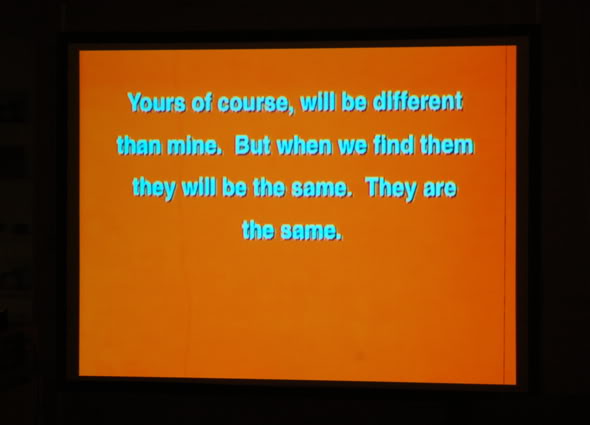 Tom Thayer, "Scenographic Play"
Tracy Williams, Ltd.
521 West 23rd Street
New York, New York
Through January