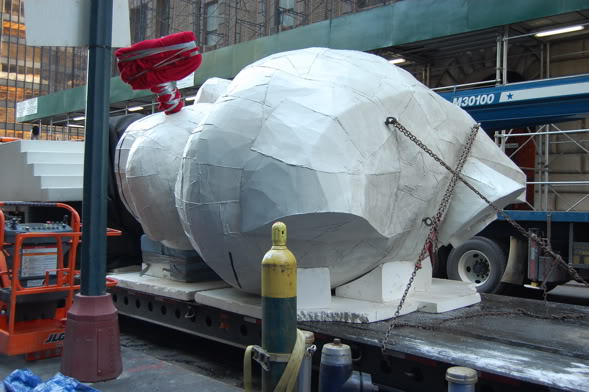 Tom Sachs,

Wind-Up Hello Kitty

, 2008, sitting on a flatbed truck on 53rd Street, between Park and Madison Avenues. Photos: 16 Miles [more]
Until I found myself on number thirteen of the
Observer
's
list of New York's "Top 50 Art Collectors"
earlier today and saw real-estate developer
Aby Rosen
perched on the pedestal of one of
Tom Sachs
' "Bronze Collection" pieces (
My Melody
, 2008), I had forgotten about an encounter I recently had outside his Lever House building. I was walking to the
Museum of Modern Art
on a Sunday morning earlier this month and came across a gigantic crane parked in the middle of 53rd Street, just west of Park Avenue. A team of men was in the process of removing Sachs'
Wind-Up Hello Kitty
, the last vestige of the artist's mid-2008 show for Rosen's
Lever House Art Collection
.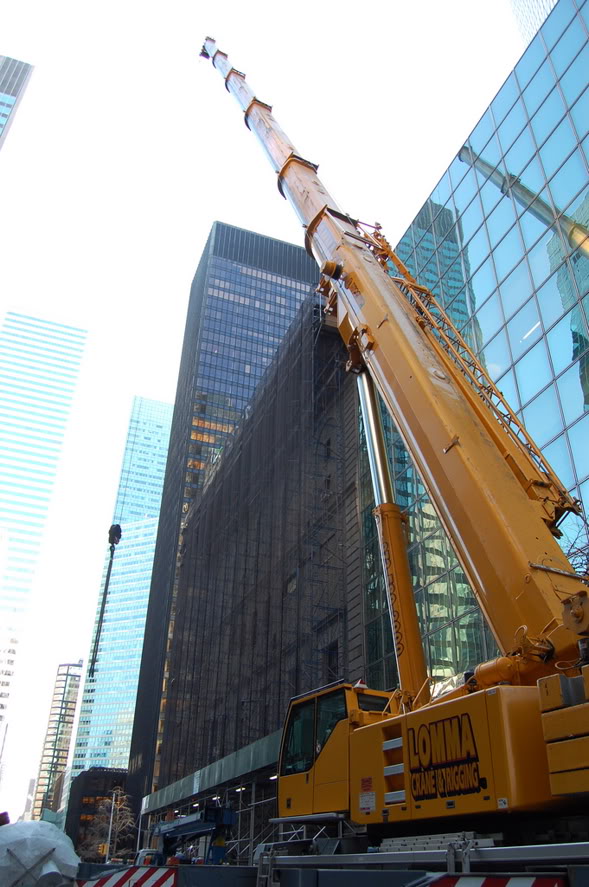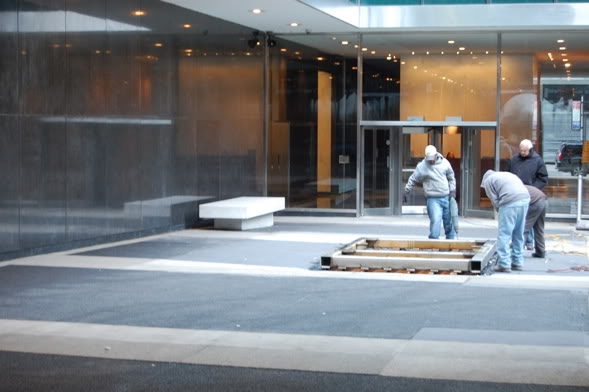 As Sachs'
web site explains
, these sculptures were modeled with foamcore, which was "then cast in bronze, and ironically painted white to resemble the white foamcore surface." Made of precious metals painted a generic color, they are big-money productions that very publicly advertise the transmutation of raw capital into high culture. And yet, even painted white, they are still, of course, enormous bronze sculptures. Moving one requires a massive crane, skilled movers, and at least one road closure. While
they may not be much to look
at as autonomous sculptures, they are thrilling to watch being moved: comical, infantile constructions that, despite their innocuous appearances, are unwieldy and potentially dangerous when set in motion.
Just as
Franz West
's "Adaptives" (
Paßtücke
) are most pleasurable when being wielding by a user, Sachs' works seem complete only when they are being set through a series of performative actions, carted about with the aid of heavy machinery or at least handled physically (I know I tapped on them when I visited), confirming their existences as decadent, barely disguised works made from expensive metal — which is why, I suspect, that
many
of the
web sites
about the works make a point of documenting their transport and installation.