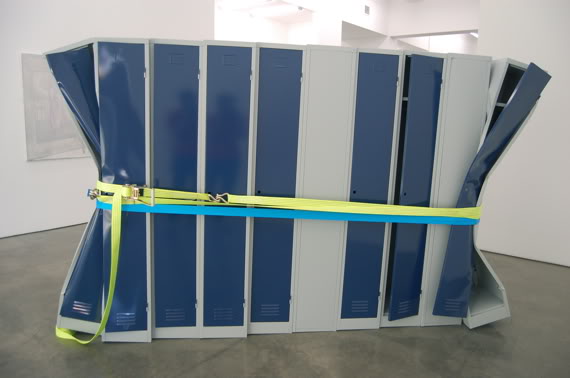 Matias Faldbakken, Untitled (Locker Sculpture #01), 2010. Metal lockers and lever straps, 72 1/4 x 122 3/4 x 23 in. Photos: 16 Miles [more]
One of this summer's most enjoyable group shows is, without question,
Gladstone Gallery
's
"The Mass Ornament,"
curated by
John Rasmussen
, the executive director of
Midway Contemporary Art
,
a nonprofit gallery he founded in 2001 in Minneapolis
. The show features work by a fair number of artists that Rasmussen showed at Midway over the past decade, including
Maha Saab
,
Ned Vena
,
Patricia Esquivias
,
Matias Faldbakken
,
Lisa Lapinski
,
Patrick Hill
,
Gedi Sibony
,
Jay Heikes
, and
Michaela Meise
. Those aren't exactly unknown names on the New York art scene (many are represented by galleries in the city and some live there, though Heikes lives in Minneapolis), but it's still a fairly unconventional group to find assembled together in a single Chelsea gallery.
I've reviewed "The Mass Ornament" for
Modern Painters' Weekend Reviews section
and included some photographs of the show below. However, the truly exciting bit of news is that I am in Minneapolis right now and will be visiting Midway today to see its current show,
Pennacchio Argentato
's
"The New Boring,"
completing an imaginary cultural exchange program. (As always, I ask that you please refrain from burgling my home while I am away.)
If you have recommendations for galleries or museums I should visit while in Minneapolis, please drop me an email or let me know on
Twitter
!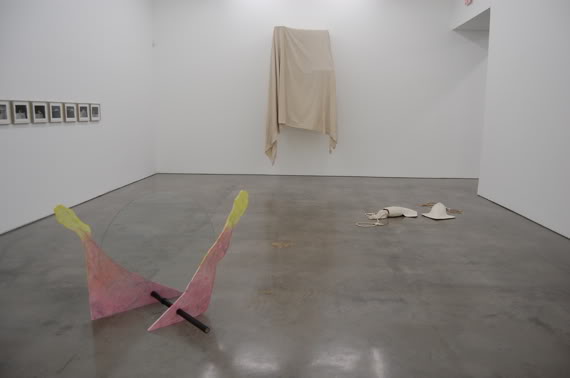 Installation view of "The Mass Ornament." Front, Patrick Hill, Bloom, 2010. White Carrara marble, glass, rubber, polished steel, dye, and glue, 36 x 51 x 49 1/4 in.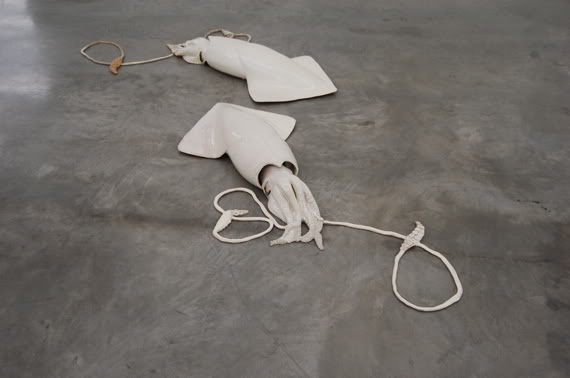 David Zink Yi, Kopffüsser VII ("Cephalopod VII"), 2009. Porcelain, dimensions variable.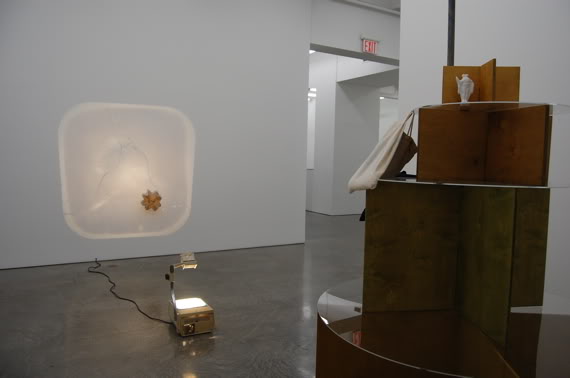 John Williams, Cosmic Ass Wrinkle, 2003. Oyster shell, acrylic bowl, wire, clay, and overhead projector, dimensions variable. Michaela Meise, Tour de Corps, 2010. Wood, Plexiglas, and mixed media, 95 1/2 x 59 x 59 in.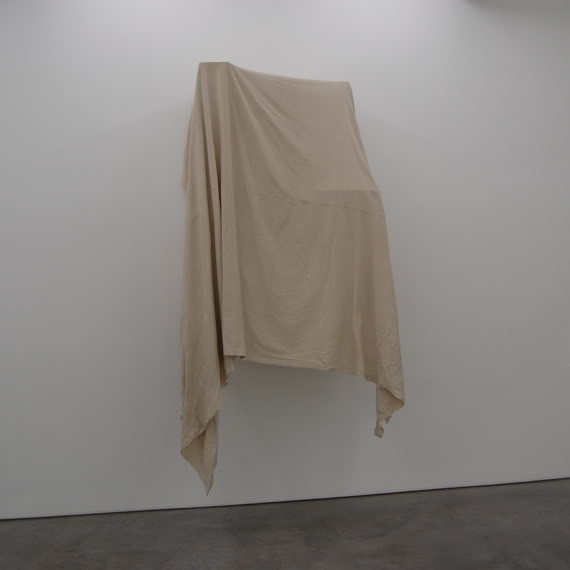 Gedi Sibony, The Predicament (What It Is That Ceases) 2006-2010, 2010. Canvas dropcloth, foamcore, shelf bracket, and plywood shelf, 120 x 67 x 37 1/4 in.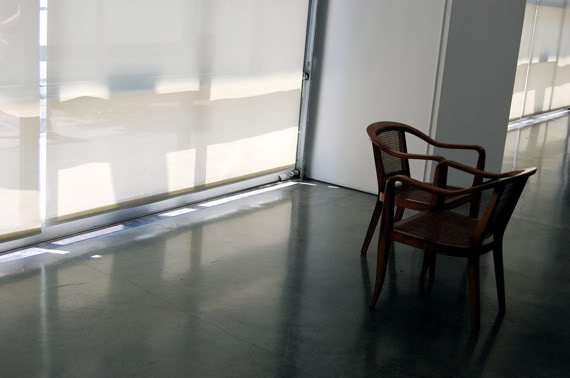 Nick Mauss, Untitled (Inversions/L'Amitie), 2010. Wood, lacquer, and stain, 29 x 56 x 29 in.
"The Mass Ornament," curated by John Rasmussen
Gladstone Gallery
515 West 24th Street
New York, New York
Through August 13, 2010