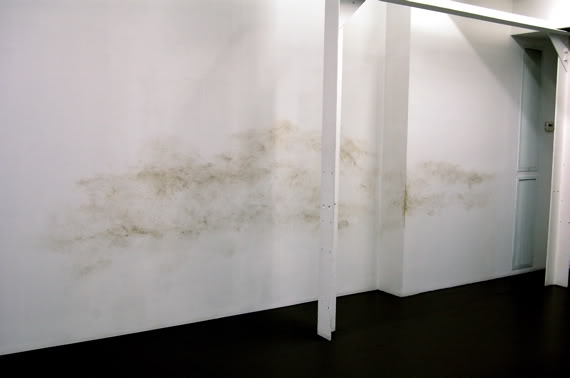 Daniel Turner's site-specific wall drawing in "Saturn Return" at Wallspace, New York. Photo: 16 Miles
Yesterday, in the first part of a series devoted to artists with work in more than one New York group show this summer, we
took a look
at painter
Ned Vena
's smart, tightly lined paintings. Today, let's take a peek at the work of
Daniel Turner
, which is featured in a trio of shows:
"Saturn Return,"
curated by
Elizabeth Lovero
at
Wallspace
;
"Other Spaces,"
curated by
Jayne Drost
at
Center 548
(the new name of the
Dia Chelsea
/
X Initiative
building); and
"Over Before It Started"
at
West Street Gallery
, curated by
Alex Gartenfeld
and
Matt Moravec
.
Turner has a wide range that includes long, rolled sheets of silver paper that nod toward
Walter De Maria
and beautiful, glossy, richly textured paintings that look like
Robert Morris
felt pieces shrunken down and shellacked by
Steven Parrino
. However the pieces on view at Wallspace, Center 548, and West Street are all similar: wall drawings made with various substances. When I first saw one, at West Street, I thought that proprietors Gartenfeld and Moravec had damaged their wall when moving in
Grayson Revoir
's wonderful nail- and screw-filled picnic table.
According to West Street, Turner worked as a security guard at the
New Museum
and wasn't allowed to lean on the walls while working, spawning his interest in bodily contact with walls. It's pretty remarkable that no one thought of the trick before — they look weird, unsettling, and just a little bit sexy, three traits that come together these days.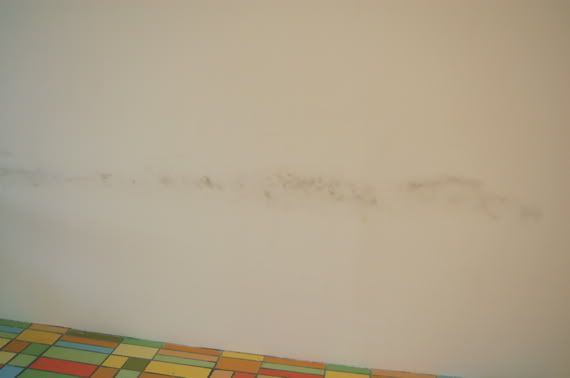 Daniel Turner's site-specific wall drawing in "Other Spaces" at Center 548, New York.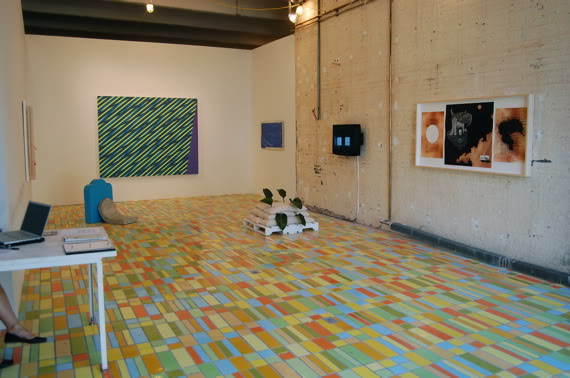 Installation view of "Other Spaces" at Center 548, New York