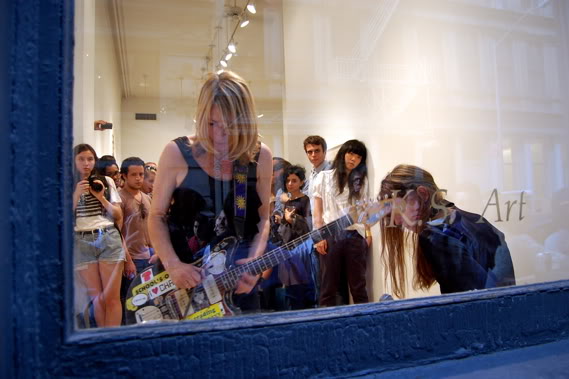 Kim Gordon and Jutta Koether (Bad Adult),

The Promise of Originality

, K.S. Art, May 7, 2010. Photos: 16 Miles [more]
Maybe people don't know whether they can experience the erotic

or whether it exists only in commercials; but on stage, in the midst of rock 'n' roll, many thing happen and anything can happen, whether people come as voyeurs or come to submit to the moment.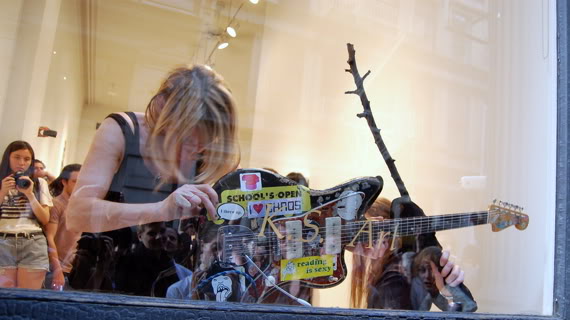 Kim Gordon's show at K.S. Art, "Performing/Guzzling," opened last night with a performance by Gordon and artist Jutta Koether, who adopt the nom de guerre Bad Adult on stage. They used guitars, a keyboard, and a stick, rubbing those items against the walls, the floor, and the front window of the gallery, occasionally speaking into two microphones. From outside it was almost impossible to hear the music, creating a nearly perfect fishbowl effect: one could watch the music being made but couldn't hear it. The crowd spilled out onto Leonard Street to watch, as taxi drivers gamely dodged the PBR-swilling masses. "Are they famous?" a passing businessman asked one of the art-student types in the audience, who shrugged.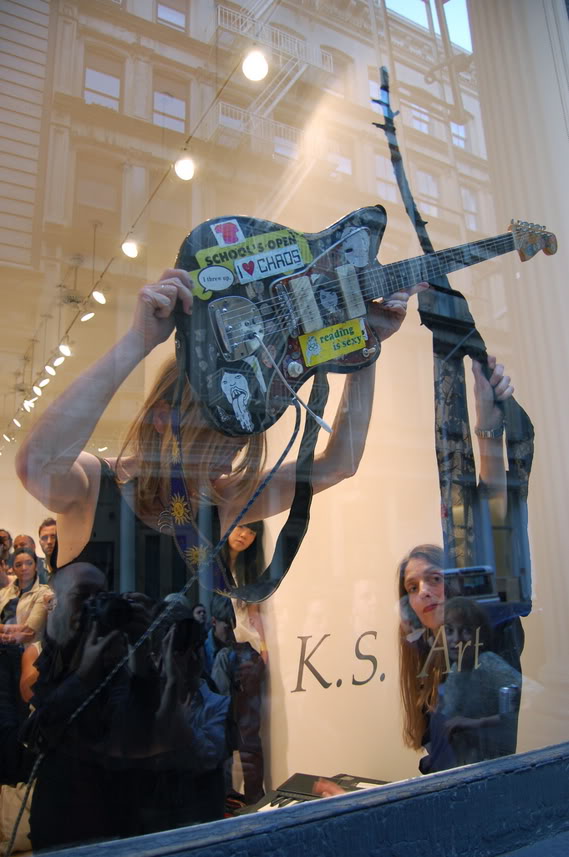 Gordon's
new paintings
aren't far from the paintings that Merlin Carpenter's quickly
scrawled out
at a Reena Spauling opening back in 2007. But instead of Carpenter's aggressive, mannered insults (e.g. "Die Collector Scum" and "Relax it's only a crap Reena Spaulings show"), Gordon offers up the names of noise bands in quick splashes of black acrylic:
Pussy Galore
, Secret Abuse, and, of course, Bad Adult. If you know the bands (Pussy Galore!), you get to revel in the knowledge and think about how great that band is. If you haven't heard of those bands (Secret Abuse?), you're left on the outside, contemplating only a single, disturbing phrase.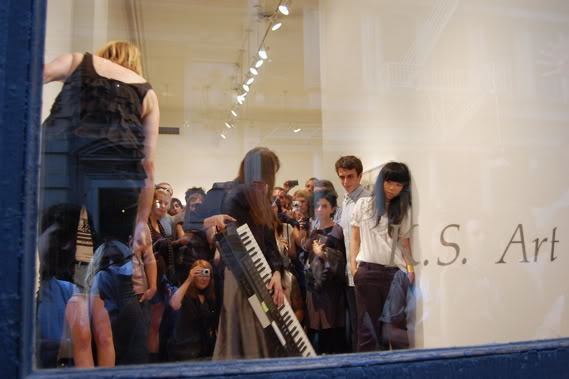 Identifying with — or feeling empowered by — art is a dangerous and perhaps dubious business, Gordon suggests. It can require venturing into small, hermetically sealed subcultures. Addressing your own alienation, you run the risk of alienating everyone else. She is, after all, the same art critic
who argued
, almost three decades ago: "People pay to see others believe in themselves." Her performance with Koether, though, was free, and it was nice to see people believing in themselves after all these years.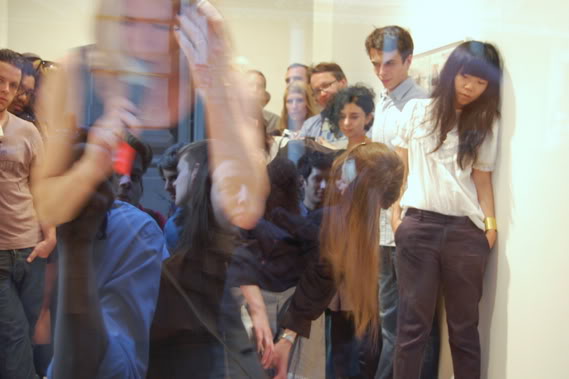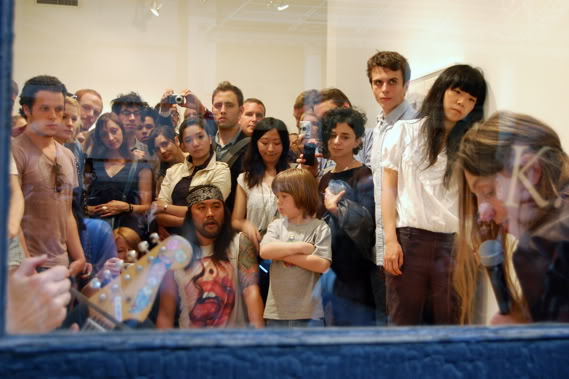 Note the youngest Bad Adult fan in the center, arms crossed, a little skeptical of the audience's commitment.
Kim Gordon, "Performing/Guzzling"
K.S. Art
73 Leonard Street
New York, New York
Through June 12, 2010