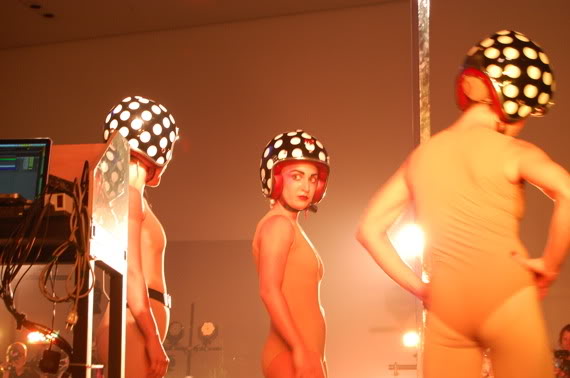 Fischerspooner,
Between Worlds
, Nov. 1, 2009 at the Museum of Modern Art, New York, for "Performance" 6. Photos: 16 Miles [more]
The first third of
Performa 09
, New York's performance biennial, has finished. The Museum of Modern Art staged a Fischerspooner show as part of the festivities (and as part of its
performance series
), while P.S.1 is hosting a short-term performance art exhibition curated by RoseLee Goldberg (Performa's founder) and P.S.1 director Klaus Biesenbach. Here's a review:
Midway through a Sunday night performance in the Museum of Modern Art's atrium, Casey Spooner signaled his band Fischerspooner to a sudden halt. "I'm going to die!" he screamed to the young, fashion-conscious crowd, apparently displeased with their level of enthusiasm. "I'm a showbiz disaster. This is your last chance to show your love!" The crowd cheered, trying to oblige their fated star, and the noise appeared to be sufficient. Spooner who takes the role of a rampaging showman on stage — equal parts Boy George and Roman gladiator — motioned to his team, and the group's raucous club music started again.