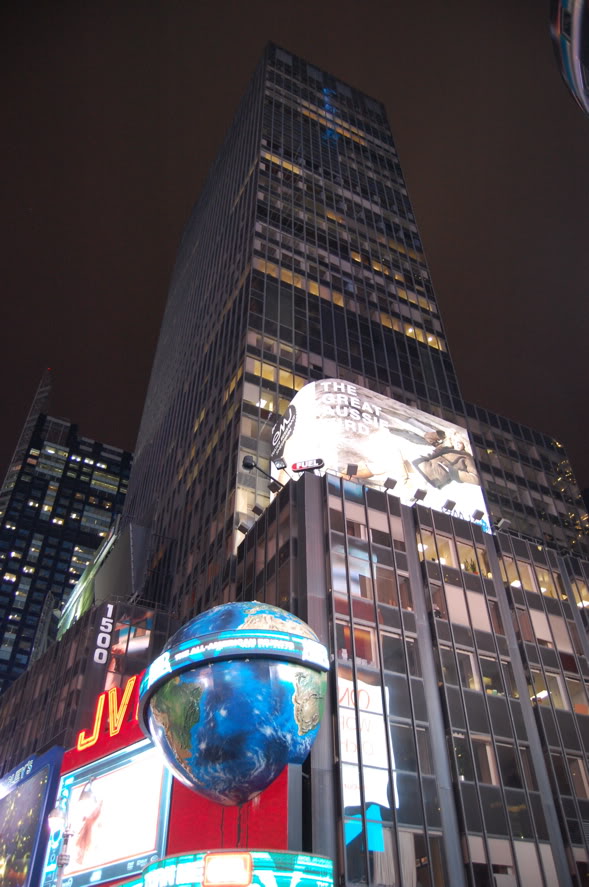 1500 Broadway, New York, February 28, 2011. Photos: 16 Miles [more]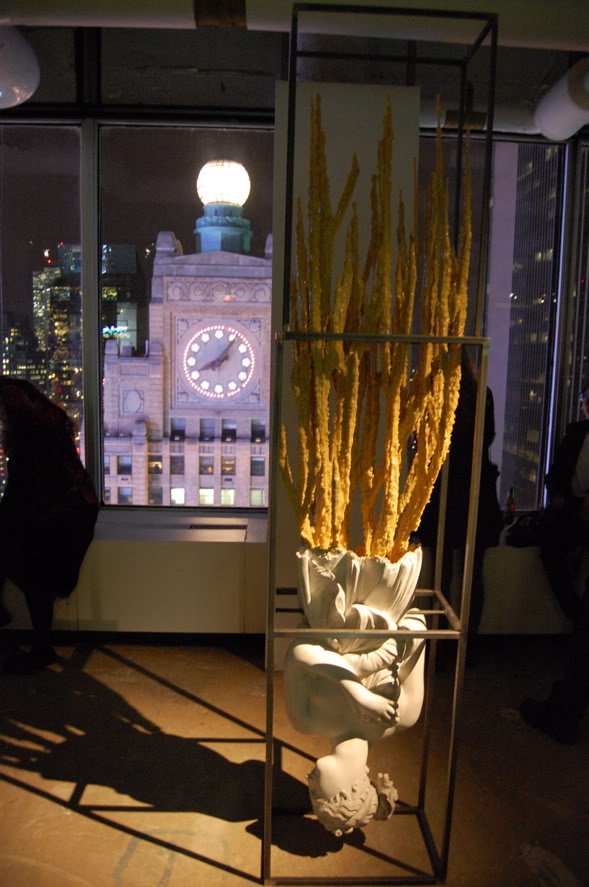 Nick van Woert,

Lady Lady

, 2011. Fiberglass statue, polyurethane, 44 x 72 x 24 in.
Art has been heading heavenward in recent months.
Summer Guthery
's
Chrysler Series
has been bringing an array of events and ephemeral exhibitions to the 31st floor of the Chrysler Building, and the
Dependent Art Fair
(more on it later) staged a one-night blowout on the 12th and 14th floors of the
Four Points by Sheraton
hotel in Chelsea on Friday. On Monday night, the 33rd floor of
1500 Broadway
was the site of another above-ground exhibition, arranged by billionaire London–based collectors
Anita
and
Poju Zabludowicz
, whose
Tamares
investment group
owns the building
.
The space is almost completely unfinished, sporting raw cement floors and ceilings lined with unconcealed pipes. Block out the breathtaking views of New York City (though that is pretty much impossible given the enormous windows), and you might think you're in a new space far out in Brooklyn, at least until you spot the four very shiny
Nick van Woert
sculptures, two of them dated 2011, which are included in "The Shape We're In (New York)," an exhibition of work culled from
the Zabludowicz's collection
. They're joined by seven flashy
Ethan Breckenridge
pieces — or eight, if you count the
coffee-vending-machine-and-sound piece
that he made with
Sean Dack
, titled
My Thoughts on Your Thoughts (Fifteen, Fifteen, and Thirty for Lunch)
(2010). The three
Sarah Braman
sculptures — sets of cubes in various materials combined into three-dimensional Tetris blocks — work best here, their empty boxes balancing precariously in a temporary gallery that is, it may be worth remembering, vacant, unused real estate.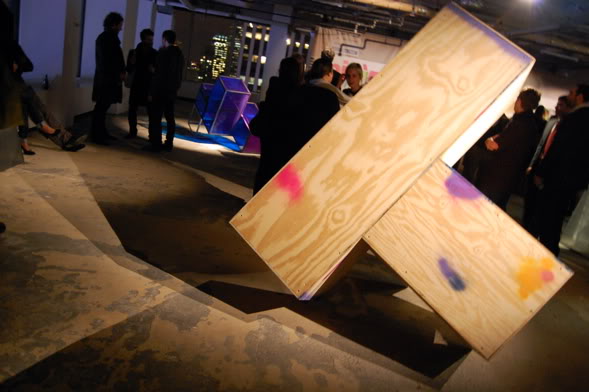 Front: Sarah Braman,

Ghost Sculpture (Coffin)

, 2010. Plywood, lumber and paint, 79 x 66 x 58 in. Back: Sarah Braman,

October Animal

, 2010. Metal, Plexiglas, paint, 48 x 66 x 58 in.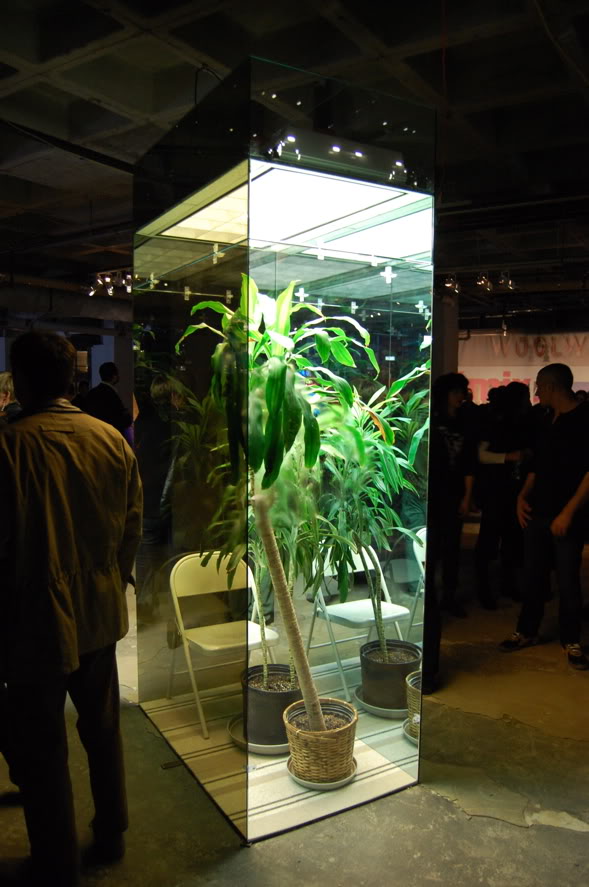 Ethan Breckenridge,

Plants Have No Back

, 2008. Mixed media, 39 x 51 x 105.75 in.
Independent curator
Alex Gartenfeld
has also staged a show in the space. Titled "Proposal for a Floor," it is as quiet as a whisper, contrasting radically with the other show.
Anselm Reyle
delivers the most aggressive touch, an untitled 2009 neon sculpture that is a tidier, dissembled version of a
Keith Sonnier
.
Dominic Nurre
's contribution is subtler, two leather chairs bearing large salt licks that look perfectly surreal in this cubicle- and desk-less office. Rounding out the bunch are
Josh Tonsfeldt
,
Kon Trubkovich
,
Jim Richards
,
Sam Anderson
, and a personal favorite,
Michael E. Smith
, who presents two of
his reworked milk jugs
.
The space is open only
by appointment
after today. After April 15, its shows will close.
Max Neuhaus
's
Times Square
(1977) sound piece, however, will remain in the area, humming away on the island between 45th and 46th Streets on Broadway, just as it has since it was reinstalled by
Dia
in 2002. It provides a stolid, permanent counterpoint to the fast action of the past week. If you have a spare moment, visit it after you descend the elevator of 1500 Broadway.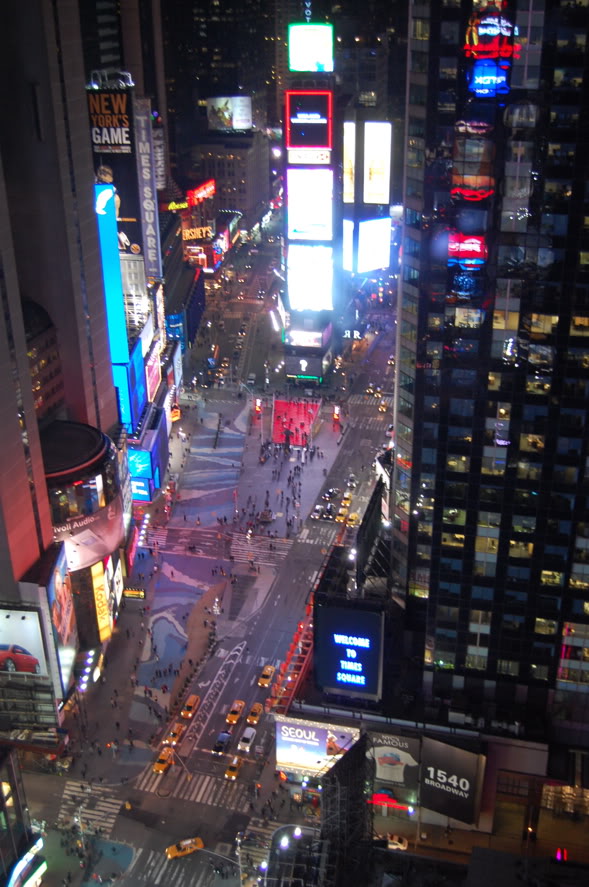 The view from the 33rd floor of 1500 Broadway, looking north.