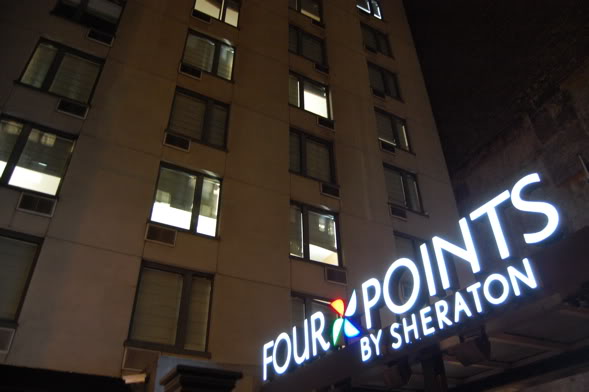 The Four Points by Sheraton hotel, 160 West 25th Street, March 4, 2011. Photos: 16 Miles [more]
A Quinn Taylor sculpture in Canada's room
A line of people stretched out of the front door of the
Four Points by Sheraton
hotel on West 25th Street when I arrived there on Friday night, just after 8 pm, to visit
The Dependent Art Fair
, a one-night, five-hour stand of 16 exhibitors in rooms on the 12th and 14th floors of the hotel, organized by artist, dealer, and my friend
Rose Marcus
. The fair-goers — ostensibly younger, on average, than those at the week's other fairs — were let up to the 14th floor (which was really the 13th floor) in batches of about a dozen in a tiny elevator that had been commandeered for the evening's festivities. "I will let you off on floor fourteen," the apparently unflappable hotel employee who had been charged with piloting it up and down throughout the night informed us once we had packed inside. "Walk down the stairs when you are done."
As the elevator doors popped open on the 14th floor, revealing a painting of a dog on a pink background, which was not, it turned out, part of the fair (
the same portrait was installed on the 12th floor
, as well), a voice from down the hall shouted, "Welcome to the mad house!"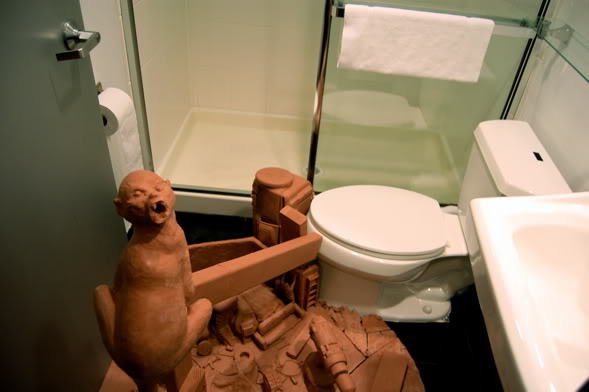 A Barkev Gulesserian sculpture in Canada's bathroom
Thanks to that terrifying warning, the sizable crowd seemed positively manageable, and with some patience, it was possible to get a good, close look at the rooms.
Canada
, one of the event's most established names, was my first stop, where I found a terrifying
Barkev Gulesserian
sculpture of a rabid–looking monster had been fit into a modest bathroom, parts of its base apparently shattered to fit around the toilet.
Quinn Taylor
's gigantic
Groucho Marx
tribute — glasses, nose, and mustache, all super–sized — was sitting on the bed. A hotel room has never looked smaller.
Since drilling into walls was strictly verboten, exhibitors planning to show paintings had to improvise.
Kerry Schuss
, of the redoubtable TriBeCA gallery
KS Art
, propped canvases by the late, great outsider artist
Freddie Brice
— bracing silhouettes of a fish, a horned monster, and watches — on his bed's headboard and a side table, and set framed
Ray Hamilton
s on his sheets. Also on offer: spindly cartoon-Goth portraits by his
Schuss's son
,
Max Schuss
.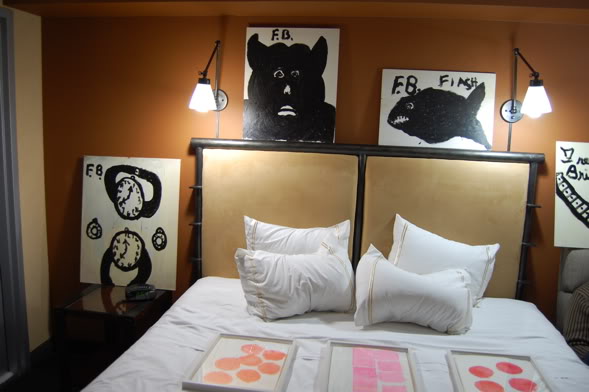 KS Art's room: black-and-white paintings by Freddie Brice in background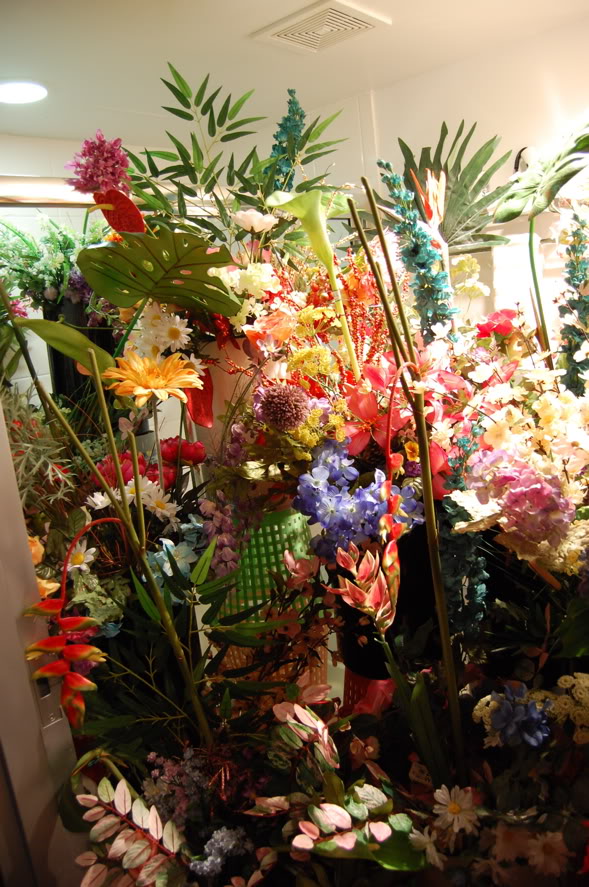 Cleopatra's bathroom was filled with a dense garden of faux flowers, an installation by Alex Da Corte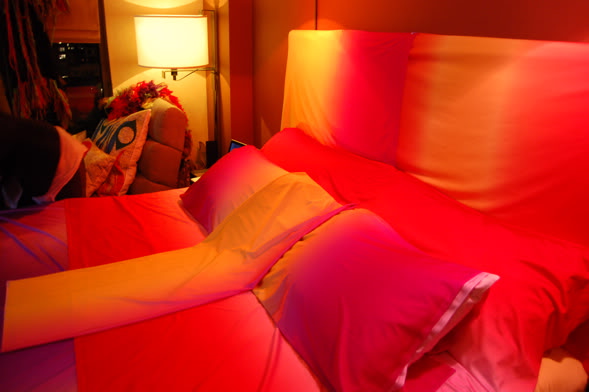 A glorious fabric work by Polly Apfelbaum in Cleopatra's bedroom
Greenpoint curatorial collective
Cleopatra's
went for an all-out, seamlessly integrated site-specific installation.
Anicka Yi
, who helped conceive the
dough floor in January at The Artist's Institute
, filled the air with sweet, complex waves of fruit from a perfume installation, while
Polly Apfelbaum
kept the effervescent vibes flowing on the bed's linens, which she covered with eye–melting washes of color — pinks, purples, and yellows sliding and bleeding into one another. (Someone, please, mass-produce these.) Another expert colorist,
Alex Da Corte
(
the man behind those neon soda spills
in
P.S.1
's
"Between Spaces"
show last year), built a gorgeous faux-flower forest in the bathroom.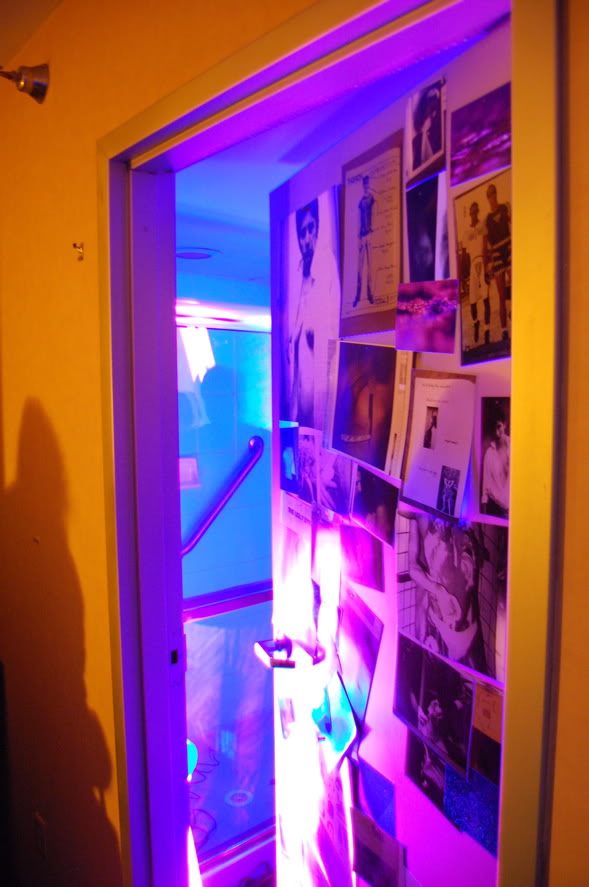 A. K. Burns and Katherine Hubbard provided "free body-hair cuts" in Recess's bathroom for their performance The Brown Bear: Inverts and Interiors.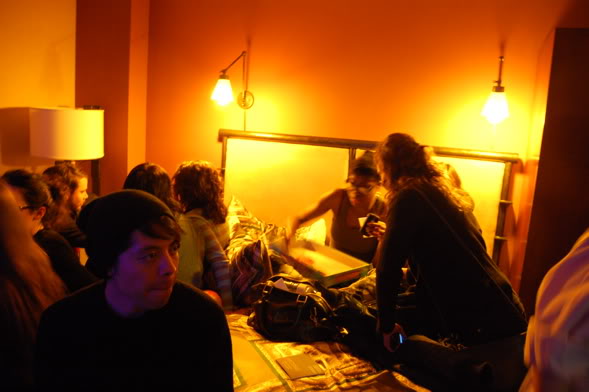 Kenya (Robinson) performing her work

The Inflatable Mattress

, playing board games in bed and then sleeping over in Recess's room
Much of the best art was confined to those bathrooms. (This is a sentence that, sadly, I will probably never write again.)
A. K. Burns
and
Katherine Hubbard
reprised their
Brown Bear

performance
in SoHo nonprofit
Recess
's W.C., providing free body-hair modifications for all comers. They peeked through a crack in the door periodically and then grabbed their next client. The action, hidden from direct public view, was piped via a video camera onto the room's television. Artist
Kenya (Robinson)
had the best view of their work since she was perched on top of the bed performing
The Inflatable Mattress
, for which she is serving as a house guest for 13 successive weeks. She had been promised the bed for the night.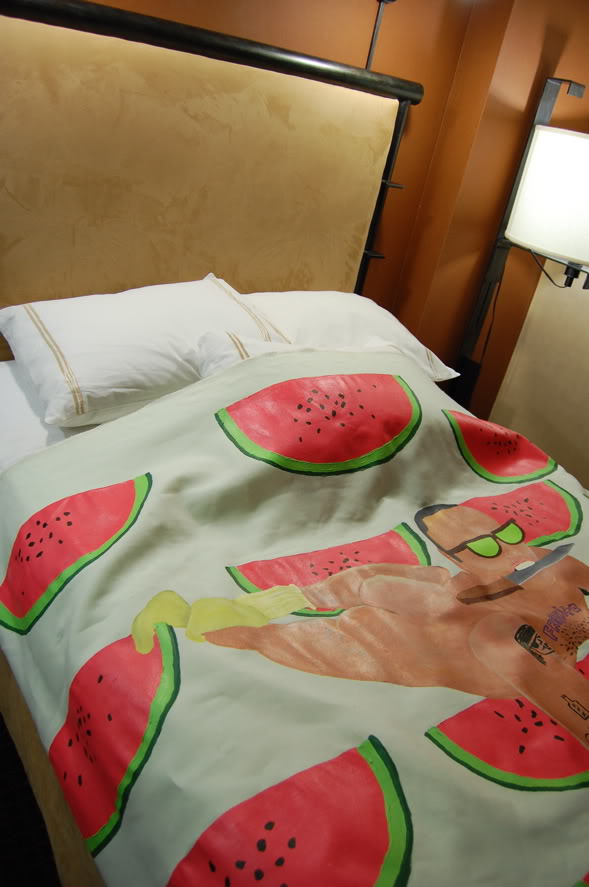 A bedspread of watermelon slices and a naked man clenching a knife between his teeth, in Paradise's room, by Radamés "Juni" Figueroa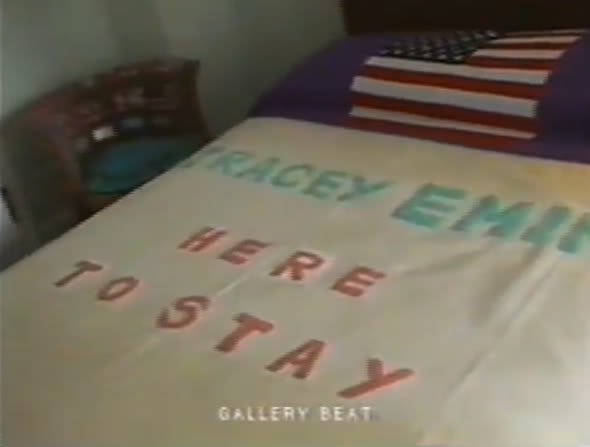 Still at 9 min., 4 sec., from
Gallery Beat
, episode 75, part three of three.
Image: Gallery Beat
In the room of Puerto Rico–based
Paradise
, one of the few exhibitors hailing from beyond New York, the bedspread was also the medium of choice.
Radamés "Juni" Figueroa
adorned his version with slices of watermelon and a crawling nude man (save for yellow socks and sunglasses) clenching a knife in his mouth, a vision that I imagine would impress
Tracey Emin
, who pioneered bedspread art back in 1995 in
White Cube
's hotel room at the second
Gramercy International Art Fair
(which became the
Armory Show
in 1999, when it moved out of the Gramercy Hotel). (If you have 10 minutes, watch the
Gallery Beat

episode
about the 1995 fair. It's a treat.)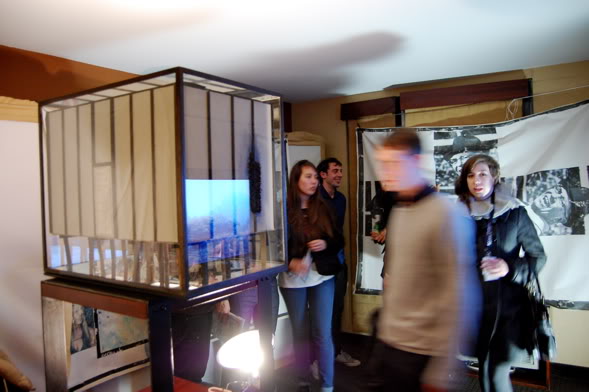 Ramiken Crucible pushed their room's bed and furniture to the side. The vitrine, seen from behind, is Andra Ursuta's T. Vladimirescu #5, An International Psychic Maneuver, 2007. Wood, metal, glass, fabric, paint. The tidy Vince Lombardi banner is

Borden Capalino

's Cross, 2011

. Inkjet transfer on canvas, grommets

.
Ramiken Crucible
, which just inaugurated a new space on the Lower East Side, mounted the most radical redesign, pushing the room's furniture to its margins, creating an art-fair booth as large as some of the smaller spaces at the Armory at a fraction of the price: rooms at The Dependent reportedly cost slightly more than $200. An elaborate diorama by
Andra Ursuta
and
Borden Capalino
's quadruple portrait of
Vince Lombardi
dominated the room.
In contrast,
David Platzker
of
Specific Project
was resolutely respectful of the hotel room, showing a series of framed
Raymond Pettibon
works, as well as a trove of art films on the room's flat-screen television. The
Destricted

compilation
, featuring various sexually-charged art vidoes, was playing during my visit. "I can never afford hotel pornography," a friend complained, as
Marilyn Minter
's
Green Pink Caviar
consumed the screen. Here, it seemed, was a solution in the form of a single DVD.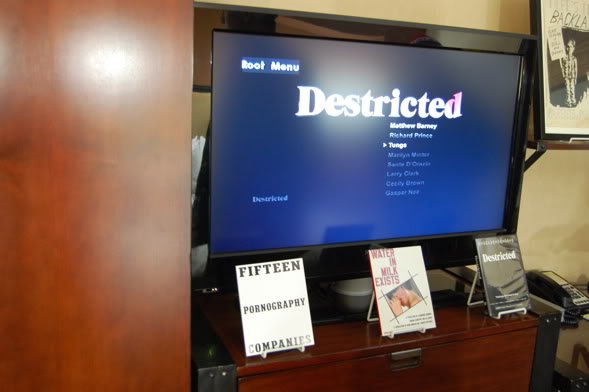 Specific Object was playing films from the

Destricted

compilation, organized by Neville Wakefield, Mel Agace, and Andrew Hale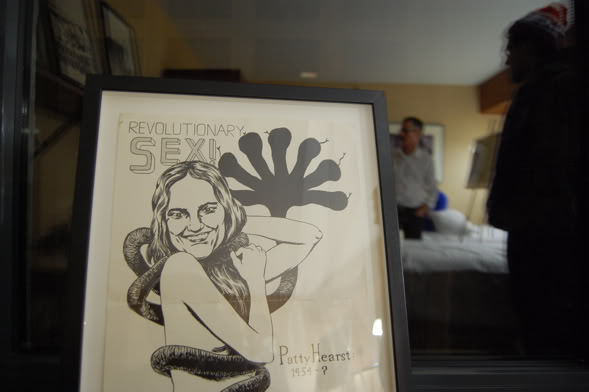 A detail of a Raymond Pettibon on view in Specific Object's room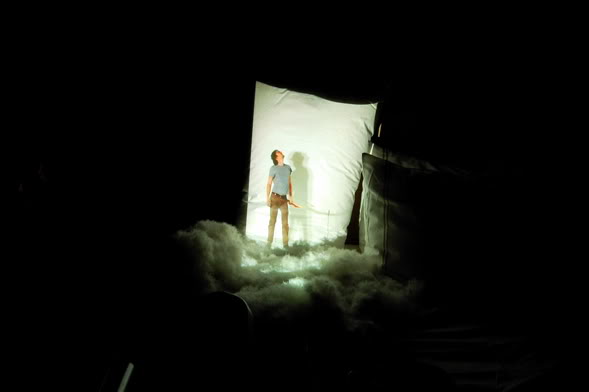 Zerek Kempf,

Weight of Fall (Waltz)

, 2011, in 2-UP's room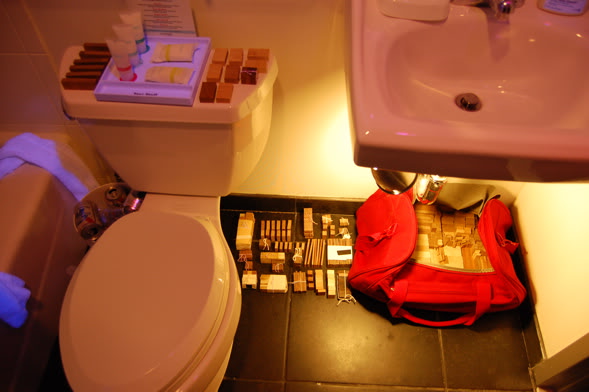 The floor in 2-UP's bathroom
Adam Schecter
and
Joe Winter
, who work under the name
2-UP
, hung posters from a rack in their shower, and projected an entrancing video by
Zerek Kempf
onto an upright pillow. It showed a lone man with a bow and arrow pacing around his space, occasionally firing off his ammunition. They also sold posters from their shower. Meanwhile, in
Dispatch
's room,
Title Tk
(a super-group comprised of artist
Cory Arcangel
, musician
Alan Licht
, and artist and curator
Howie Chen
) were, as Arcangel had promised on his web site,
"'performing' (kinda)."
The band talks about music instead of performing it, and they seemed to be relaxing aggressively, watching classic-rock videos and sipping beers.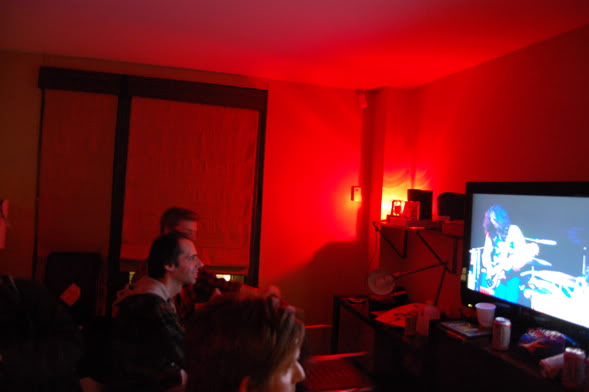 Spinning red light, jams on the television, serious chilling Title Tk in the Dispatch room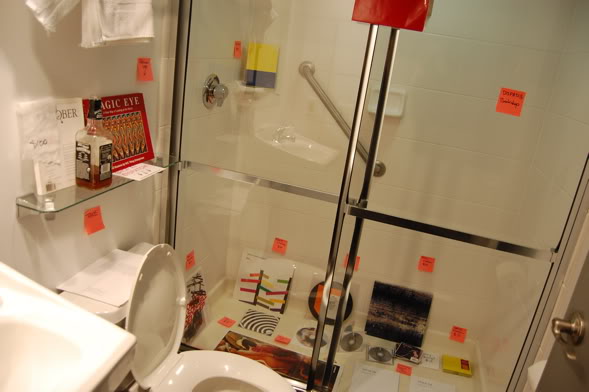 The Dispatch Bookstore, relocated to Dispatch's hotel bathroom
Also present:
the scrappy East Village space
Audio Visual Arts
, with a fine assortment of records;
Reference
, from Richmond, Virginia, hawking souvenirs emblazoned with the face and name of the artist
Reid Ramirez
;
New York Fine Arts
, a project from the folks behind
Apartment Show
; the new artist-run Williamsburg space
Soloway
;
Evil Freaks
, which had paintings by
Marcus
and
Andy Meerow
alongside a tasty, trippy
Matthew Schrader
shower curtain; and the estimable artist-run Chelsea space
Silvershed
. (For more photographs,
there is a Flickr set available
.)
Paintings by Rose Marcus and Andy Meerow in the Evil Freaks room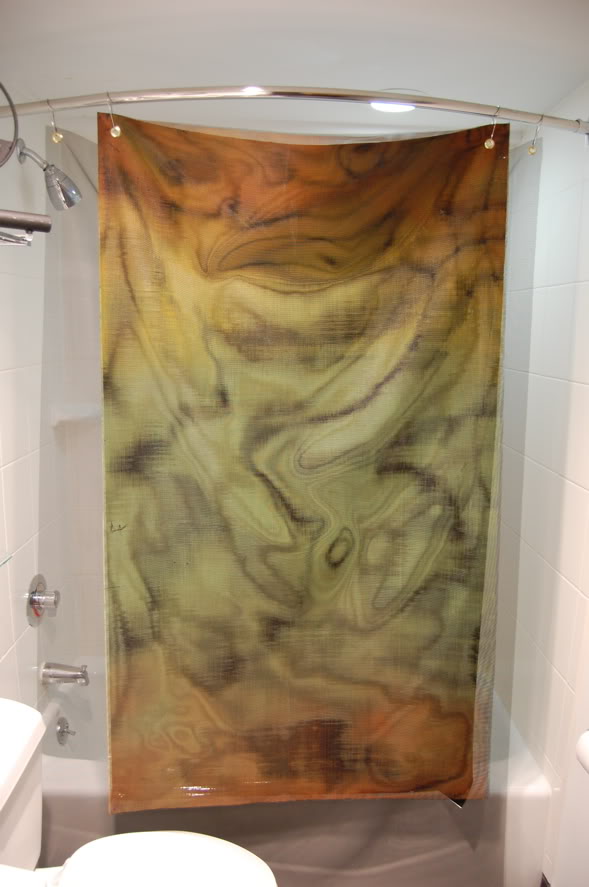 Matthew Schrader shower curtains in Evil Freaks' bathroom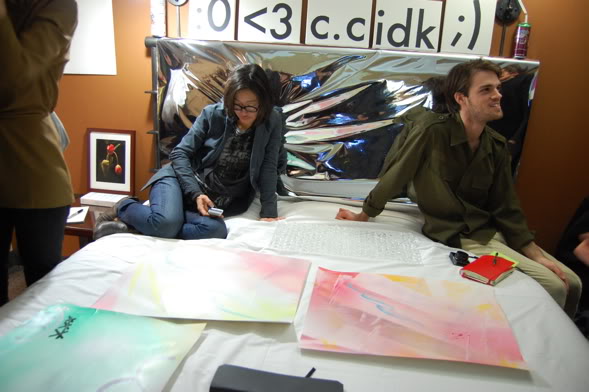 Silvershed's bed: the light–colored paper works are by Oliver Lenz; the works on the silver headboard are by Kerry Hassler
As 9 pm approached, visitors moved quickly from room to room trying to catch quick glances at all of the displays. Then they made their way to the stairs. The street-level emergency exit had been propped open, and a few latecomers sneaked through, climbing up 13 sets of stairs to the 14th floor. Down the street, at Silvershed's penthouse headquarters, the after party was starting, complete with a blazing fire and a formidable supply of Radeberger. As I left, people waiting in the lobby for the elevator were holding boxes and boxes of
2 Bros. pizza
.
That evening,
New York
senior art critic
Jerry Saltz
tweeted
, "Bravo to the volunteer soldiers/organizers of the 1-night 'Dependent Art Fair' for breaking the chain of command." Indeed, the fair proved that alternative models for the distribution — or at least the viewing — of art are viable. Get together with your friends and their friends and their friends, and you can create something new: an evening of "freewheeling, carefree times," as
Four Points by Sheraton says, explaining why its logo is a pinwheel
. The question now is: What comes next?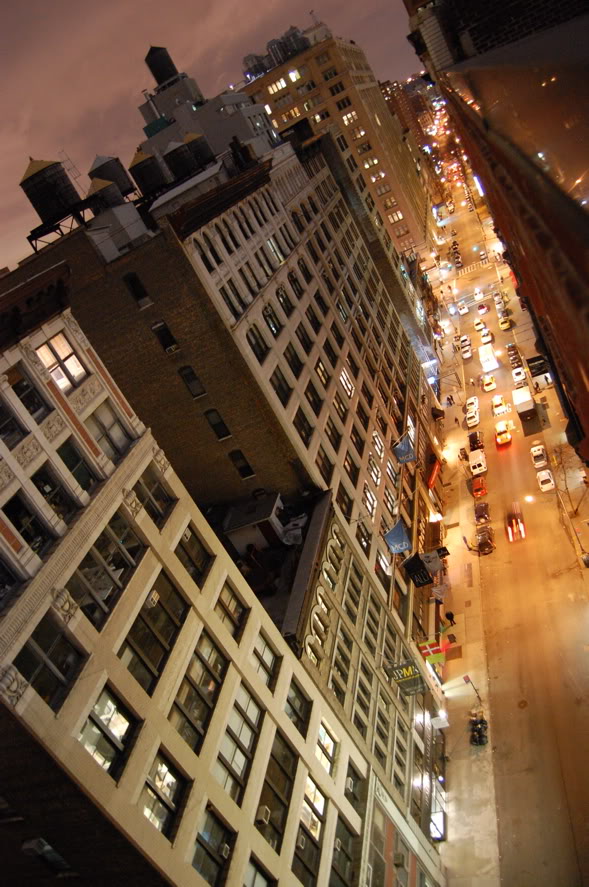 The view west on 25th Street, from Silvershed's penthouse space to the Four Points by Sheraton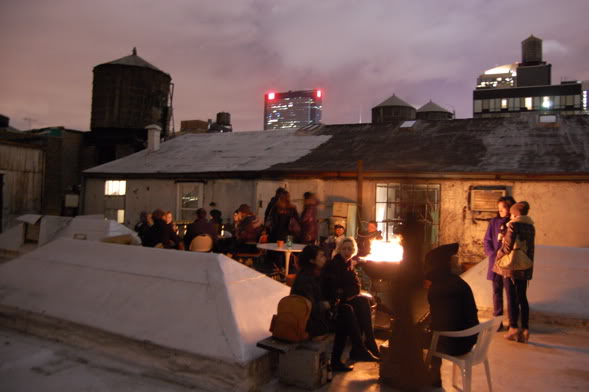 The after party at the Silvershed space, complete with a roaring fire and a Radeberger beer sponsorship
Since I sprinted through the show, I had some trouble identifying specific works at first. Thank you to all of the galleries that answered questions after the event and to the people behind the great pieces at
ArtObserved
,
Hyperallergic
,
Forrestall Family Life in Art
, and
Art Fag City
.