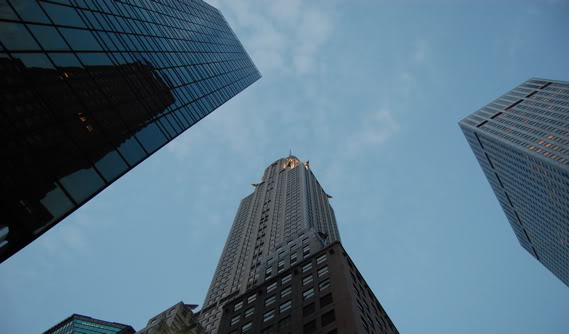 The Chrysler Building, July 16, 2010. Photos: 16 Miles [more]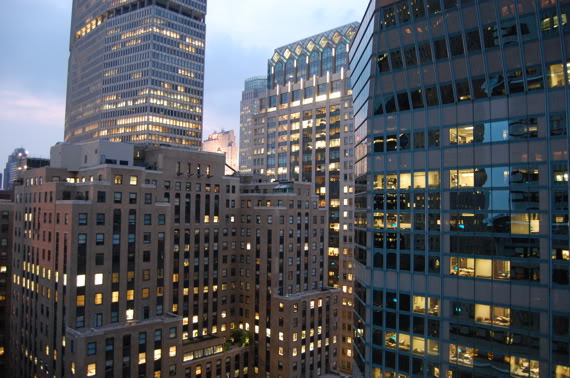 A view of Midtown Manhattan from the 31st floor of the Chrysler building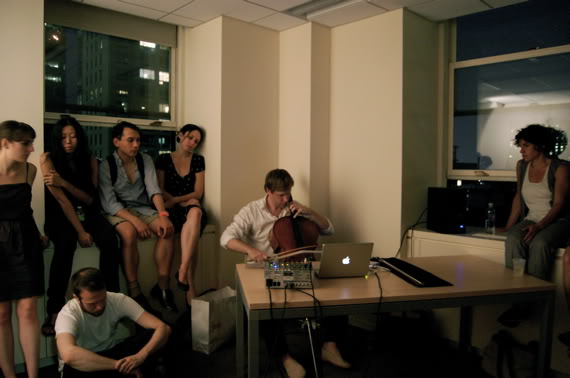 Alex Waterman performing
Back in April 2009, I saw
Paul Morris
, the former New York art dealer who helped start the
Armory Show
and now works for the art-fair conglomerate
Merchandise Mart
in Chicago, speak at the
Fashion Institute of Technology
on the future of the art industry. Asked to offer advice to aspiring gallery owners, he suggested a tantalizing idea: rent a space in the Empire State Building. There are rooms to spare there, rent is surprisingly affordable, and everyone will want to visit a space opening in the iconic building, he argued.
Sometimes, great ideas are floating around in the air. Roughly a year after that talk, a regular art series has been initiated in a borrowed office on the 31st floor of another landmark Midtown skyscraper, the Chrysler Building, under the careful direction of enterprising curator
Summer Guthery
. Last Friday night, a few dozen guests entered the building's warm Art Deco lobby, boarded a wood-paneled elevator, and shot upstairs. Behind an open door, down an anonymous white hallway, a crowd of about thirty had gathered. They stared at a hypnotic video by
Becca Albee
showing a city street (a sort of
reversal of
Warhol
's
Empire
), and — glancing at an
Yves Klein
image smartly commandeered by
Kevin Regan
— leapt gingerly out one window onto a small balcony, surveying the view as they waited for the evening's performances.
At around nine, artist
Robert Snowden
presented the night's first piece, reading a short story in the corner office. Onlookers perched on windowsills and sat on the thinly carpeted floor. A few closed their eyes, leaning their heads on the walls, as the sun set behind the neighboring buildings. Snowden described the unexpected arrival of a strange balloon in a town. "Some people claimed that they felt sheltered, warmed as never before," he read, energetic but deadpan. "While enemies of the balloon felt, or reported feeling, constrained. A very heavy feeling." Then silence. There would be no applause between movements.
Cellist Alex Waterman was up next, his instrument in his lap and a computer and mixer on a empty desk in front of him. The clatter of people walking came through his speakers, then some gentle ringing appeared, elevators perhaps. Had he recorded the day's activity down below? He began bowing his cello, playing double, triple, and quadruple stops in long, shifting drones for about twenty minutes. Occasionally he switched between bows, from the flexible version that facilitated those two-, three-, and four-note expanses to a tauter French bow, which allowed a more precise attack. Then he ended, to applause this time. The evening was over.
Descending that elevator to the grand lobby below, there was a sense that something momentous had taken place. It was, at least, unusual. Historically, these youthful, heady art happenings are supposed to occur on the edge of poverty, serving as harbingers of an impending wave of gentrification. Instead, we were leaving a building that defines a certain era of American ingenuity that seems to be reaching its end. The economy is still shaky, and New York remains as expensive as ever, a difficult place for artists to live. All of which is to say that things are a bit topsy-turvy in the city at the moment, culturally and otherwise. Or, as one dealer put it to me recently: "There is some sort of sadness here. Something is missing." That may be true, but events like the
Chrysler Series
suggest that is changing.