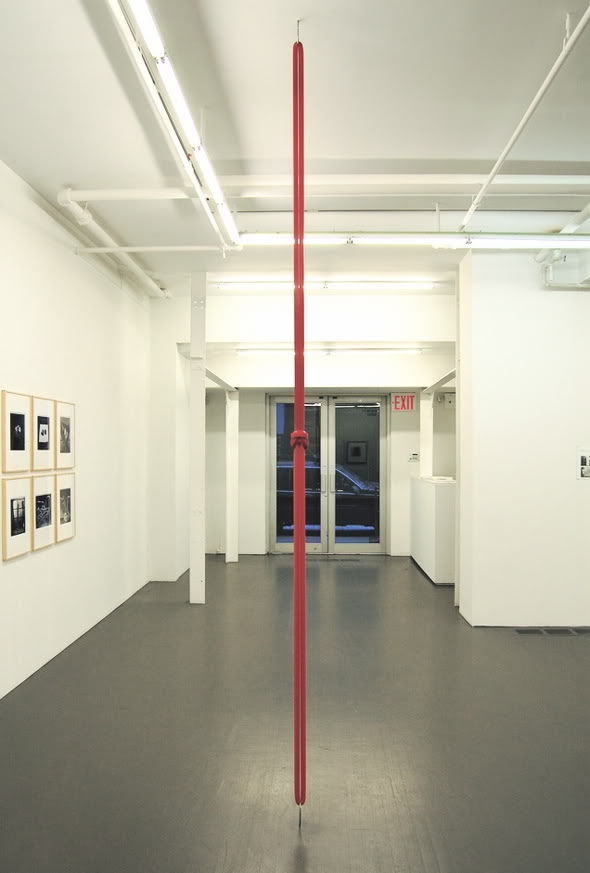 Martha Friedman,

Rubbers

, 2010. Cast silicon, pigment, and metal, 134 ½ x 3 ½ x 3 in. at Wallspace's "Swagger, Drag, Fit Together." Photo: 16 Miles
Drawing

Pat Steir

's "The Nearly Endless Line" at

Sue Scott Gallery

in New York. [Art Clogged]
Martin Bromirski

visits

Katharina Grosse

's sprawling

MASS MoCA

show. Her last one-person show in New York was in 1997. [Anaba]
Will Cotton

: "I do love sugar. But I used to have other vices too. I think the other vices have just fallen by the wayside, and sugar has stepped up a little bit to take their place." [The 99 Percent]
"It seems to me that

Saltz

just took a shot at something new, intrigued by the prospect of quick and unmediated feedback."

Sharon Butler

on art critics and the Internet. [Two Coats of Paint]
New York experimental masters

Excepter

tackle "Little Drummer Boy," "Deck the Halls," and "Carol of the Bells." It sounds even better in the new year. [A Million Keys]
"The dreamer emerges, not as a collection of biologic urges, but as the mastermind capable of creating such a nuanced, intricate and meaning-laden world."

Elif Batuman

on "Why Criticism Matters." [New York Times]
Cracklings, wafer cookies,

Daniel Spoerri

, and more: With

Nicole Caruth

and

Megan Fizell

(of Feasting on Art, mentioned above!), I recently wrote about art involving food and art involving food. [Art21]


In anticipation of

Joe Bradley

's Canada/Gavin Brown doubleheader, a classic review in

Frieze

(via @gregorg), with commentary by

Dan Colen

. Conveniently, work by

Martin Barré

goes on view at Andrew Kreps this Saturday evening.