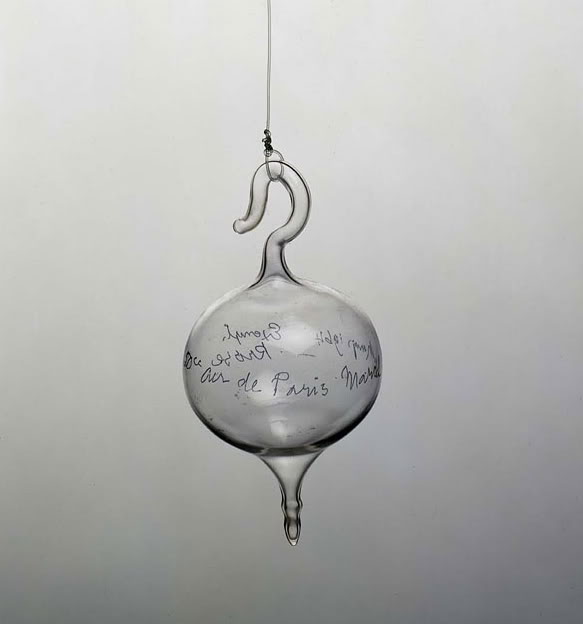 Marcel Duchamp,

Air de Paris

, 1919 (1964 version). Glass and wood, 14.5 x 8.5 x 8.5 cm. Photo: Centre Pompidou, Musée national d'art moderne, Paris / © Succession Marcel Duchamp / ADAGP, Paris
Sure, we have
Inhotim
, the
Jumex Collection
, the
Rubell Family Collection
, the
Daimler Art Collection
, the
Sammlung Boros
, the
Brant Foundation
, and a number of other private museums today, but, back in 1920 (nine years before
MoMA
opened), the estimable poet-critic
Henry McBride
, on the hunt for contemporary art, got to stop by the Upper West
East
Side home of the adventurous art collectors
Walter
and
Louise
Arensberg
.
In 1920, for one of his first articles as art critic for
The Dial
(the magazine founded by the Transcendentalists exactly eight decades earlier), McBride
described a visit to the Arensberg collection
, during which he and a friend were introduced to
Marcel Duchamp
's newly produced
Air de Paris
(also known as
50cc air de Paris
, though the glass container reportedly did not hold that amount of air until later versions):
"Do you want to see Marcel's latest work of art?" Walter Arensberg asked me, upon the occasion of my first visit to the studio and after we had had a long and easy conversation without a word of reference to the

Matisse

, the

Brancusi

, and the other marvels, all of which I had seen perfectly without looking at them. From the grin upon his face I knew Marcel's latest was something larky. When Arensberg lifted a glass bulb with a curious tail to it from the protecting cottons of a wooden box I saw that my premonitions had not played me false.

"It's air from Paris," said my host, "hermetically sealed at a particular street corner in that city."

I'm not bourgeois, so I didn't have a fit. I didn't even inquire the name of the street on which the air had been caught. Like Arensberg, I laughed. As a work of art "Marcel's latest" seemed pleasant and droll. Perhaps I instantly saw that the joke did not apply to me so much as to my educated friend. That's the advantage in not being a bourgeois yourself. And sure enough when I asked my friend if he had seen the Air from Paris by the famous Monsieur Duchamp, he replied drily:

"Do you suppose it's still air from Paris? Science tells us that air tightly sealed in that fashion quickly rots and changes its character," and before I could interpose an objection he wound me up with his contention of the day before.

The only drawback to

épaté

-ing the bourgeois is that half the time they don't know when they are being

épaté

-ed. If my friend chances to read these lines he'll know. I'll squander a copy on him.
I just wish that McBride had asked for that Paris intersection.