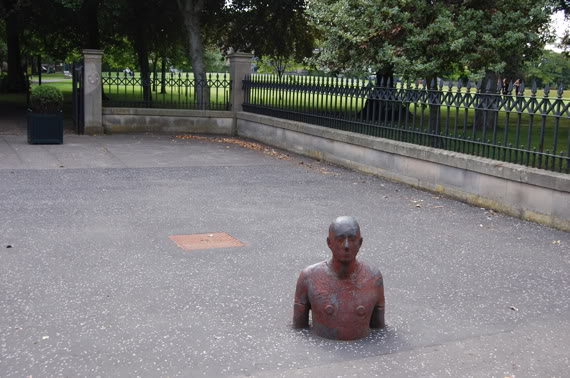 Installation view of Antony Gormley, 6 Times, 2010. Photos: 16 Miles
For the past few months New Yorkers in the vicinity of
Madison Square Park
have been busy calling the police to report that metal body casts of
Antony Gormley
are preparing to jump off the roofs of various skyscrapers. ("Art is on ledge of insanity,"
the New York Post put it.
) Now it seems that there are more suicidal Gormley sculptures on the loose. In Edinburgh, six similar casts have been installed in various points between the
Scottish National Gallery of Modern Art
and the sea. With heavy rain falling in the area, two that were standing knee deep in the Water of Leith have even been
knocked over and drowned
. Thankfully, they have been not been lost and officials have stood them back up again. (Some
really remarkable photographs are available through the National Gallery
. I unfortunately only saw the one drowning in concrete, above.)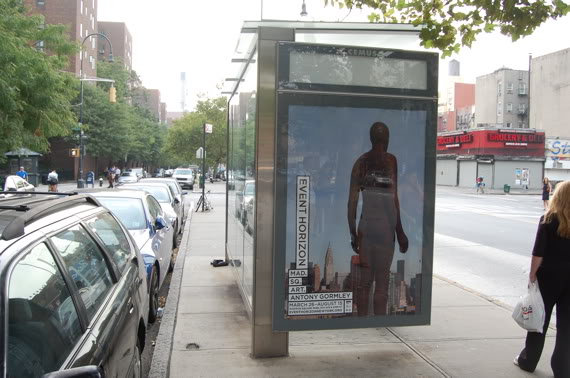 Unlike the New York installation, the six sculptures in Scotland are set to stay in place for 1,000 years. The New York piece,
Event Horizon
(2010), closes in two days, so this is the final weekend you will be able to go to Madison Square Park,
pick up a Shackburger
(and frozen custard), and view the ominous piece. If anyone has any doubts about how small (and pervasive) the art world is today, witness the advertisement I found at my local bus stop upon returning home, only a few hours after seeing the same sculptures more than 3,000 miles away.