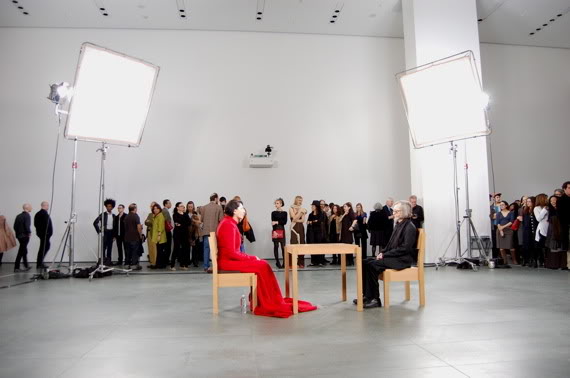 Marina Abramović, stills of
The Artist is Present
, 2010, at the Museum of Modern Art, March 9, 2010. Photos: 16 Miles [more]
Seeing Marina Abramović's performance at the Museum of Modern Art on Saturday afternoon and Tuesday evening made me think back to a great story that art historian Rosalind Krauss told in
Artforum
, back in 1972, about a visit to the Fogg Art Museum to see "Three American Painters," which included work by Kenneth Noland, Jules Olitski, and Frank Stella. Krauss said that, while visiting there with Harvard professor Michael Fried, an angry Harvard student approached the two of them, demanding answers. She wrote:
With his left arm raised and his finger pointing to the Stella, he confronted Michael Fried. 'What's so good about that?' he demanded. Fried looked back at him. "Look," he said slowly, "there are days when Stella goes to the Metropolitan Museum. And he sits for hours looking at the Velázquez, utterly knocked out by them and then he goes back to his studio. What he would like more than anything else is to paint like Velázquez. But what he knows is that is an option that is not open to him. So he paints stripes." Fried's voice had risen. "He wants to be Velázquez so he paints stripes."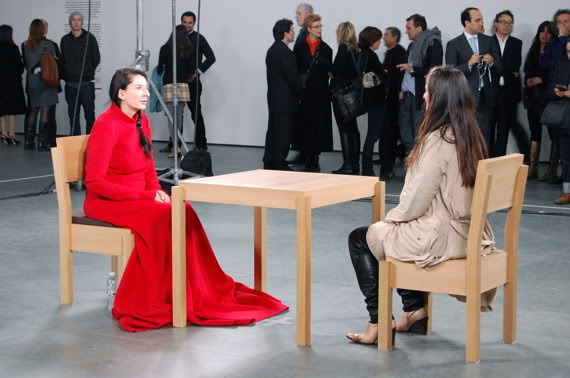 In James Westcott's new biography on the artist,
When Marina Abramović Dies
, he argues that Abramović's performances have become increasingly minimal over her career. In her earliest pieces, in works like
Rhythm 0
, 1974 — in which she invited audience members to take a host of props, including a knife, scissors, and lip stick to her passive, naked body — she relied heavily on props and theatrics, but by the late-1970s, working with her then-lover Ulay, she had shed some of that dramatic bent. Later,
Light/Dark
, 1977, involved Abramovic and Ulay slapping each other repeatedly for 20 minutes.
Night Sea Cross
, performed dozens of times over many years, saw the two of them sitting at the table, staring at each other. Their final piece, The Lovers, had them simply walking from either end of the Great Wall of China, meeting in the middle. And by 2002, in
The House with the Ocean View
(the performance
lampooned in an episode of

Sex and the City
), she simply lived on a platform in the Sean Kelly Gallery for twelve days.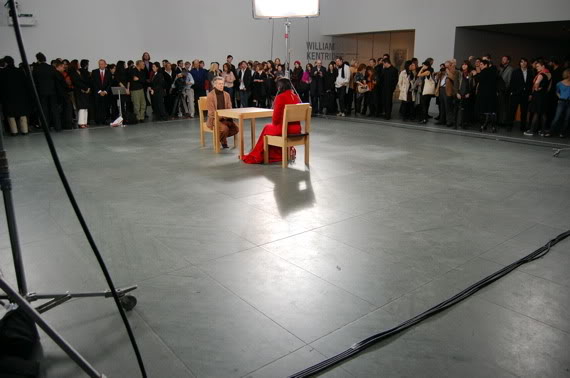 Now Abramovic has embarked on
The Artist Is Present
, in which she will sit at a table, across from an open chair for 716 hours and 30 minutes (t
hank you to Holland Cotter for the exact calculation
) on the floor of MoMA's atrium. Sharp, bright lights tower over her from each corner of her spare set, stripping away the much of the baroque glamour that one has come to associate with Abramovic. MoMA's retrospective on its sixth-floor is a reliquary, presenting artifacts from and documentation of Abramovic's earlier performances, but down below, the show's saint sits motionless, under harsh light and the stares of museum patrons, resolutely human.
To follow Fried's logic, it is as if she knows that she is capable of self-inflicted beatings, violence, and psychological turmoil in pursuit of art, and yet is aware "that is an option that is not open" to her. She has completed those trials and been championed as a hero and a martyr. Here, she chooses to suffer silently, almost invisibly, rather than resort to the shock and melodrama that marked some of her past work. She is clearly in pain as she sits in the atrium for hours each day — a grimace will pass over her face, a tear will stream down her cheek while sharing a look with someone — but it is almost imperceptible.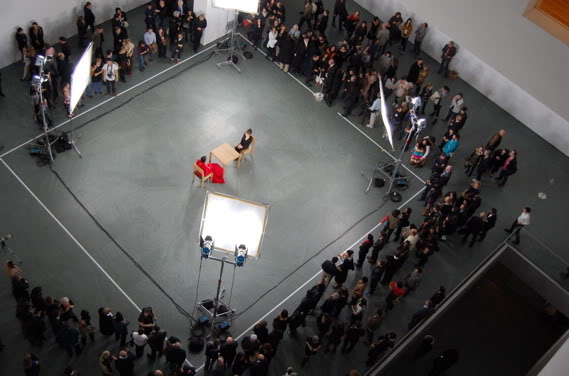 Tyler Green has
recently explored the references to torture
in Bruce Nauman's audio work,
Days
, and it is shockingly present here, too, as Abramovic locks herself in a seemingly commonplace posture that will grow brutally painful over time, a stress position not unlike those used by interrogators within certain elements of the United States military and intelligence services. But beyond this element of suffering, Abramovic's piece is also notable within her body of work for its remarkable generosity. Any person is invited to sit across from her, and they are welcome to stay as long as they choose. Rather than act as the distant stunt-woman, whipping or starving herself for the admiring crowd (or serving as the passive body for the mob to act on), she positions herself as level with her audience as she endures.
Abramovic, of course, is not a Modernist like Fried, marching ahead in pursuit of aesthetic progress. She will no doubt perform again after this work, and that future performance may see her adopt again one of her previous roles as daredevil or martyr. No matter. This is her masterpiece.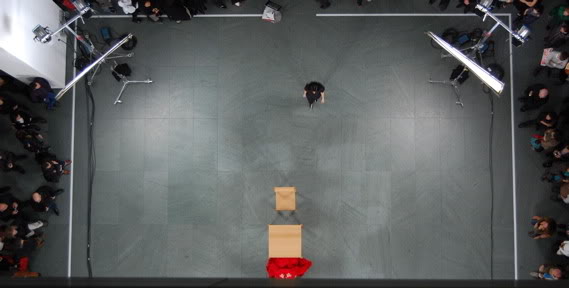 More:
"Present and Past"
at Artinfo