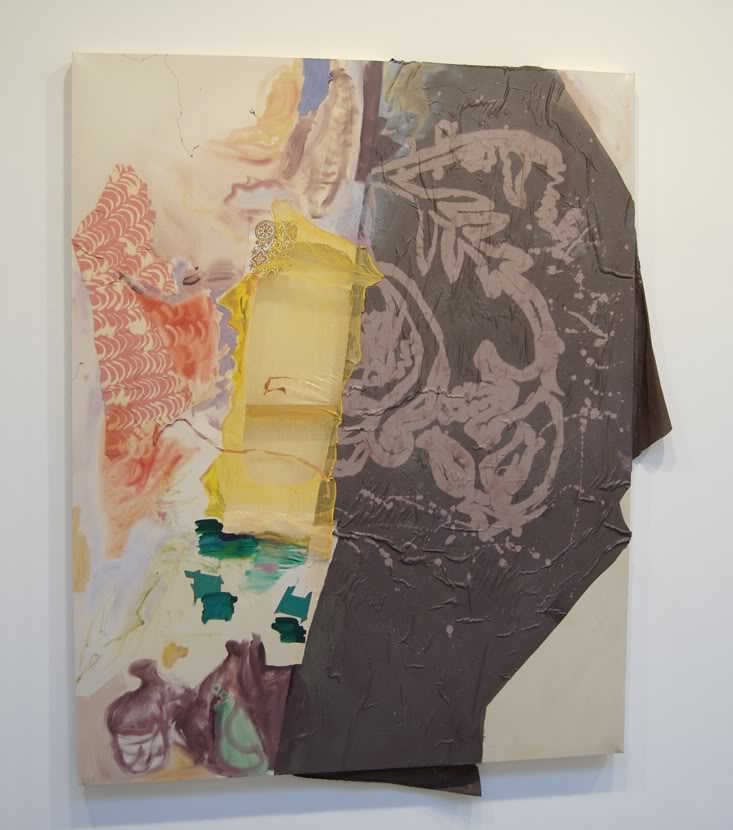 Lauren Luloff,

Yellow Window

, 2011. Oil, bleached bed sheets, and fabric on muslin, 76 x 60 in., in "Painting Expanded," at Tanya Bonakdar Gallery, New York, through July 29, 2011.
Tanya Bonakdar Gallery
's summer show brings together work by 17 painters, most of them young and closely watched, for a group show called "Painting Expanded," which was curated by Renee Coppola, Phyllis Lally, Emily Ruotolo, and Scot Surdez.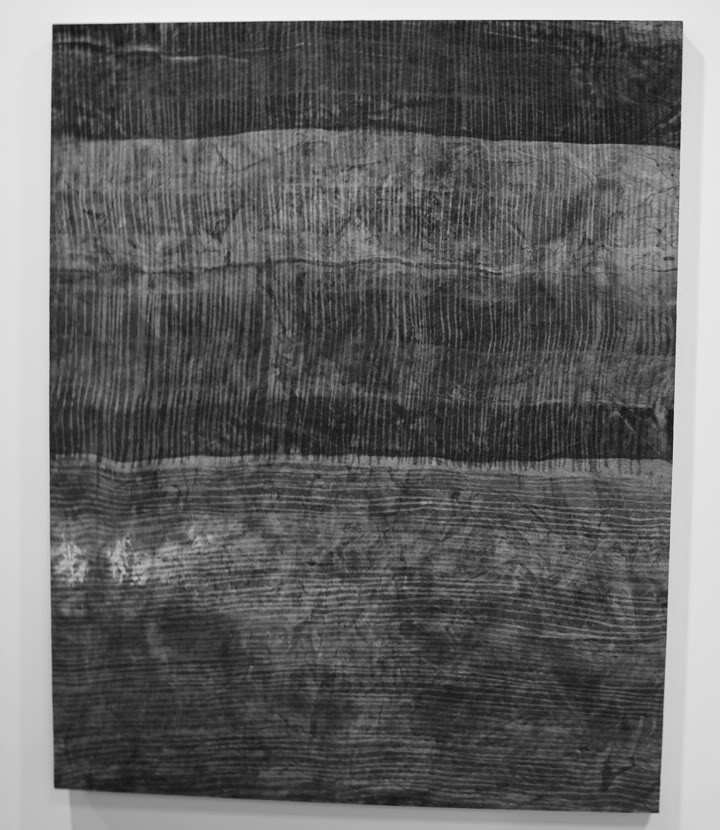 Sam Moyer,

Untitled

, 2011. Ink and bleach on canvas mounted to wood panel, 60 x 48 in.
It's a largely black, white, and beige affair on Bonakdar's ground floor, where a quirky, tightly assembled wood construction by
Donelle Woolford
(the nom de plume of artist
Joe Scalan
) hangs near a mirror wrapped in Plexiglass by
Justin Beal
and a bright silver denim trapezoid by
Anissa Mack
. The much-discussed
Jacob Kassay
has a small diptych that spans the floor's staid spectrum: one of the panels is white, the other black, and neither one sports Kassay's trademark burns. According to the checklist, they're brushed with oil and silver deposits, and they show Kassay exploring that
ultra minimal, almost-empty zone
that he ventured into in the works in his recent
Mitchell-Innes & Nash
show with
Virginia Overton
and
Robert Morris
.
Jacob Kassay,

Untitled

, 2011. Oil on linen and silver deposit on canvas in two parts, overall installed dimensions: 12 x 24 in.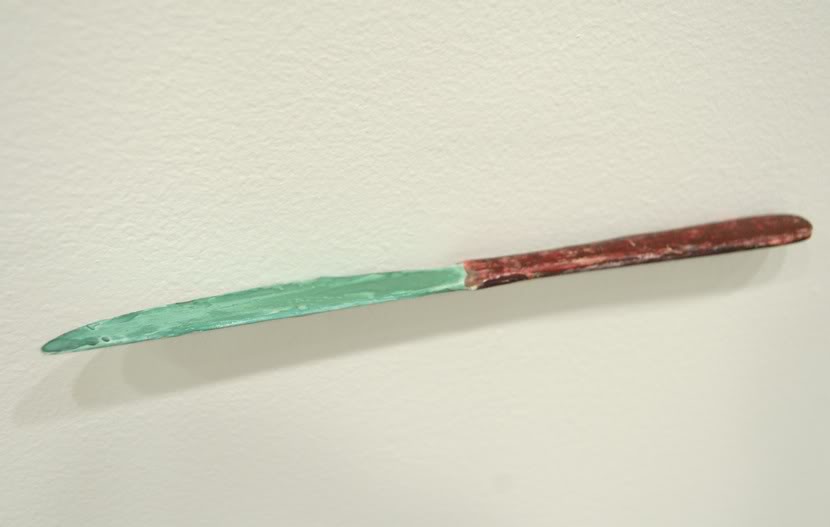 Hayley Tompkins,

Knife

, 2009. Found object, gouache, 9 1/4 x 3/4 x 2 in.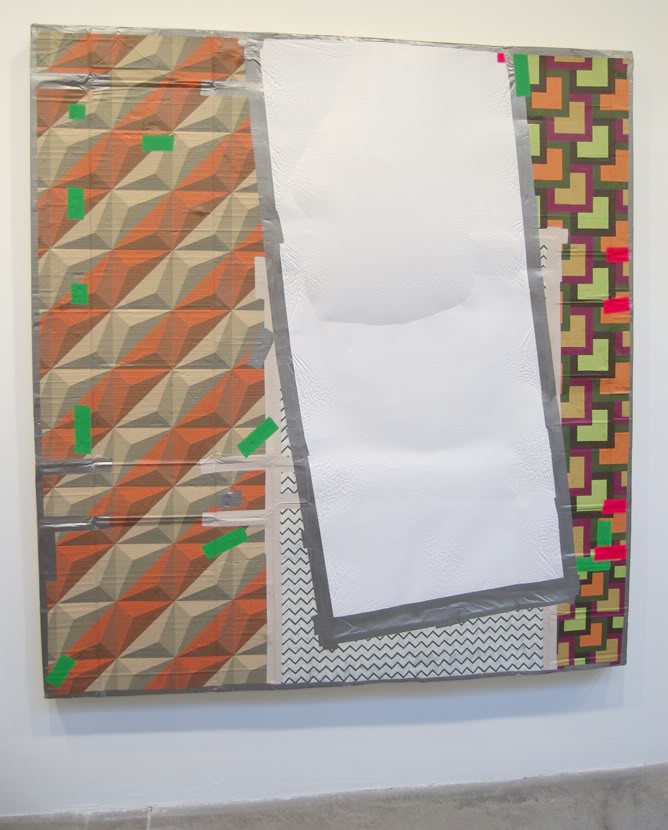 Ivin Ballen,

62 Diamond Street

, 2011. Fiberglass, aquaresin, acrylic, gouache, 80 x 74 in.
The exhibition takes a flashier turn on the second floor, which harbors most of the more-colorful works. Alchemical processes seem to be at work in a few pieces, as in
Ivin Ballen
's enormous
62 Diamond Street
(an address out in Greenpoint), which unites pulsating, nearly-three-dimensional bands of angular, patterned abstraction with faux duct tape delicately forged from fiberglass and aquaresin. Strange magic is also at work in
Anna Betbeze
's
Slab
, which looks from afar like a gloriously decomposing piece of sod that she's actually fashioned from wood, ash, acid dye, and watercolor.
Most of the artists will be familiar to those who have visited the galleries of the Lower East Side and the less-traveled sections of Chelsea over the past few years, but that's fine by me: summer can be as much a time for catching up with old favorites as discovering new ones.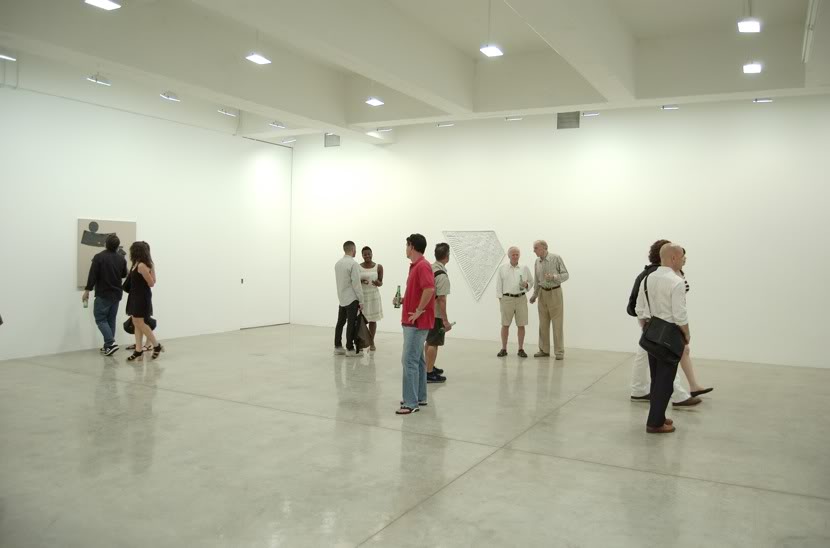 Installation view of "Painting Expanded" on the first floor of Tanya Bonakdar.