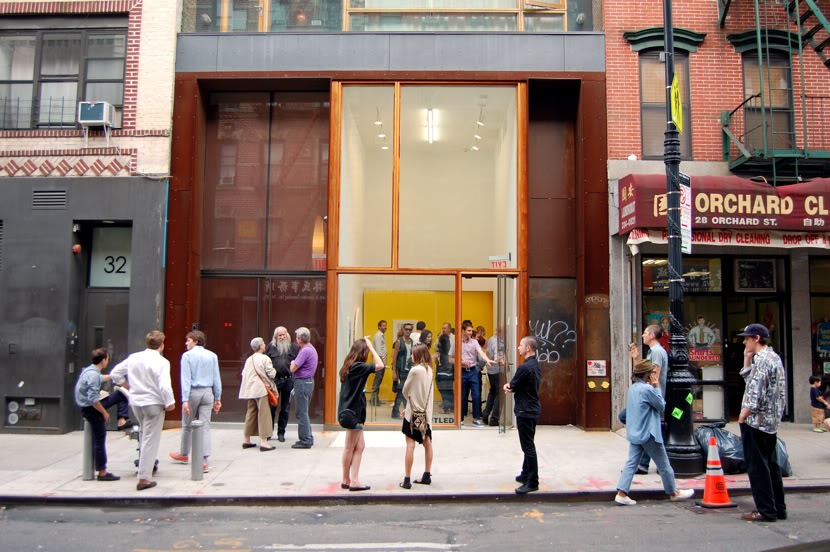 The crowd on Orchard Street, in front of Untitled, on Sunday, June 26. Olivier Mosset is the fiercely bearded gentleman in black.
"Group Show War," my article in this week's
New York Observer
, discusses the various exhibition strategies that galleries have adopted for the summer months, traditionally a sleepy time in New York's contemporary art world. It begins at
Untitled
's recent opening reception:
On a breezy evening in late June, visitors to an opening at the Orchard Street gallery Untitled looked confused. But it wasn't the art—a monochromatic white painting by veteran Swiss avant-gardist

Olivier Mosset

paired with depictions of buckets and paint-splattered rags by young talent

Haley Mellin

—that was confusing them. It was the fact that the 2,000-square-foot gallery seemed to have shrunk to a 10th of its size.

"We really wanted to do this show with Olivier and Haley, and this is the size of the show," Untitled's proprietor

Joel Mesler

told

The Observer

matter-of-factly. But as he spoke, the bright yellow wall behind him began to spin along an invisible axis at its center, and Mr. Mosset, unmistakable with his long white beard, emerged.
There's a private viewing room behind that bright yellow wall, rich with work by an idiosyncratic assortment of artists. On opening night crowds streamed around the spinning wall, but word is that visitors to the gallery during regular business hours need to ask for the secret to be revealed.
The "back room," hidden behind the bright yellow wall at Untitled, features space dividers by

Davis Langlois

, a Modernica day bed (not for sale), and

Donald Judd

chairs (also not for sale). The silkscreen to the right is by the

Bruce High Quality Foundation

; the prop piece to the left is the handiwork of

Graham Collins

.
Down the street and around the corner on Canal Street,
Stewart Uoo
and a gang of collaborators had taken over
47 Canal Street
for a
one-night event
. A cadre of those artists set up camp on the gallery's second-floor fire escape and blanketed the surrounding neighborhood with martial beats, analog squiggles, and muffled vocals worthy of
Mark E. Smith
. Occasional passersby stopped and stared, and then continued on their way. About two weeks later,
Rachel Mason
's
performance
at
Asia Society Society
, just next door at 45 Canal Street, would also elicit a few confused looks.
It's getting wild down on the Lower East Side, and it feels like the number of galleries is quickly approaching a critical mass. It seems reasonable to suspect that the scene there just may last for a while. However, with the exception of Untitled, most of the the area's young galleries have severe space limitations. As their ambitions grow, will they be content in their relatively humble spaces on Orchard and the surrounding streets?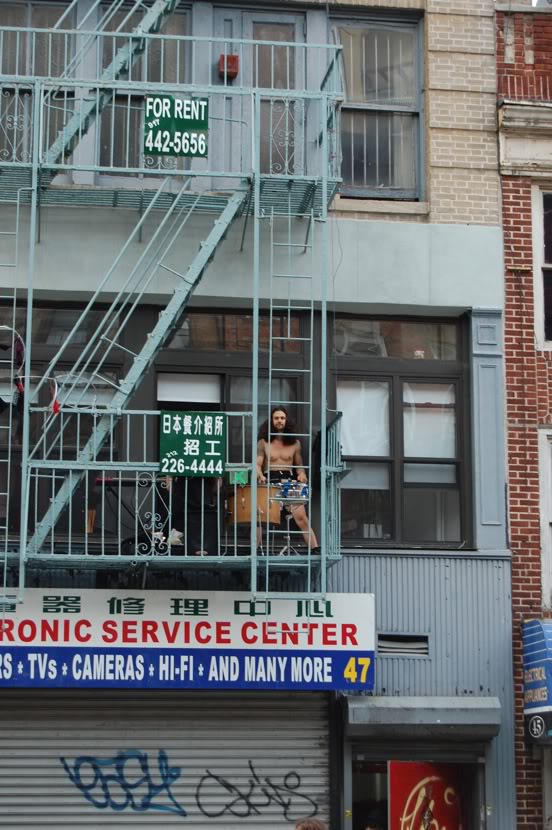 Performance excerpt of Stewart Uoo, "Throw-up," at 47 Canal, June 26, 2011. Video: 16 Miles