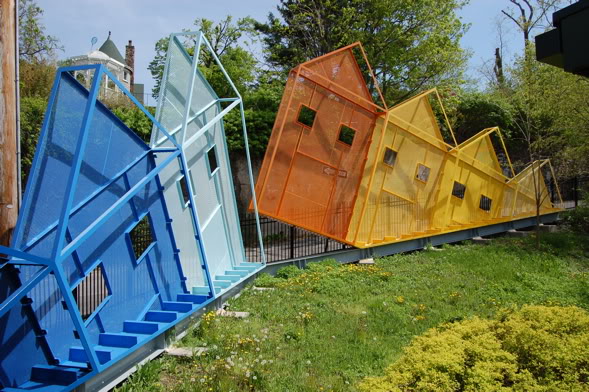 Dennis Oppenheim,

Rising and Setting Neighborhood

, 2006. Painted steel, perforated steel, 22 ft. x 2 ft. x 80 ft. Photos: 16 Miles [more]
"Some warm June night this summer I will wander down to TriBeCa and wait for Dennis to run past me in the night — the outlaw bad-boy artist no one can catch."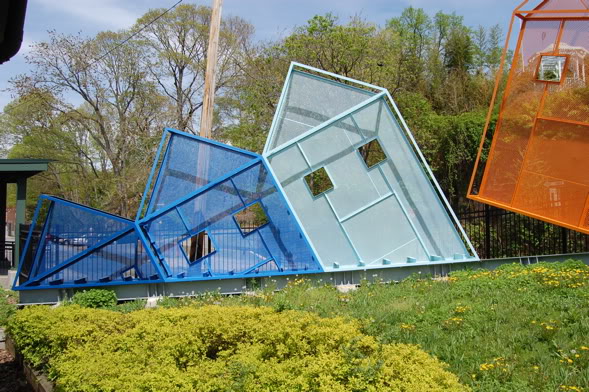 While perusing
Dennis Oppenheim
's web site in the days after his death in January, I was surprised to learn that he had completed a work of public art at the Metro North train station in the Riverdale section of the Bronx less than five years ago. Somehow, despite riding past that station numerous times, I had completely missed it. Spurred by the tribute penned by his second wife,
Alice Aycock
in this month's
Artforum
, I visited the work,
Rising and Setting Neighborhood
, 2006, over the weekend. It is an odd and beautiful piece, though not as odd and beautiful as
some
of
Oppenheim's
other
public
art
pieces
. (One can only get away with so much in genteel Riverdale, I assume.)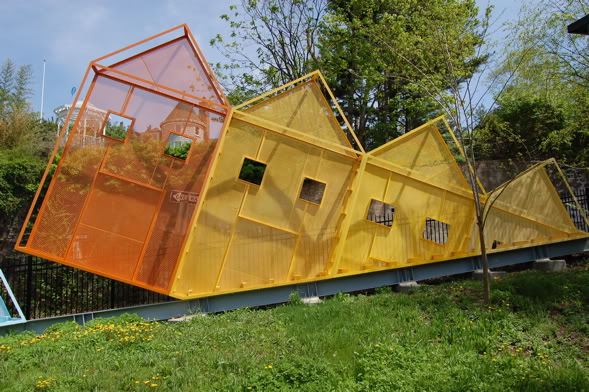 "The piece evokes the houses of the neighborhood in the light of daybreak and dusk," Oppenheim
wrote of the piece
. "It greets commuters as they begin their journey leaving in the morning as the sun rises, returning in the evening with the setting sun." I buy all of that, but, as is almost always the case with the Oppenheim's public work, there is another, more sinister, darker element. The houses have an anthropomorphic feel: note the two square eyes and the large square mouth. They may be greeting commuters, as Oppenheim said, but they are not the friendliest ambassadors. They are not smiling. Rather, their mouths are wide open, as if they're screaming or shouting. "Don't leave!" At the same time, they're painted with a family friendly range of colors, and they could be just seven separate, irregular pentagons.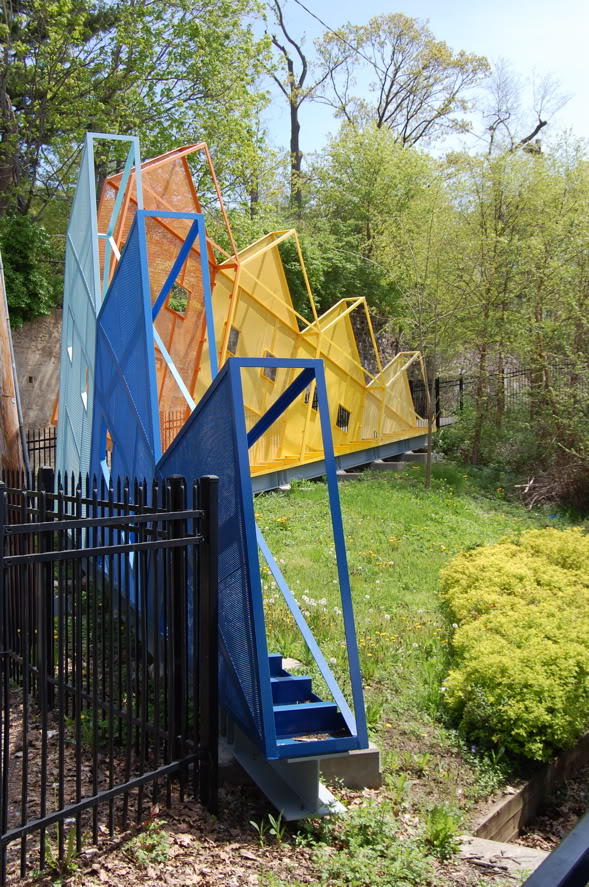 I only met Oppenheim once, for a few minutes, last year at the opening for
"The Original Copy" exhibition
at the
Museum of Modern Art
, which featured his 1970 work
Parallel Stress
. Never one to approach an artist I don't know, but having just finished reading
Lucy Lippard
's Oppenheim–filled
Six Years
, I decided to say hello after spotting him just outside the sculpture garden. After offering some sort of awkward congratulations, I showed him the book, which he started flipping through, ostensibly excited (though it occurs to me now that he may have just been generously indulging the curiosity of a fan). He stopped on a page with a photograph of
Robert Kinmont
doing one of his
8 Natural Handstands
(1969) — a possible influence on
Parallel Stress
, in the way that it combines bodily performance and photographic documentation — and said something to the effect of, 'This was a great piece, but he stopped making art shortly after this and just disappeared. These photographs and a few works were all that was left.' Which is where we now find ourselves in regards to Oppenheim.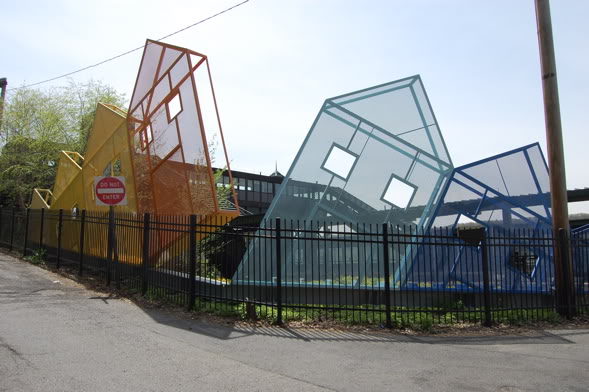 Thankfully, he has left us with a fascinatingly idiosyncratic body of work, much of it public art that we'll be able to stumble onto for some time to come. Here is a quick roundup of other writers' responses to his passing.
In the

Guardian
,
Michael McNay
positions Oppenheim in relation to his peers and followers:
"It might have been expected that the grand calmness of Oppenheim's earth art would lead to sculpture somewhat akin to

Rachel Whiteread

's understated monumentality, but instead he seems to have followed the example of

Claes Oldenburg

's monumental pop sculptures of everyday objects and the tainted route of

Jeff Koons

's urban vulgarity."
Jerry Saltz
shares what he found compelling
about the artist's work:
But the wild, labyrinthical ways Oppenheim put things together, the way he allowed thought to unspool ever-outward in involuted configurations, was inspiring nonetheless. His ideas of artistic experimentation, theoretically driven art, the merging of sculpture and science, his absolute unwillingness to create a visual style, his aesthetic and material dislocation — all of it wowed me.
Roberta Smith
connects his early, ephemeral work to his later, more grandiose efforts
(and has a few anecdotes, which are delightful to read):
"Belonging to a generation of artists who saw portable painting and sculpture as obsolete, Mr. Oppenheim started out in the realm of the esoteric, the immaterial and the chronically unsalable. But he was always a showman, not averse to the circuslike, or to courting danger."
Judd Tully
remembers almost being killed
by an Oppenheim piece:
"I managed to escape with a pack of coughing scribes through an emergency exit just before a retinue of fire equipment and fire fighters arrived to save the day. Oppenheim somehow avoided arrest for what seemed to be an exceptionally dangerous happening-slash-performance. As he said later, 'It wasn't supposed to be so much like Vietnam.'"
Finally,
one more line
from Aycock:
"Dennis was a trickster, a shape-shifter, a flimflam man, a snake-oil salesman for art, and a rascal. He was highly intelligent, charismatic, and witty."