Performance excerpt of Elizabeth McAlpine's Words & Music (Headlines)," 2010, at Laurel Gitlen, New York, April 3, 2011. Video: 16 Miles
Elizabeth McAlpine
's
Words and Music (Headlines)
(2010) sounds like a straightforward enough piece of piano music when you're listening to it, hearing mostly-dissonant chords come and go, one at a time. Seeing it in person, though, as I did last night at
Laurel Gitlen
, reveals a work with a complicated conceptual structure and tricky technical requirements, with five performers playing the work on a single piano, navigating the gallery and the keyboard as they move through the piece.
The instructional text for
Words and Music
, hung on a wall, provides an outline of the work's intricate framework. It notes that 26 uppercase letters, 26 lowercase letters, 10 numbers, and 26 punctuation marks and symbols equal 88 total signs, which happens to be the same number of keys that are found on a standard piano. Why is this arbitrary equivalence relevant, you ask? McAlpine has set each letter, number, or mark to a different piano key, and used that system to transliterate the headlines of the day's newspapers into a series of chords, with each headline filling a page of the score. (The work has been presented previously in London; the instructional text for a July 15, 2010, performance is
available on the artist's web site
.)
The headlines for Sunday, April 3, 2011, as you can hear, yielded disquieting, sometimes lonely sounding music, but also some moments of unusual beauty and hard-won consonance. The work will be performed again on the final day of the show, May 1, using that day's headlines. Certain words will no doubt reappear, like prepositions, articles, and perhaps even some proper nouns — Yemen, Bachmann, Obama? — and they will generate a familiar cascade of notes. But others names, other sounds, will be new. What will they sound like? How much will the news change over the course of one month?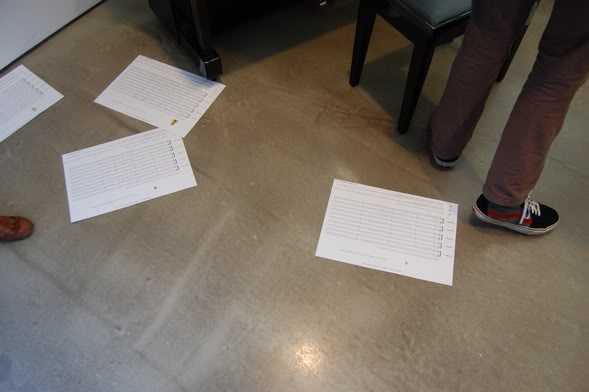 Post-performance installation view of Elizabeth McAlpine,

Words and Music (Headlines)

, 2010. Performance(s), two instruction texts, and one drawing, installation dimensions variable, instruction texts: 30 x 60 cm each, drawing: 60 x 150 cm. Photo: 16 Miles
On a tangentially note, McAlpine's piece reminds me of the joyous video of
Sonic Youth
performing
George Maciunas
's
Piano Piece #13 (for Nam June Paik)
(1964).