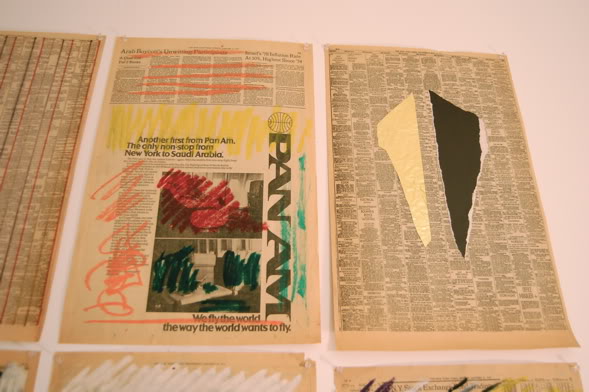 Installation views of Joachim 'YoYo' Friedrich, "Everydays," at Second Guest Projects, New York. Photos: 16 Miles [more]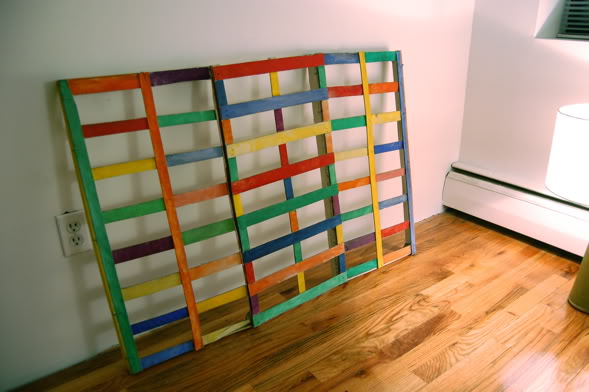 Every day that
On Kawara
completes a new painting in his
"Today" series
, he stores it in a box with a clipping from that day's newspaper, placing art and artifact side by side. Berlin-born artist
Joachim "YoYo" Friedrich
, in contrast, literally combines the two, working directly on pages from the paper. Friedrich, who was born in 1940, has been at it for years, using each day's layouts as the basis for humble, colorful drawings that together amount to a quirky compendium of the possibilities of abstraction. Rarely exhibited, some of these pieces are now on view at
Second Guest Projects
, an appointment-only space run by
Quang Bao
and
Pau Atela
out of what was once (and sometimes still is) the guest room in their East Village apartment.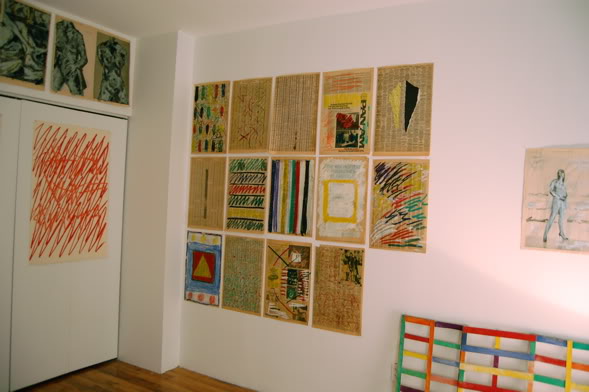 "Another first from Pan Am," an advertisement on one newspaper page that is hanging in the space reads. "The only non-stop from New York to Saudi Arabia." Friedrich has covered various parts of the ad, sliced from the January 16, 1979, issue of the
New York Times
, with patches of yellow, peach, red, and two shades of green that recall
Günther Förg
or
Imi Knoebel
at their loosest. He has slashed the two articles above the ad — "Arab Boycott's Unwilling Participants" and "Israel's '78 Inflation Rate at 50%, Highest Since '74" — with just five peach lines. Elsewhere, he hews more closely to the paper's design, perfectly tracing the lines that separate the narrow columns of classified ads, or scrawling spiky passages along the length of articles that are stacked one on top of another. You
may be reminded
of the late
Hanne Darboven
. Friedrich does figuration, too, transforming the models wearing
Marc Jacobs
clothes in a 1994 ad into brushy black-and-white nude studies.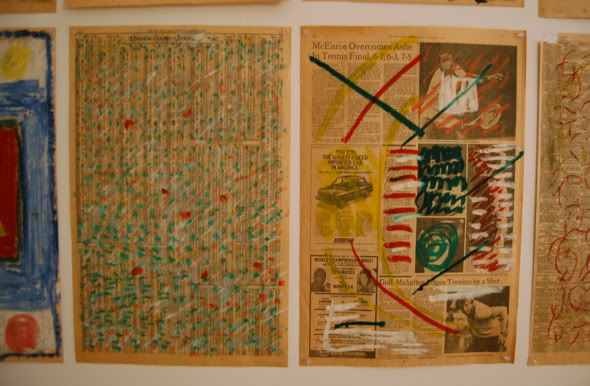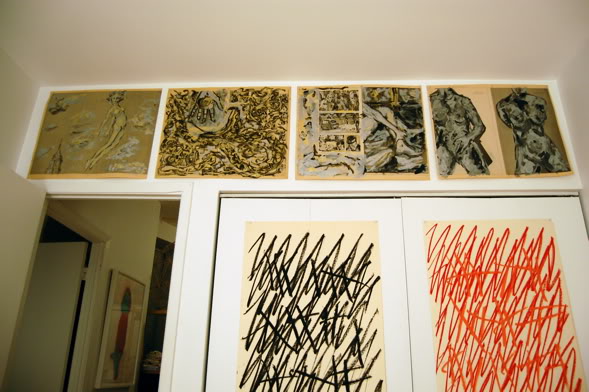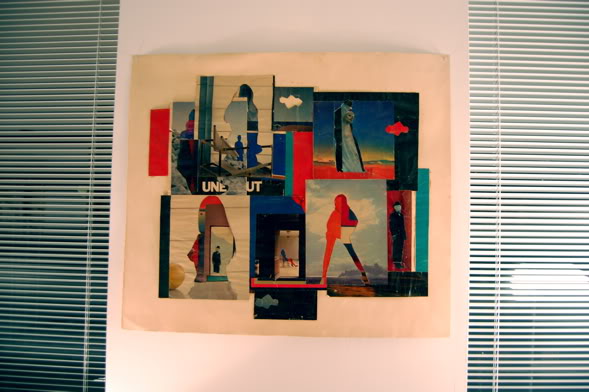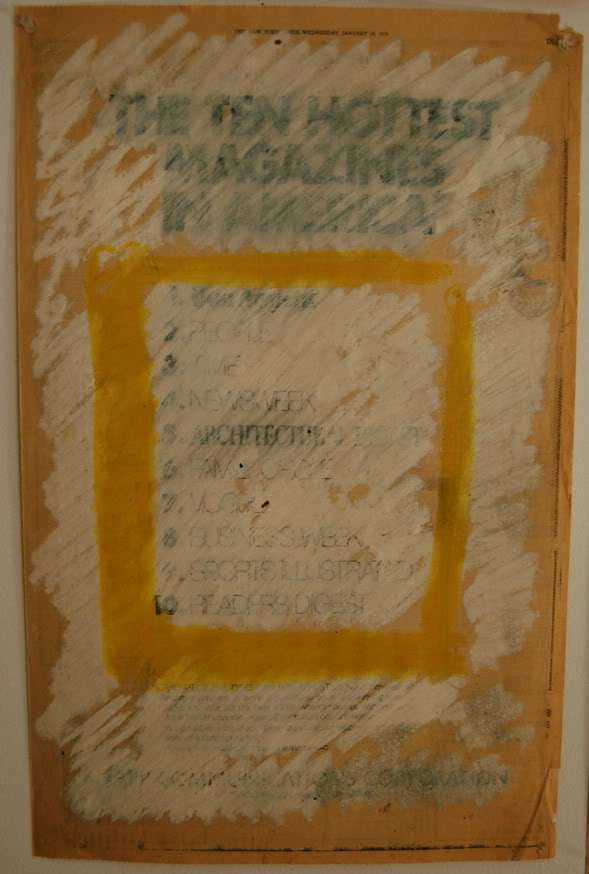 Second Guest Projects also has a handful of non-newspaper works by Friedrich on view, like a
grid made with brightly colored thin wooden planks
that could be the skeleton for a
Stanley Whitney
canvas
and
a square of canvas that he has covered with scores of garlic skins
. It would slide easily into
Luxembourg & Dayan
's current "Unpainted Paintings" show,
if only Friedrich was a more bankable name
. Those garlic skins, like the pages of Friedrich's newspaper, are gradually wasting away. Even as that happens, they serve as records of the artist's quiet, personal responses to the steady passage of time, each day bringing a new artwork, a new paper, a new meal, or all three.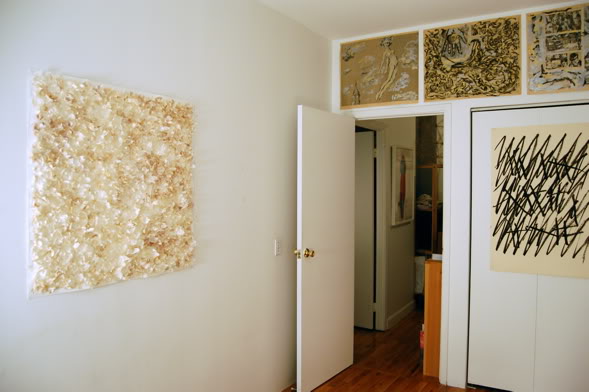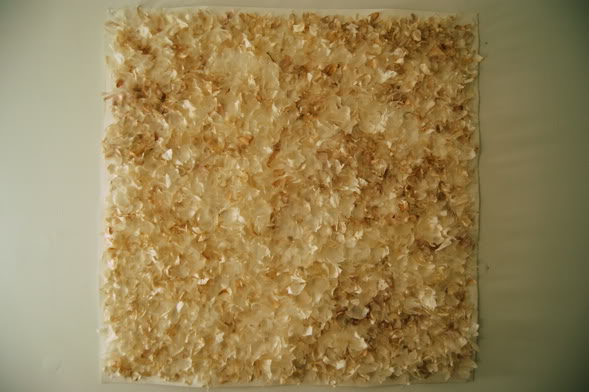 More information about Second Guest Projects is available by e-mailing
secondguestprojects at gmail dot com.