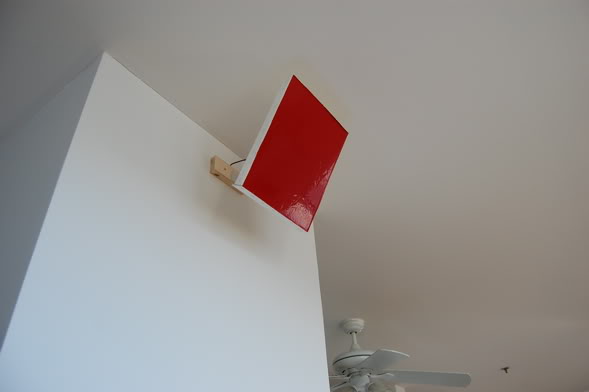 Jim Lee,

Good Blud Bad Blud

, 2011. Oil, enamel on panel and acrylic with staples, metal rod, metallic tape and wood. Photos: 16 Miles [more]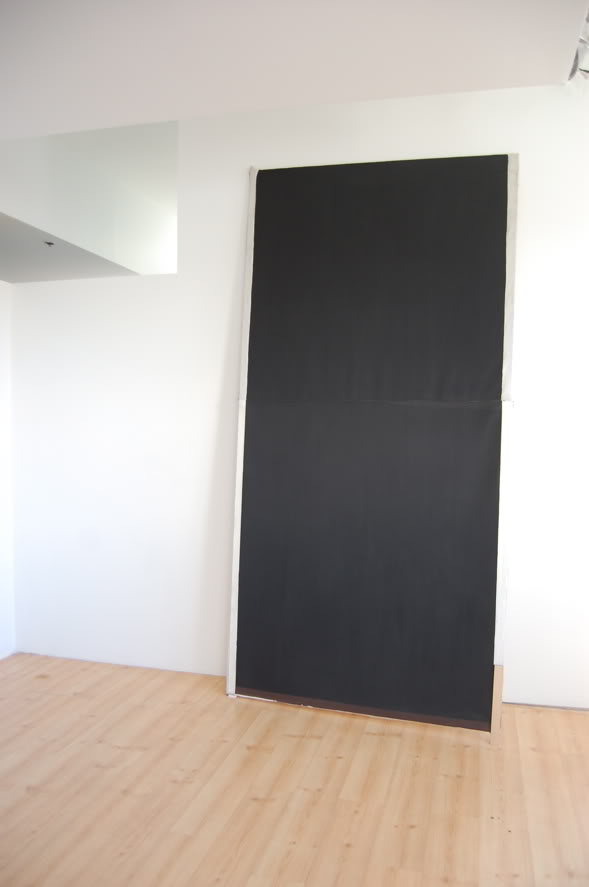 Jim Lee,

Untitled (Ahab)

, 2011. Acrylic, flashe paint on canvas with wood.
"Jimmy Carter uses them to build houses,"
the press release
for the
Laundromat
's
latest show
states. "You can also beat a person to death with one." Those are uses for the two-by-four, the humble piece of lumber with a cross section that measures two inches by four inches and provides the exhibition's title. The man responsible for it, artist and curator
Joe Nanashe
, writes it as "2 x 4," a tidy equation for his curatorial conceit: two works each, all dated 2011, from four different artists,
Jim Lee
,
Jamie Powell
,
Michael Scoggins
, and
Carmen Tiffany
.
Judging by Lee's two works, his supply of ingenious abstractions is entirely inexhaustible. For
Good Blud Bad Blud
, he has recoded
Malevich
's iconic
Black Square
(1915) as a lustrous red lozenge that dangles from high on the wall by a thin metal rod. It oozes a high-gloss sheen and transmits a commitment to libidinal luxuries. It's a good thing that it is out of reach; I suspect many visitors will want to lick it. His other work,
Untitled (Ahab)
, is many times larger, though far quieter, a large black canvas framed with white and brown strips of color, and a small dash of wood. It leans against a wall, looking comfortable and quirky.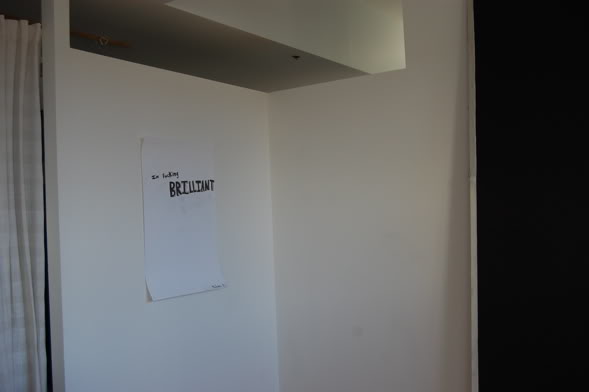 Michael Scoggins,

Brilliant

, 2011
. Graphite on paper.
Nearby, Scoggins's
Brilliant
is similarly laidback, a sheet of white paper that shares a short message in awkward graphite letters: "I'm fucking brilliant." Tiffany's
Battle of Hearts
takes the energy up quite a few notches, offering a sock puppet MC — equal parts
Olly
and
Eminem
— who raps unintelligibly over an oddly soothing bass line as drawings of reindeers slugging bottles of liquor dance. There are cartoon unicorns, too, plus galloping horses, a spread of macaroni and cheese, and a dolphin. Those last two sport massive tongues. (Yes, the macaroni and cheese has a tongue:
just watch it
.) And there is another big tongue in the show, this one hanging out of the smile that has been cut from Powell's
Spot
painting — not a bad one-liner.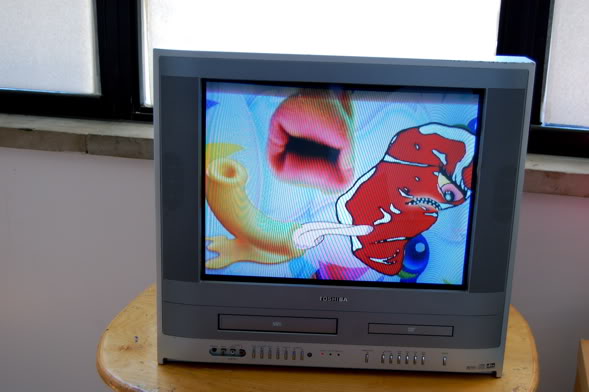 Screen shot of Carmen Tiffany,

Battle of Hearts

, 2011. Single-channel video.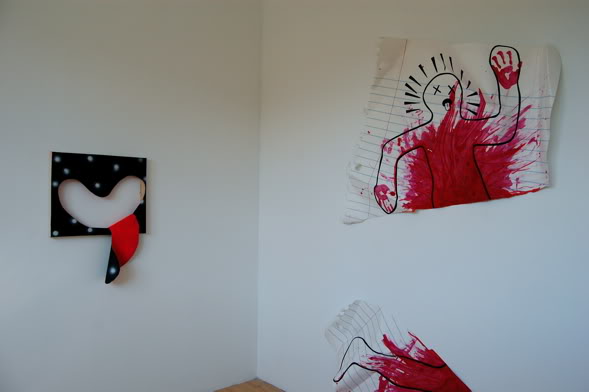 Left to right: Jamie Powell,

Spot

, 2011. Acrylic, spray paint on cut canvas. Michael Scoggins,

Is He Dead Yet?

, 2011. Marker, ink, prismacolor on paper.
The homicide that Nanashe's statement promised finally appears in that final room alongside Powell's work. A drawing by Scoggins on a giant–size sheet of three–hole–punched notebook paper presents a cartoon man whose head emanates
Keith Haring-style lines
. His eyes are X's, his tongue is flopping out of his mouth, and his body has been splattered with blood and sliced in two, half of it sitting crumpled between the floor and the wall. The title asks,
Is He Dead Yet?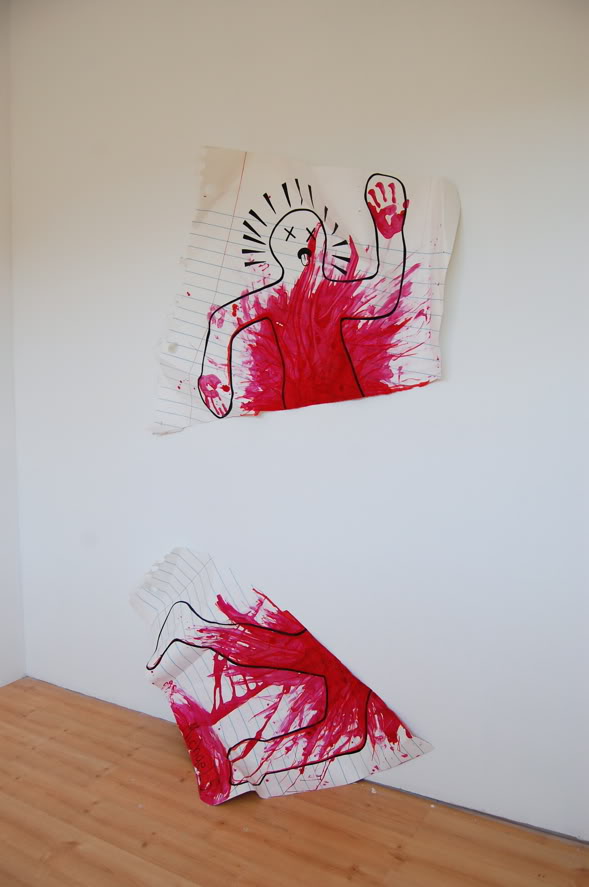 Michael Scoggins,

Is He Dead Yet?

, 2011. Marker, ink, prismacolor on paper.
As for the release's talk of home building, that is not obviously on display, but it is here, present in the fact that, three years after first opening above a Laundromat a few blocks to the southwest, the Laundromat is presenting a multi-day show for the first time, in a gorgeous brand new space. As I write this, the gallery's artist proprietors —
Kevin Curran
and
Amy Lincoln
— are using its rooms as studios, but on Saturday and Sunday "2 x 4" will return, and then another exhibition, of work by Mexico City artists, will follow.