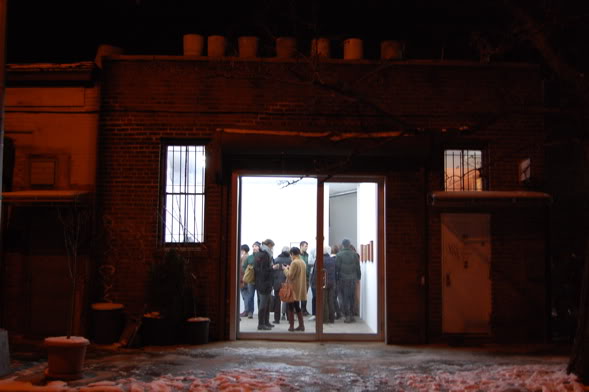 Exterior of The Journal Gallery, 168 North 1st Street, Williamsburg, Brooklyn, New York, February 22, 2011. Photos: 16 Miles [more]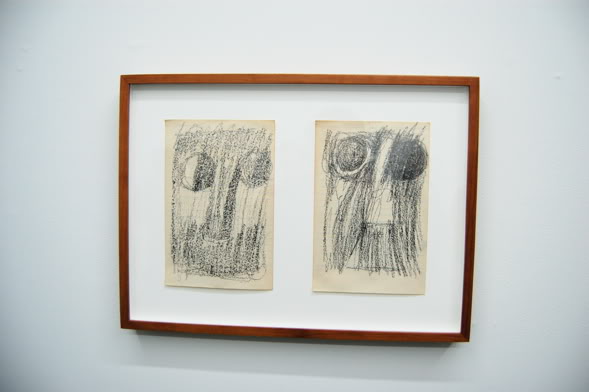 Joe Bradley,

Untitled

, 2010. Graphite on paper, 8.5 x 6 in. each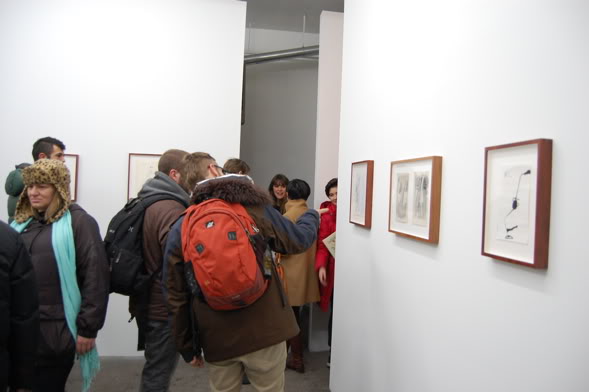 Two gentlemen examining the work closely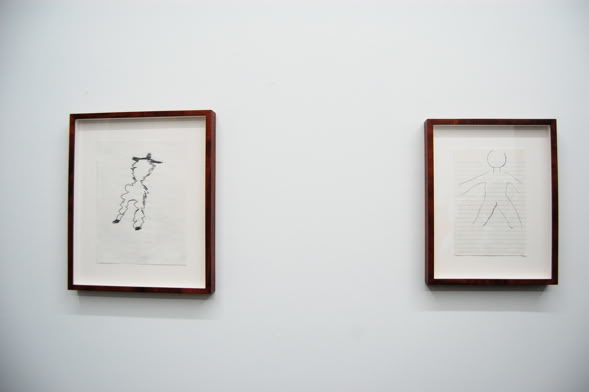 Left to right: Joe Bradley,

Untitled

, 2010. Graphite on paper, 11 x 8.5 in. Joe Bradley,

Untitled

, 2010. Graphite on paper, 9 x 6 in.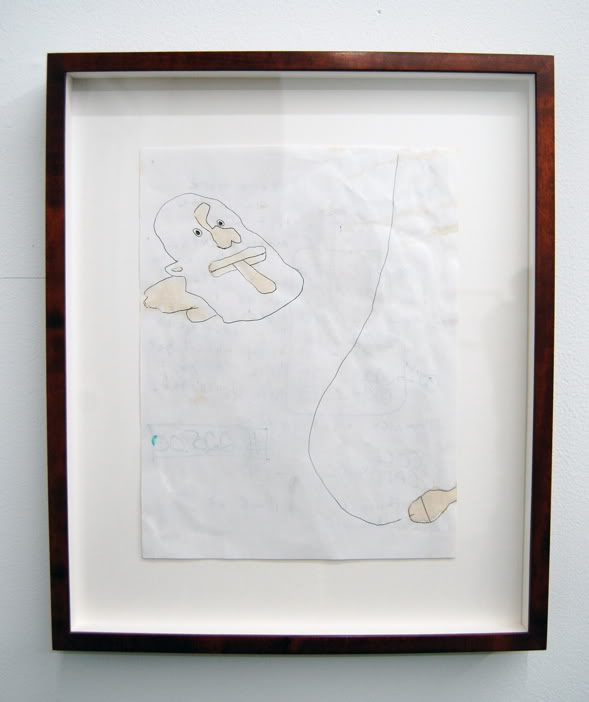 Joe Bradley,

Untitled

, 2010. Ink on paper, 11 x 8.5 in.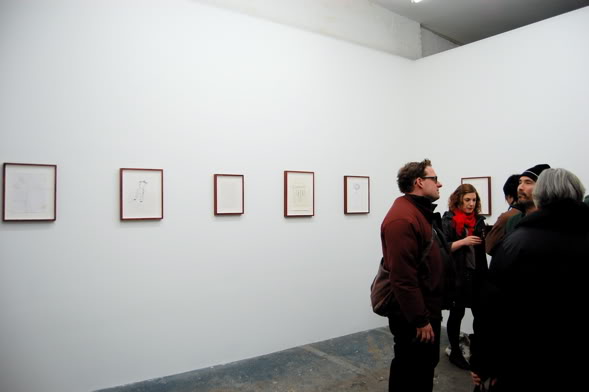 The crowd, early in the evening
"Some people seem to get a lot out of them and some people think I am full of shit and they're just terrible,"
Joe Bradley
tells
Stephanie LaCava
in an interview in the

Paris Review
, describing the divisive opinions his paintings engender. It seems inevitable that Bradley will soon be saying the same about his drawings, since the ones that went on view at
The Journal Gallery
at a crowded opening on Tuesday evening are very much from the same playbook.
Graphite outlines of human figures in some suggest the boogieing silhouettes of dancers that starred in Bradley's
just-closed Canada show
, and an abstract geometric drawing, below, is an almost exact study for
one of the anthropomorphized monochromes
in his
2008 Whitney Biennial
show, though it is dated 2010. Look around and you will spot a deranged-looking clown, a swastika, and a penis in the process of ejaculating: there is plenty on offer to offend. Bradley's work is often
easy to dislike
, and it sometimes appears to beg for that response, as it does here. And yet, as he says, opinion is divided. I have talked to plenty of smart people — artists mostly — who find his art genuinely entertaining and even liberating. (This topic has come up frequently over the past month.)
Joe Bradley,

Untitled

, 2010. Graphite on paper, 12.5 x 8.5 in.
Mostly I'm baffled, but there is one drawing I particularly like, an ink on paper that shows a clown and a penis, with a line curving up and away from the latter. The only color — which touches the body part and the clown's nose, lips, and hair — is a faint orange-brown that could be from spilled coffee. Various jotted notes are visible from the opposite side of the paper. Look at it for more than a moment, and the simple scrawls appear weirder and more sophisticated than they did at first. The clown's nose curls up onto the bald top of his head, and his hair bursts in a single blob from the back of his neck. Everything is floating in space, thrillingly unresolved. Conjured from almost nothing, it asks that you give each similarly spare piece a second chance.