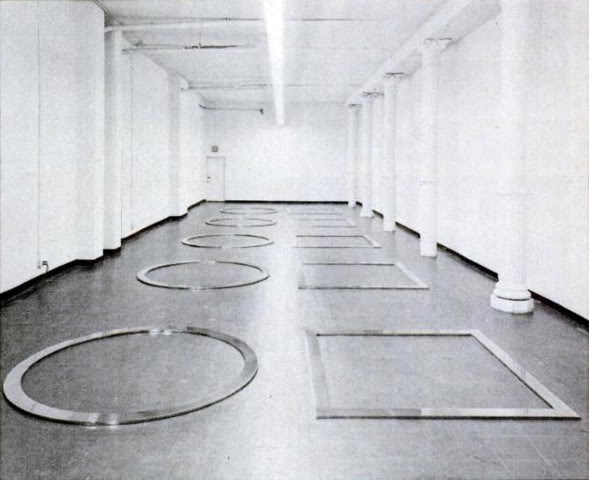 Walter De Maria, partial view of Equal Area Series, 1976–77. Installed at 19 Waverly Place, 1977. Photo: New York Magazine, October 31, 1977
Back when I was in college, I interned in the education department at
Dia:Beacon
and gave tours of the museum. When the weather was warm, we would start outside the building, slipping into
Robert Irwin
's
tiny entrance space
and then venturing into the sunlit former
Nabisco
box printing factory. At which point, a look of confusion would often come over the visitors' faces. They were presented with two cavernous rooms, empty except for 12 sets of
nearly identical metal circles and squares
set in a row:
Walter De Maria
's
Equal Area Series
, 1976-77. (Each square is one inch longer than the next, ranging from six feet to seven feet, and the area of each circle matches the area of the square sitting next to it.)
As a way to inaugurate a giant new building and introduce visitors to the sort of phenomenological weirdness scattered throughout the museum, it was a clever curatorial move, albeit an anticlimactic one (which was probably the point). Many people were not fans of the work. At the end of tours, I would often ask the guests which pieces they did not like, and De Maria's shapes almost invariably won that vote. Art historian
Terry E. Smith
was also not a fan of its placement, writing
: "They are not quite large enough to command the space given them. They seem like quoits — silver, yes, but lost in an abandoned playground."
I mention all of this because, while digging around trying to find articles about
Walter De Maria
the other day, I came across an article by
Art News
editor
Thomas B. Hess
in the October 31, 1977 issue of New York
about an exhibition of the "Equal Area Series" at 19 Waverly Place in Greenwich Village in 1977. Some very helpful people at
Dia
informed me that it was a one-off show in an abandoned grocery store, which appears to have been a considerably more intimate space than the Beacon museum. (From Hess's description, it sounds like Smith would have been a fan.) Hess, who made the rounds of a number of Dia-related installations for his piece, shared
this epic description of Equal Area Series
:
"The closeness of the dimensions sharpens your eye for distinctions, just as a long rest in music alerts you to the faintest sounds. Once you grasp De Maria's serial theme, you can try to visualize the 6-foot square nesting with machine precision inside the 6-foot 10-inch one. When this most obvious of interrelationships is clarified, your eye scans the floor for more subtle ones. You begin to watch circles being squared — the dream of Pythagoras. You approach the mystery of of pi, eternally uneven standard that somehow finds resolution among de Maria's steel propositions.

"Everything develops like clockwork — or, better, like a sonata — from stated theme, through an allegro of increments, to a finale of equilibriums (the equivalent areas). There's a hint of fatality — of inevitabilities."
Hess also visited De Maria's
New York Earth Room
(1968/1977), 280,000 pounds of dirt spread across the floor of the second-story gallery of
Heiner Friedrich
(who founded Dia with
Philippa Pellizzi
— born
de Menil
— and art historian
Helen Winkler
) at 141 Wooster Street. Hess, who championed De Maria's work, also wrote this wonderful description of the
Room
:
"What confronts you in Heiner Friedrich's elegantly dégagé whitewashed shop is a manure-brown mass the prohibits you from entering the premises; it keeps art from being shown or bought there and in general claims all the attention, like a spoiled child in a roomful of adults. It's infantile behavior, and of course the earth suggests anal eroticism, while in the background lurks the manly little chap who, to universal acclaim, pipes up, 'Look, look, the emperor has no clothes.'"
For Hess, the room was dirty and raucous and radical, which is fascinating to read since most of the writing about it more recently —
Friedrich made it a permanent installation
— has treated it reverentially, as a quiet Zen respite from the bustle of SoHo. (If you have a
New Yorker
subscription,
this 1990 item about the installation is a treat
.) And that is how I had always thought of it. However, having read Hess's piece, I can't wait to go visit it again, and see it a bit differently.