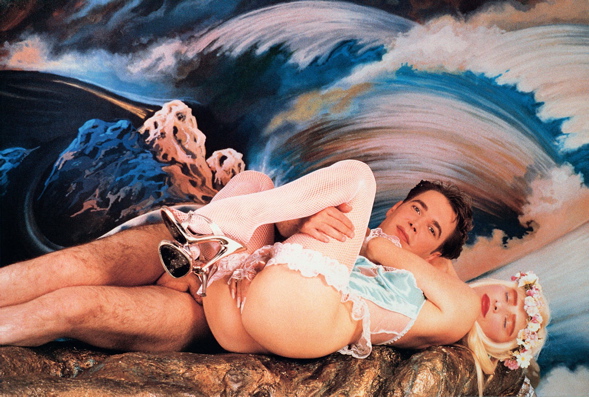 Jeff Koons, Fingers Between Legs, 1990. Oil inks silkscreened on canvas, 95.8 x 144.1 in. Photo: Luxembourg & Dayan
Works from
Jeff Koons
's "Made in Heaven" series — paintings and sculptures that depict the artist with his then-lover, Italian porn star
Cicciolina
, in a variety of romantic situations — have returned to New York, where many were first displayed in 1991 at the
Sonnabend Gallery
in SoHo. (Some pieces — of the slightly less hardcore variety — were shown at the 1990
Venice Biennale
.) New York critics, with perhaps only one exception, have lambasted the current "Made in Heaven" show at the Upper East Side townhouse of
Luxembourg & Dayan
, following in a rich lineage of writers that have panned work. Over the past two decades, the series has earned near-universal scorn from most art critics and inspired some of the all-time-great takedowns in recent criticism. Here is a brief guide to that writing:
Judd Tully, Washington Post, 1991: "Heavily made up, grappling with the pink-booted, blond-tressed Cicciolina, Koons looks like a miscast version of Tarzan performing a skit on 'Saturday Night Live,'" Tully (who is currently editor at large at Art+Auction) wrote, describing the scene at the 1991 Sonnabend show. "But it's Koons's ability to get under critics' skins that makes his popular cultural promotions and advertising stunts effective despite their artful shallowness." Contemporary buyers take note: Tully reported that the most expensive (and largest) work in the 1991 show was Ilona on Top (Rosa Background), priced at $390,000.
Michael Kimmelman, New York Times, 1991: Kimmelman's thorough and savage attack on the Sonnabend show has been frequently quoted by writers assessing the series. The review is brutal: "Just when it looked as if the 80's were finally over, Jeff Koons has provided one last, pathetic gasp of the sort of self-promoting hype and sensationalism that characterized the worst of the decade," it opens. There's more: "His latest show takes advantage of a moment when art about sexuality has come under public attack. What is worse, it does so only to affirm sexist stereotypes." And more: "Mr. Koons's boring, dully conceived images are closer in spirit to the dead academicism against which Manet reacted."
Peter Plagens, Newsweek, 1991: Previewing the Sonnabend before it opened, Plagens (like Tully) noted Koons's skill at garnering attention: "Koons knows it's smart (profitable and fun) to be the artist everyone loves to hate." He also shared an all-time Koons classic: "'I want my work to be seen by young people, who are forming their opinions. If the work is closed down, it won't be effective,' he says. 'I think when people view these images, they will find not perversity, but something that is beautiful, like a flower.'" Like a flower.
Robert Hughes, Time, 1993: A characteristically acerbic Hughes was willing to give "Made in Heaven" a try as porn at a 1993 SFMOMA Koons exhibition, but he left unimpressed: "As pornography, these works are inefficiently winsome; as art, wholly inert beneath their gaudiness."
Calvin Tomkins, The New Yorker, 2007: Tomkins quotes Koons telling another interviewer, defending "Made in Heaven": "Sex with love is a higher state. It's an objective state, in which one lives and enters the eternal, and I believe that's what I showed people. That's why it wasn't pornographic." Tomkins is unconvinced. He writes, "Although the viewer might conceivably miss the higher state invoked here, the images were curiously non-arousing; they lacked the necessary artlessness of pure porn."
Jonathan Jones, Guardian, 2009: Ever the contrarian, Jones, in a profile of Koons, admits that he loves the series. "It was called Made in Heaven," he writes, "and, in my opinion, was his greatest work." Koons tells Jones, in another classic line, "If I think of the word beauty, I think of a vagina."
Paddy Johnson, Art Fag City, 2010: Johnson also likes "Made in Heaven." She writes, "I suspect I'm one of only one or two critics in the city that like Koons 'Made in Heaven' series, but so be it. Koons attention to detail is incredible." She is undoubtedly the only writer willing to admit being aroused by the works: "Occasionally they even manage to be a turn on."


Roberta Smith, New York Times, 2010: "They are in step with an aggressive political incorrectness pursued in the same period (albeit to very different effect) by Kara Walker and Sue Williams, who addressed racism and sexism in similarly inflammatory ways," Smith writes. "The innocence of the child is replaced by the cluelessness of the man, one who confuses posing and empty exhibitionism with emotional vulnerability." She concludes with an argument that could almost apply to the late Michael Jackson: "Perhaps the truth is that Mr. Koons makes a better child than adult, and that for all his genius, he is a kind of naïf."
Christian Viveros-Fauné, Village Voice, 2010: "There is, to put it simply, absolutely no valid reason besides money to exhibit this dreck today," Viveros-Fauné writes, who also takes the unique approach of reviewing Amalia Dayan's sales pitch: "The exhibition's last hardcore picture waited: Titled Dirty Ejaculation, it bore a feces-flecked close-up of Koons's dick pulling out of Cicciolina's bunghole. 'I think it's radical,' Dayan purred. Uh, yeah!, I mouthed archly. And if this load were music, you would be the New York Philharmonic."
Peter Schjeldahl, The New Yorker, 2008: Reviewing the Museum of Contemporary Art Chicago's 2008 Koons retrospective, Schjeldahl sums it up best: "I've never known what to do with the 'Made in Heaven' works, other than to gawk at them in vague alarm."



Unbylined

,

The New Yorker

, 2010: The New Yorker brutalized the Luxembourg & Dayan show in its Goings on About Town section. It begins, "Koons's wretched digital porn paintings, made in 1990-91 from photographs of himself simpering and grappling with Ilona Staller, are back, augmented with hardcore shots not shown in New York before. A wizard about objects, Koons is stone numb to two-dimensional aesthetics." And it gets more tougher from there.