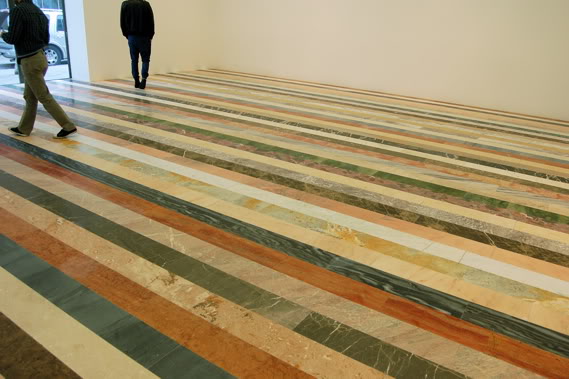 Installation view of Martin Creed's marble floor at Gavin Brown's enterprise, New York. Photos: 16 Miles [more]
When artist
Martin Creed
has an idea for a work of art, he reuses it for a long stretch. He has been making roughly the
same painting
for years
, and has been installing a large neon piece, which reads "EVERYTHING IS GOING TO BE ALRIGHT," in
a number of different locations for more than a decade
. (It's installed on the façade of the
Scottish Gallery of Modern Art
right now.) This celebration of repetition is at the core of his process (he numbers all of his works and provides an ordered, albeit incomplete,
list of them on his Web site
). It is also one of the reasons that Creed is so easy to caricature and dislike.
The latest idea that Creed is milking vigorously is a marble floor-installation that he completed earlier this year at
Gavin Brown's enterprise
in New York. The gallery's floor was covered in thick sheets of marble in a variety of different colors, sourced from around the world. (I happened to be walking by the space on the day that workers were removing it: see below.)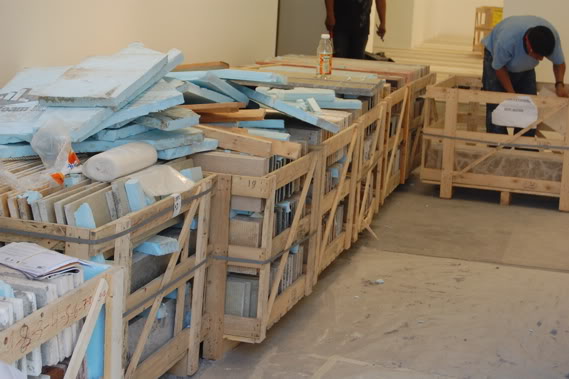 Workers removing Martin Creed's marble floor at Gavin Brown's enterprise
Now,
as part of the
Edinburgh Art Festival
, scores of types of marble will be applied to the Scotsman Steps — a tall, lengthy stairwell that connects Old Town and New Town in Edinburgh. The site-specific installation, financed in part by the Scottish government, had not been completed when I visited the city last week,
reportedly
because the steps are part of a larger reconstruction project that is behind schedule. (However,
a very attractive rendering
of Creed's steps is available.)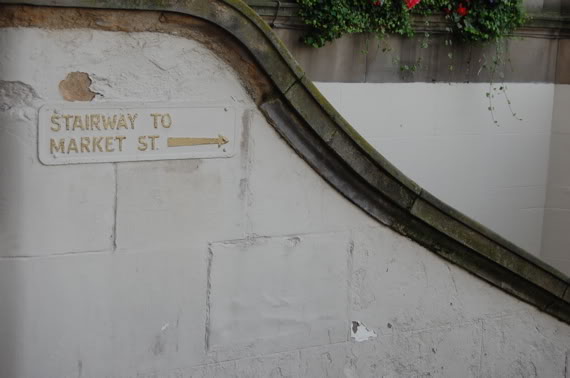 A sign at the top of the Scotsman Steps, Edinburgh
Writing in the
Guardian
last week about his own visit to Edinburgh, art critic
Jonathan Jones
shared: "As I walk up the Scotsman Steps, a neglected walkway rising from central Edinburgh to the Old Town, I notice a trickle of urine slowly heading in the opposite direction." There were little puddles of urine when I visited as well, which leads to the question: How long will it be before someone urinates on Creed's luxurious marble steps as a work of art, as when
David Hammons
urinated
on
Richard Serra
's
T.W.U.
(1980)
in downtown Manhattan
for a piece he titled
Pissed Off
(1981)? First, of course, the work will need to be completed.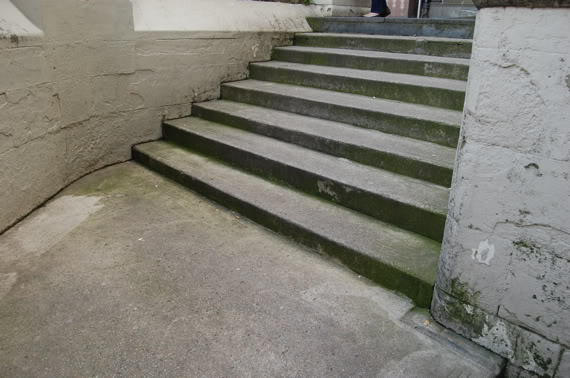 The topmost set of stairs of the Scotsman Steps