Works from Josh Smith's

On the Water

, at Deitch Studios, New York. Photos: 16 Miles [more]
After this show, Deitch Projects will close and Jeffrey Deitch, its owner and guiding light, will become director of the Museum of Contemporary Art in Los Angeles. I wish he had found a more assuring way to say goodbye.
Roberta Smith's assessment of Jeffrey Deitch's farewell show
seems to match the general consensus among those that care about these things. His decision to end his nearly fifteen-year run as a consistently interesting New York dealer with a Shepard Fairey show is a bizarre move, but one hopes (and suspects) that he is rolling in cash from the adventure. (There are a lot of paintings to sell from the show and, one imagines, lots of prints available as well.) Still, for a master of theater who has hosted some remarkable shows over the years, it feels like a sad, tepid way to end.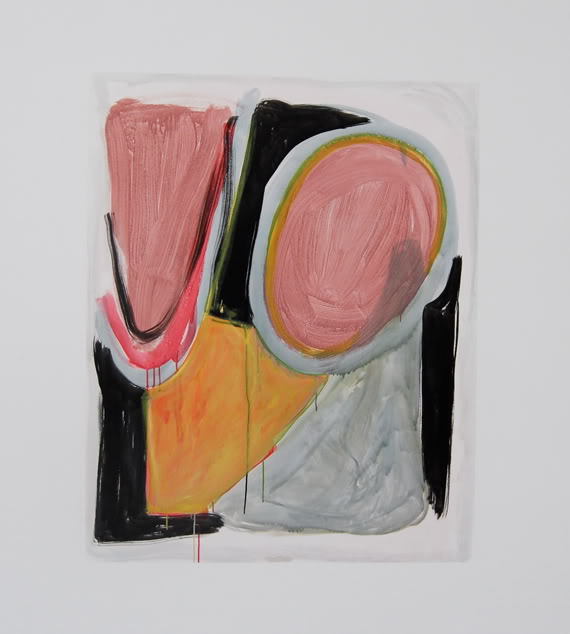 I'd prefer to remember the
Josh Smith show
that Deitch hosted at his cavernous Long Island City space as his final official exhibition, (even though the show closed on May 2, 2010). It was, in a sense, as unusual as the Fairey show: a series of forty-seven paintings completed on the warehouse walls, partially funded by Luhring Augustine, Smith's gallery. It ran against many of Deitch's tendencies: it was subdued instead of spectacular, handmade instead of slickly produced.
Smith's quiet installation suited that strange LIC space, which almost always felt deserted except for a friendly gallery assistant and Dzine's 1993 "Pimp Juice"
Cadillac Fleetwood
, which sat for what seemed like years in the large garage that one first entered from the street, one half of the warehouse that often felt a little bit too big for even as ambitious a curator as Deitch. (The
stunning 2008-09 Keith Haring show
in the space was a clear exception to that statement.) Nevertheless, one could always count on some combination of entertainment, annoyance, and pleasure out there. (
"The Pig" show
— with its moving, stuffed-animal-covered Gelitin cars, its Paul Chan drawings, and its old Koons sculpture — comes to mind.)
Barbara Gladstone has apparently procured the space to use for private viewing rooms, and one of her most prized artists, Matthew Barney, uses the warehouse next door as a studio, so there will probably be some fine events out there, along the East River, in future years. Regardless of what happens, memories of the shows that Deitch presented out in Long Island City should provide plenty of material for those who want to make sense of his legacy and just may cause a few people to overlook the embarrassing Fairey show.