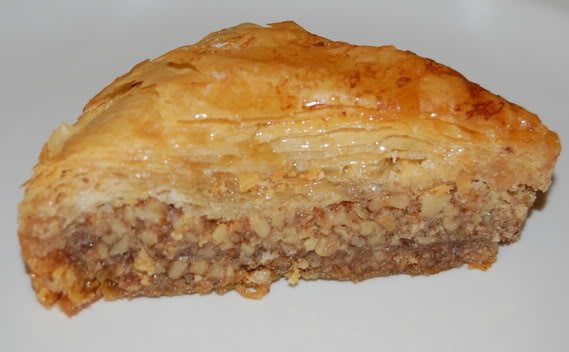 Hot & Crusty,
Baklava, $3.75
, 2009.  Photo: 16 Miles
There has probably never been a bakery with a less-appealing name
than the ignominious miniature chain Hot & Crusty.  I, for the record, can definitively say that I want nothing to do with anything (much less food) that contains those features.  Wandering by their First Avenue location recently and spotting baklava, then, I entered with almost unprecedentedly low expectations.
Surprisingly, the bakers managed a respectable showing.  $3.75 is a bit steep for a standard piece of the dessert, but Hot & Crusty rewards you with a towering (if deeply untraditional) hunk of phyllo and nuts.  The crust is the better half of the treat, fresh and crispy with the slightest sweet glaze resting on it.  The nuts, while ample,  are bland and too densely packed in syrup.  My fork became mired in the heart of it, torn free only with extreme force.  
There's a hint of rose water and a genuine savory sensibility in some bites.  It's greatest success, though, is in avoiding the problems that befall so many other mass-produced baklavas.  Unlike most chain varieties, the Hot & Crusty version manages to avoid tasting like it's been marinated for weeks in simple syrup or left to go squeaky and stale.
In truth, the real reason to approve of it may be that H & C is open twenty-four hours a day, making it the best place that I'm aware of that's available to handle that late night baklava snack attack.
Hot & Crusty
231 1st Avenue
New York, NY
- - - - - - - - - - - - - - - - - - - - - - - - - - - - - - - - - - - - - - - - - - - - - - - - - - - - - - - - - - - - - - - - - - - - - - - - - - - - - - - - - - - - - - - - - - - - - - - - -
5: Best Baklava Ever   4: I Want to Eat This Every Day   3: Above-Average    2: Decent   1: Baklava Only for Emergencies   0