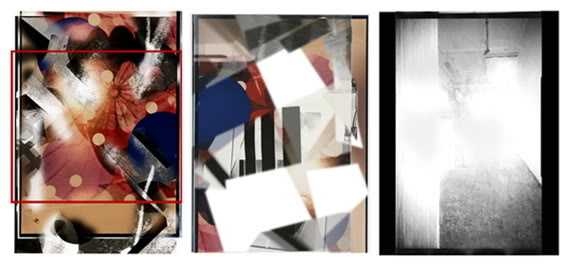 Tamar Halpern,
Balcony Seats at a Murder

(2008)
,
Society Arrived Wearing Galoshes and Pearls

(2009)
,
Walker and 6th Ave.

(2009).
Photo courtesy of
On Stellar Rays
.
The latest group show at On Stellar Rays,
This-Has-Been
, takes it title from Roland Barthes's
Camera Lucida
, in which the Frenchman discusses the elegy inherent in any photograph: the recognition of an indexical trace of someone that once was present and now is gone. Here, though, each medium's normal function has been reconfigured. Photography is rendered mute, sculpture suddenly empowered with the power to haunt. Everything is wonderfully unstable.
Montreal artist Michel de Broin's sculpture,
Late Program
(2008), composed of a charred wood-burning stove repurposed as a television, functions most like Barthes's photographs. Its dilapidated, bruised body suggests a recent, violent past from which we have been excluded. Anne Deleporte construction achieves a similar inversion, repurposing the mass produced newspaper, for so long the definitive form of daily communication, as a pure abstraction.
Tamar Halpern, working against Barthes, takes photography and uses it for decidedly opaque ends. Scanning, editing, printing and rescanning photographs in a closed loop, she constructs bright abstractions that contain small glimpses of reality. Her titles come from classic Weegee images. Is that a bit of Weegee's fire escape hidden beneath the bubbling roses and peaches of
Balcony Seats at a Murder
(2008)? Is that the sidewalk-crime scene in the corner? It's impossible to say. Halpern only dangles the possibility of legibility in her images that seem to be growing increasingly lush.
If you're looking to attract friends to the show, it might be worth mentioning that David Zwirner stalwart Marcel Dzama has a small, simple painting on display. Surprisingly, it's one of the weaker pieces here. Set alongside Jenny Perlin's quirky, faux-archival cartoon film
Notes
(2006), for example, it is only too familiar. The real mysteries are elsewhere. Roland Barthes in
Camera Lucida
once more: "What I can name cannot really prick me." This work can.
133 Orchard Street
Through March 29, 2009