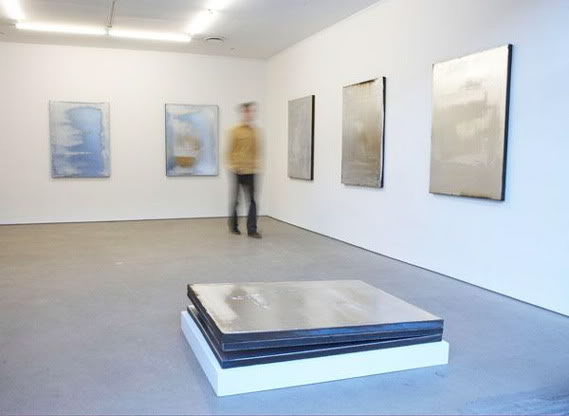 Jacob Kassay at Eleven Rivington [installation view]. Photo courtesy of Eleven Rivington.
"The point was to make people think you were faking
when it was actually real gold," Chris Burden declares in the
latest
New Yorker
, explaining his decision to hire a security guard to protect a sculpture composed of four gold bars. Nothing surprises like sincerity.
At
Eleven Rivington
, Jacob Kassay has a handful of seemingly identical paintings hung on the walls; a few more are stacked on the floor, ready for buyers. Ignore that feint toward assembly line aesthetics: these pieces are smarter – more committed – than that.
Kassay builds up the thin layers of silver paint with a fair degree of uniformity, scattering thicker patches and scrawls in a few places. Then he sends them off for a run through a mirror plating process, which creates vaguely reflective surfaces. The primed, unpainted pieces of canvas burn.
This is the sort of show that we've been told the recession is supposed to vanquish: big, relatively expensive paintings from recent art school graduates. Kassay is only twenty-four. But let's be clear: you'd have to be that young to tackle Ryman, Stingel, Klein, Warhol, this aggressively and successfully in a single set of monochromes.
The works look like elegantly abused luxury goods. There's the precious metal color, the sophisticated post-production, and some smoky, sexy burns. If you're going to risk a few thousand dollars on a piece of art, why not buy something impossibly desirable? Unfortunately, it's too late to grab one. Another contemporary anomaly: the show was sold out before the opening.
Jacob Kassay
Eleven Rivington
11 Rivington, New York, NY
Through March 29, 2009