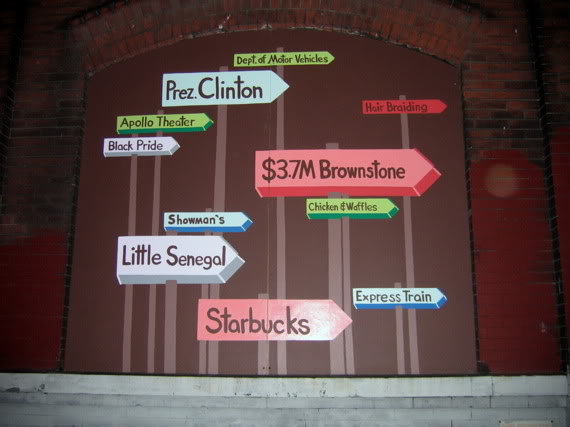 Unauthored,
Tourist Information Center
, 2006, mural on Triple Candie wall. Photo courtesy of
Geog
.
The story goes that
, pressured by his partners at
STT Records
to sign Sonic Youth in the mid-1980's,
Joe Carducci
vehemently refused, declaring that record collectors shouldn't be in bands. While California hardcore's anti-intellectualism certainly played a role in the rejection, his suspicion of the band's knowing New York pretension is understandable: the most knowledgeable people in the room rarely make the best art.
Transposed into the world of contemporary art, Carducci's polemic might read: curators shouldn't be artists. Over the past decade, no group came closer to breaching this maxim than Shelly Bancroft and Peter Nesbett, founders and directors of Harlem alternative art space
Triple Candie
. Their programming began traditionally and tastefully enough in 2001, showing work by artists like Bruce Nauman, Kiki Smith, Matthew Brannon, and Taylor Davis, but then things began to get weird.
By 2006, Bancroft and Nesbett had largely abandoned standard shows of art for unusual curatorial experiments.
Cady Noland Approximately
featured recreations of the increasingly trendy artist's work,
David Hammons: The Unauthorized Retrospective
was composed of over a hundred photocopies of the artists work (after he purportedly refused to participate in a retrospective), and
Lester Hayes: Selected Work 1962-1975
devoted the gallery space to the influential (and fictional) African-Italian post-minimalist.
A few of these ideas made a few people angry, but, for the most part, Triple Candie was simply ignored. The space's final show, Thank You for Coming, Triple Candie 2001-2008, a compendium containing bits of each show presented in the space's eight years (a pack of Budweiser from the Noland show, some photocopies of Jacob Lawrence paintings from the retrospective they mounted of his Migration of the Negro) proved definitively that their curious, meandering programming deserved more attention than it received.
Bancroft and Nesbett may have been the two people in New York's art world most familiar with and interested in engaging its voluminous history, but they never lapsed into the pedantry or solipsism one might have expected from such record collectors. If they were curators that slipped into the role of artists, it was only because there were things that they thought people had to see. At the moment, I can't think of a better definition of a good artist. Nor can I think of anyone else recently who has so bravely chased that goal.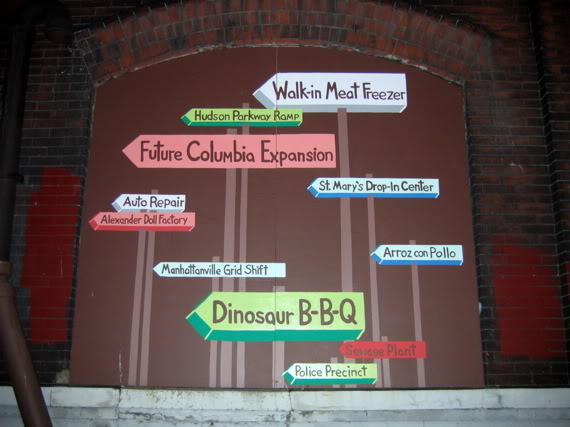 Unauthored,
Tourist Information Center
, 2006, mural on Triple Candie wall. Photo courtesy of
Geog
.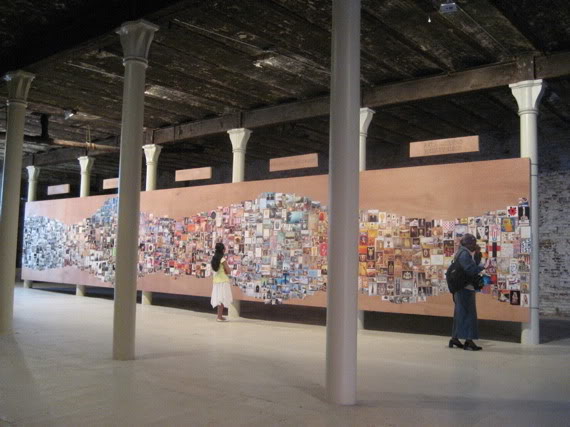 Museo de Reproducciones Fotograficas, 2007 exhibition at Triple Candie. Photo courtesy of
Sofia
.