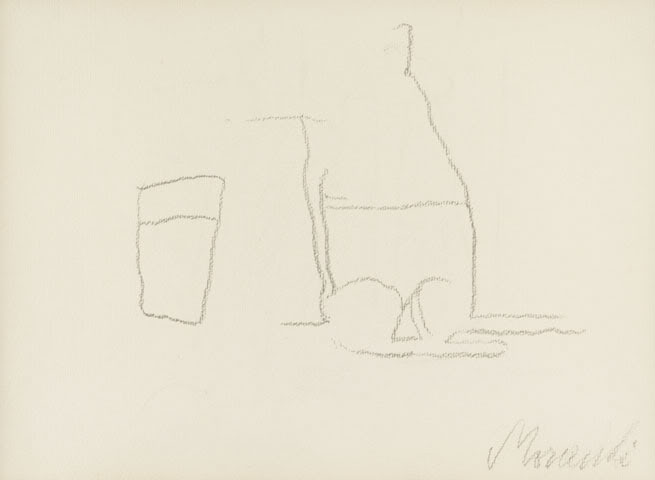 Giorgio Morandi,
Natura Morta
, 1960. Photograph courtesy of
Lucas Schoormans
There were five shows containing a significant number of Morandi works in New York this year (at
Sperone Westwater
,
The Italian Cultural Institute
, and
Pace Prints
, in addition to the two that I saw and included here). Writing in the wake of November's disastrous New York auctions, it would be tempting to read that programming as a foreshadowing of the changing concerns and tastes in the art world: a newfound conservatism. As New Yorkers filled the Met show in massive numbers, though, there was at least a reminder that strong art usually attracts an audience.
The message of each show centered on virtuosity: Morandi was a master. The texture of a single stroke defines the edges of entire objects in his paintings, while his watercolors and drawings build up entire settings with just the faintest components of their media: three fields of color, a few careful, unbroken lines. As we saw his objects reappear in paintings and drawings over his decades of work, always in different positions and perspectives, they became like old friends, comfortably familiar but by turns mysterious and unknowable.