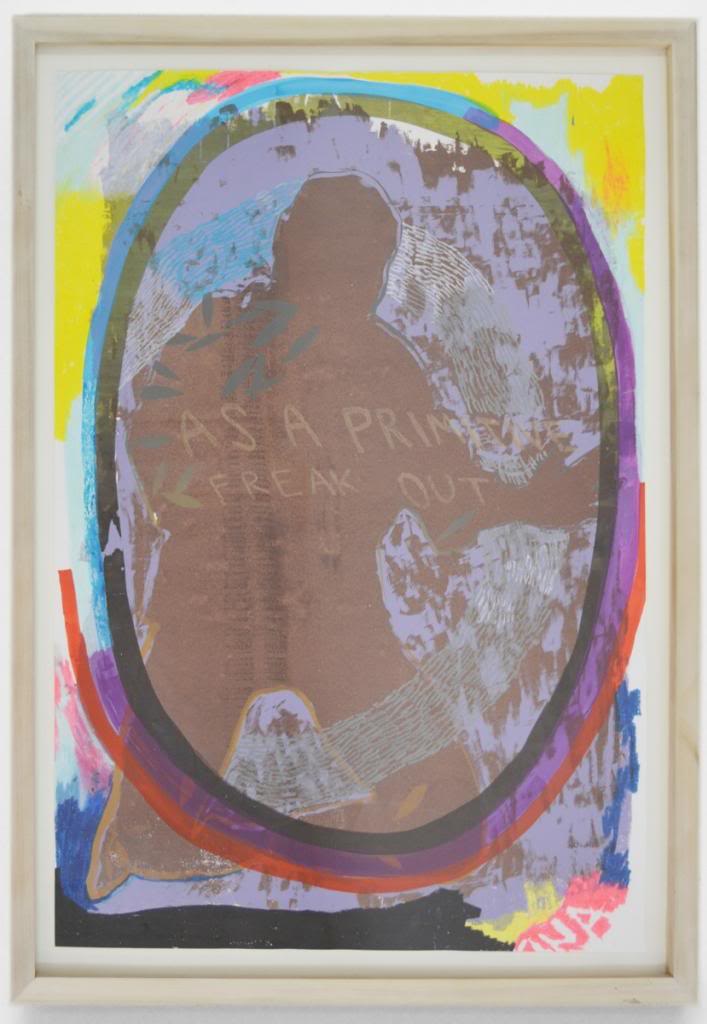 Matthew Lutz-Kinoy, As a primitive freak out, 2009. (Photo courtesy the artist/Paddle8)
The art world can look pretty bleak sometimes: huge group shows in which
34 of 35 artists are male
,
"cruel and offensive"
offers, a breathtaking lack of diversity, and incredible amounts of money being spent on the same few artists, to name just a few issues.
But every time things look especially dark from my vantage point, something comes along to mitigate those embarrassing truths and remind me that there is a lot of great stuff happening all over the place. Sometimes it's a show that bowls me over and forces me to think about or see something in a different way. Right now it's a group of artists who have gotten together to support a peer who has supported them many, many times in the past.
With the help of numerous friends and colleagues, the artists Van Hanos and Jory Rabinovitz have organized
a benefit exhibition
that runs through Monday, September 23, at
Cleopatra's
in Greenpoint for their fellow artist Rose Marcus. (
The accompanying auction of the work runs through 2 p.m. on that day
.) Here's
what they wrote
about the project:
A community of artists have come together to support their friend and colleague, Rose Marcus, in her time of need after unexpected surgery. This benefit serves as homage to Rose's contributions as a young artist, organizer, academic and friend. The artists united behind the conceit that they can utilize their agency and artwork to provide shelter and preservation to other artists' practices when hardship arises.
If you don't know
Rose
, she is a New York-based artist, art historian and, as they wrote, organizer. You may have seen her canny, cagy work
around town
, or been to the art fair that she put together twice,
the Dependent
, which in my book provided two of the most entertaining, fruitful, and positive days of the past few years. (It's worth noting that she designed these to be strictly break-even affairs for herself.) She's also—full disclosure—a friend, and someone who has been intensely helpful with my writing.
I often argue to friends (or really anyone who will listen) that, if they follow contemporary art with some level of interest, they should also buy it. Sure, it can be expensive, but by buying a drawing or painting by a young artist even only every year or two, you're helping to keep a young artist in the game and potentially supporting a young art dealer—not an easy job—at the same time. Plus you get something interesting, and maybe even beautiful, to spend some time with. If you're not a regular art collector, this is a great time to try out that role: it's for a wonderful cause, many of the works are remarkably affordable, and—this I cannot emphasize enough—they are by an absolutely phenomenal group of artists, who all happen to know Rose. It's a benefit show, but it doubles as a superb, tight survey of what smart, ambitious emerging artists are doing right now.
Have a look at the works online or, if you're in New York, head over at
Cleopatra's
. If you have any questions, feel free to
drop me a note
. Thanks for taking the time to listen.