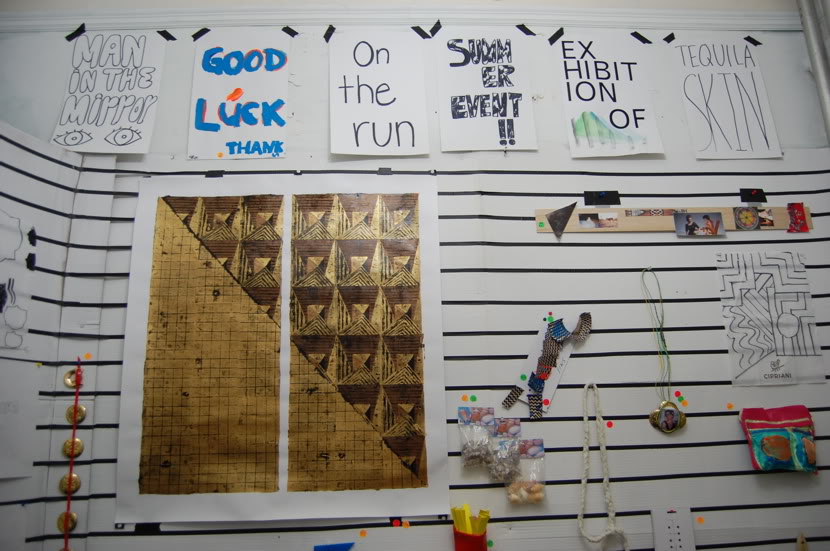 Denise Kupferschmidt and Gina Beavers,

Price Good Market Inc.

, in "Art Book Club Presents:," at St. Cecilia's Convent, Brooklyn, June 3, 2011.
"This past June … the hordes of half-wild, half-crazed, and fully degenerate individuals who keep pouring out of the 42nd Street subway had occasion to check out a whole building full of art that was just as raw, raucous, trashy and perhaps even as exciting as some of the more notorious attractions of the tenderloin,"
Jeffrey Deitch
wrote in

Art in America

in 1980
. He was reviewing the now-infamous "Times Square Show," for which dozens of artists, led by
Cara Perlman
and
Tom Otterness
, used a four-story building on the corner of 41st Street and 7th Avenue for — to quote Deitch — "a month-long party, business enterprise and loosely curated exhibition of art, film, fashion and exotica."
Of Deitch's descriptors, it's the twin notions of a "month-long party" and a "loosely curated exhibition" that have congealed to form the show's storied legacy. "Several dozen of the organizers, participants and hangers-on virtually lived at the site for the show's duration," Deitch writes. Moreover, there were numerous performances and film screenings, alongside work by soon-to-be superstars like
Keith Haring
,
Kenny Scharf
, and
SAMO
— the graffiti name of
Jean-Michel Basquiat
and friends. (Deitch
described SAMO's work in the show
as "a knockout combination of
de Kooning
and subway spray-paint scribbles.") But that other phrase, "business enterprise," is equally important. As Deitch himself says, this wild, unruly show had a gift shop, filled with affordable artist multiples. "To the right, a souvenir shop was stocked with all sorts of bizarre trinkets," he notes.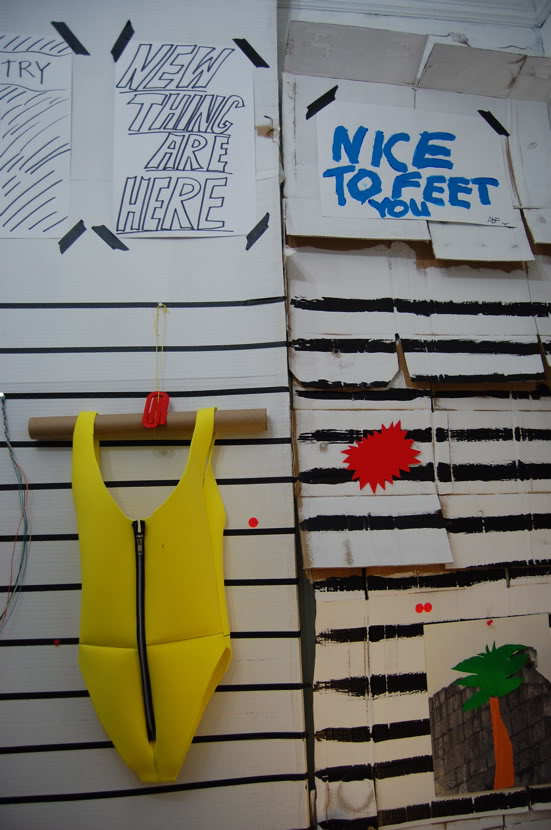 Let's jump forward 31 years. Earlier this month, the "half-wild, half-crazed, and fully degenerate" denizens of the New York art world had the occasion to see a whole building full of art once again. The site this time was the three-story
St. Cecilia's Convent
in Greenpoint, Brooklyn, instead of an abandoned massage parlor in Midtown, and in place of
Collaborative Projects, Inc.
(Colab), this show was organized by the
Art Book Club
, which handed over each of the three floors to a different curator —
Fran Holstrom
,
Saira McLaren
, and
Carolyn Salas
. And, once again, there was a gift shop, the
Price Good Market Inc.
, which was helmed by artists
Denise Kupferschmidt
and
Gina Beavers
, which offered small works by many of the shows' participants at bargain prices.
Kupferschmidt and Beavers cited as their inspiration The Shop, the East London art boutique and bar run by
Tracey Emin
and
Sarah Lucas
in 1993, which was included in
Tate Modern
's 2009 "Pop Life" show. Emin writes, in
a piece published in advance of that show
: "The recession was in full swing with hundreds of empty shops boarded up. Sarah and I looked at each other, more or less at the same time, and said, 'Let's get a shop.'" They sold hand-made merchandise, like mugs and T-shirts, as well as small, affordable pieces by other artists. (The bestselling shirt, at least for a period, read "Complete Asshole," writer
Gregor Muir
mentions in
this lively interview
with a late-arriving Emin.)
Price Good Market Inc. had hand-painted works of their own: signs emblazoned with declarations like "NICE TO FEET YOU" and "NEW THING ARE HERE" alongside papers with more ambiguous messages — "ON THE RUN" and "TEQUILA SKIN," for instance. Cheap, store-bought jewelry hung next to a bright-yellow one-piece bathing suit by Beavers, a paper construction by
Stacy Fisher
, and a necklace and pillows by
Sam Moyer
. The décor was pure strip-mall class: bright fluorescent lights hung up above and wraparound walls were lined with black electrical tape or painted with quick black lines, mimicking perfectly the omnipresent plastic sheeting that fills malls across the land. It felt like a slice of suburban American — or, to put it another way, childhood memories of many of the show's young attendees, myself included — had somehow slipped into this defunct convent.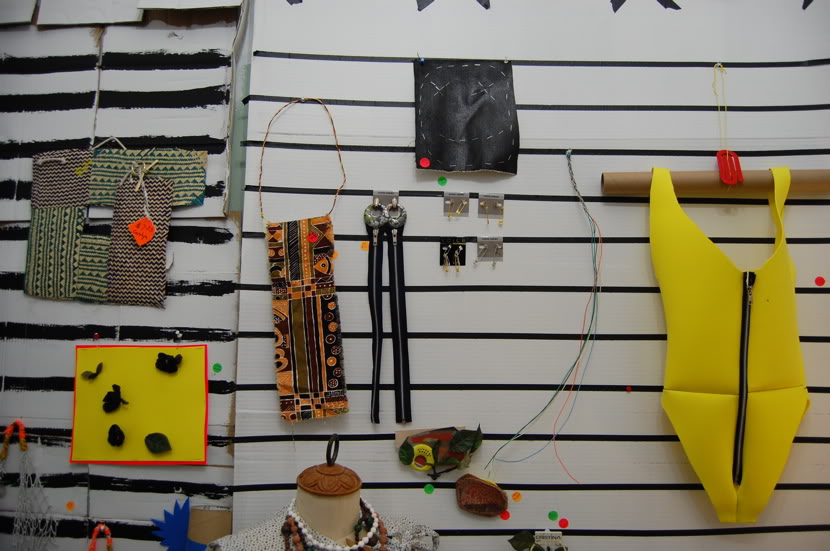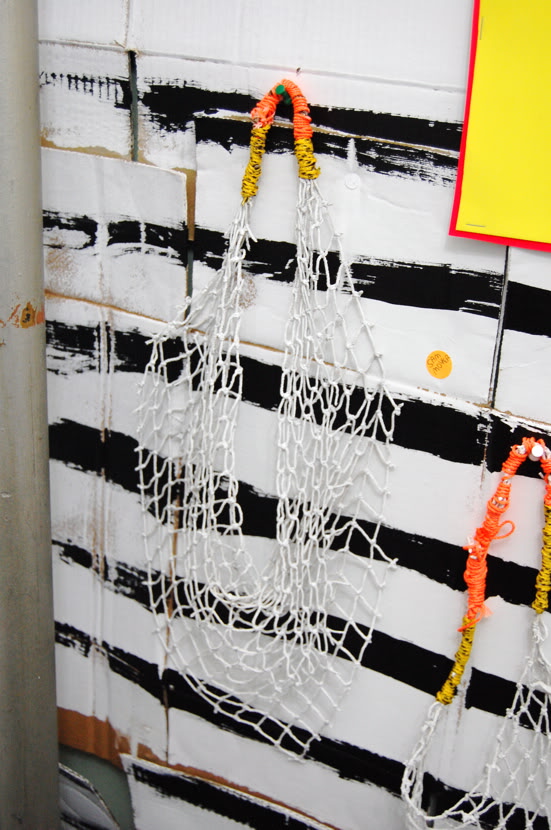 The Price Good Market Inc. was, of course, more a glorious gag than a workable business: would-be buyers at the Friday-night opening were turned away and told to return on Sunday, the lone day that the shop was open, and the prices were in some cases absurdly low. It was an excuse to show work, see friends, spin some records, and drink beers. However (and I know this will sound simplistic and perhaps naïve), in an economy that is only now slowly recovering after the failure of massive, complex financial instruments, the opportunity to exchange a few bucks for a handmade sign or a Sam Moyer net necklace sounds just right: radically straightforward and accessible. A lot has changed in the three years that have elapsed since
Takashi Murakami
placed another kind of gift shop, a miniature
Louis Vuitton
boutique,
at the center of his Brooklyn Museum exhibition
.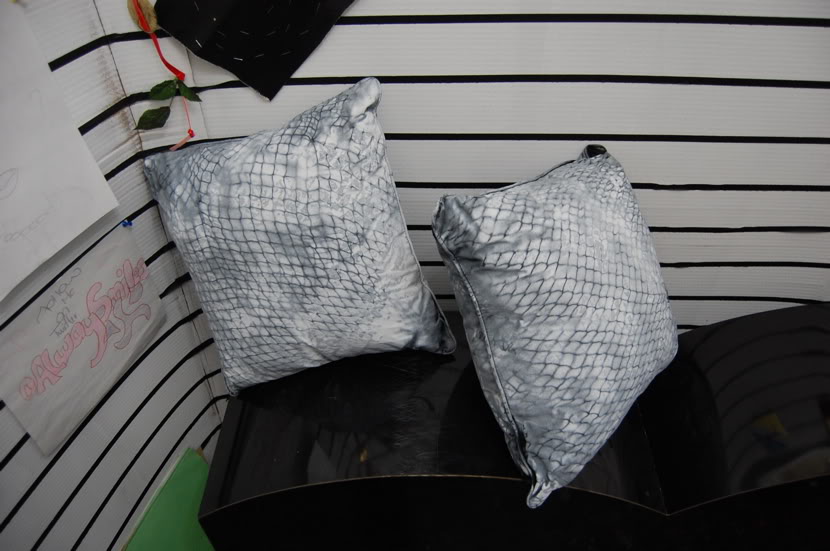 More:
Martin Bromirski
has tons of photos from the opening of "Art Book Clubs Presents:" at
Anaba
and on his
Flickr account
.