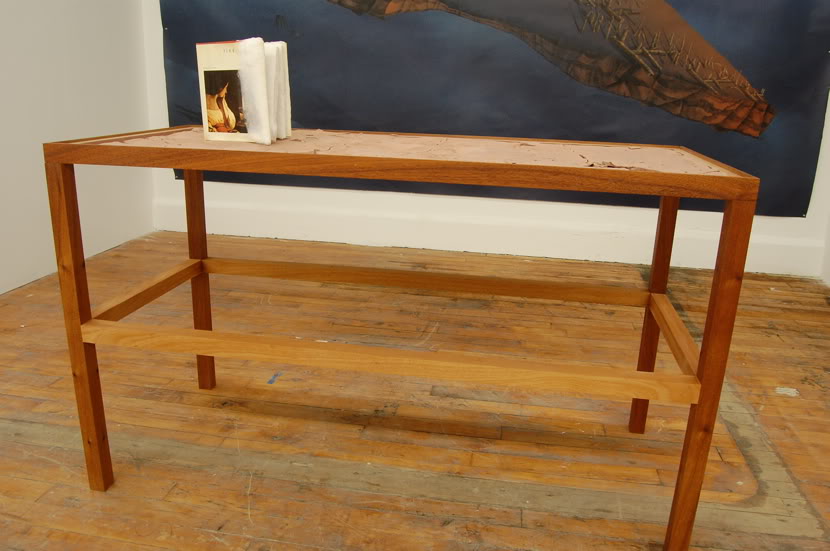 Edgar Arceneaux,

Orpheum Returns — Fire's Creation

, 2010. Wood shelf, clay, science book, sugar, in "Greater LA," at 483 Broadway, 2nd Floor, New York, through June 10, 2011.
"While many of the artists included have exhibited in ... New York, they've never been contextualized as a group that shares, however subtly, an identity based upon their geography," reads
a curatorial statement
by the organizers of
"Greater LA,"
a sprawling show on view in a second-floor SoHo space through Friday. The show, it continues, "aims to be this contextualization, giving physical form to the oft-heard suggestion that the work made today in Los Angeles is some of the best in the World."
That's an ambitious statement, and one backed up by an equally ambitious show, with some 100 works by almost 50 artists, brought together by gallerist
Joel Mesler
, collector
Eleanor Cayre
, and curator
Benjamin Godsill
. Much of it is very large, very heavy looking. There is, for instance, an enormous, richly colored tapestry by
Pae White
, whose last New York solo show was almost 15 years ago, way back in 1997 at the
I-20 Gallery
. An installation by a relative newcomer,
Alex Israel
, is similarly epic, filling a space the size of many Lower East Side galleries with rented movie props: a row of metal lockers, a spinal column, and a standing gauze cast, among other items.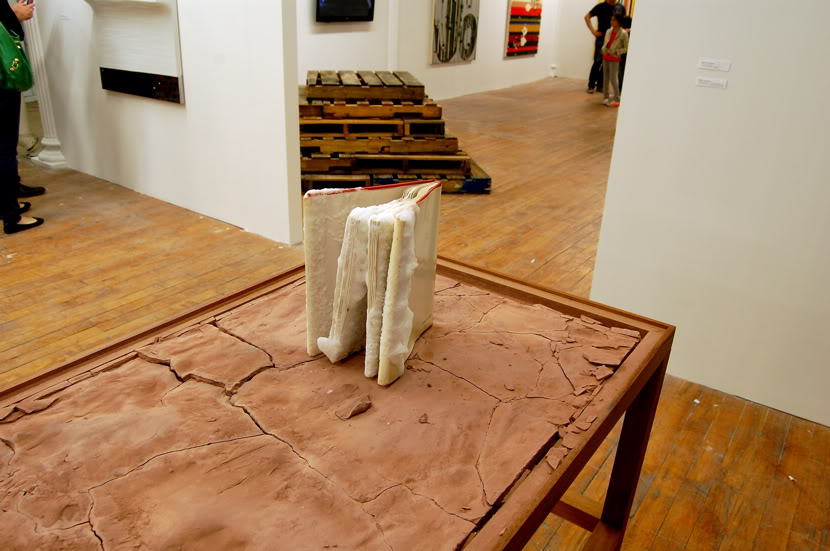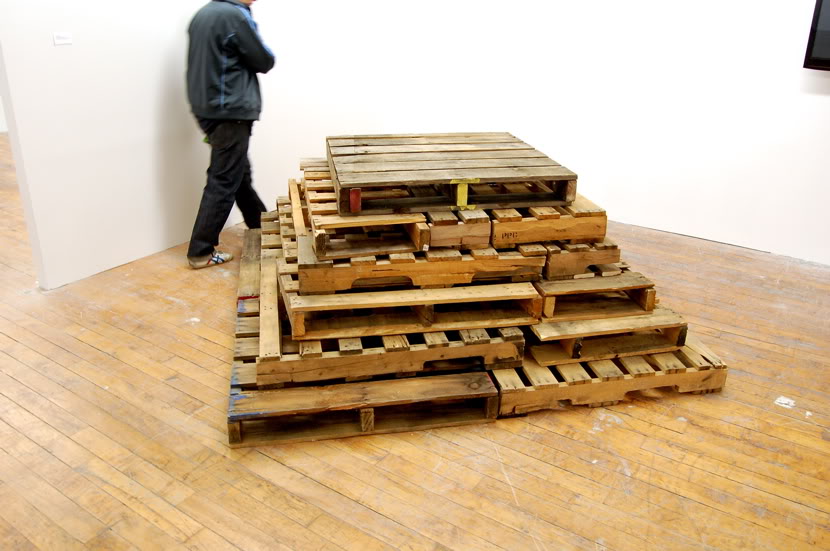 Liz Glynn,

Capstone

from

III

, 2010-11. Reclaimed forklift pallet stock.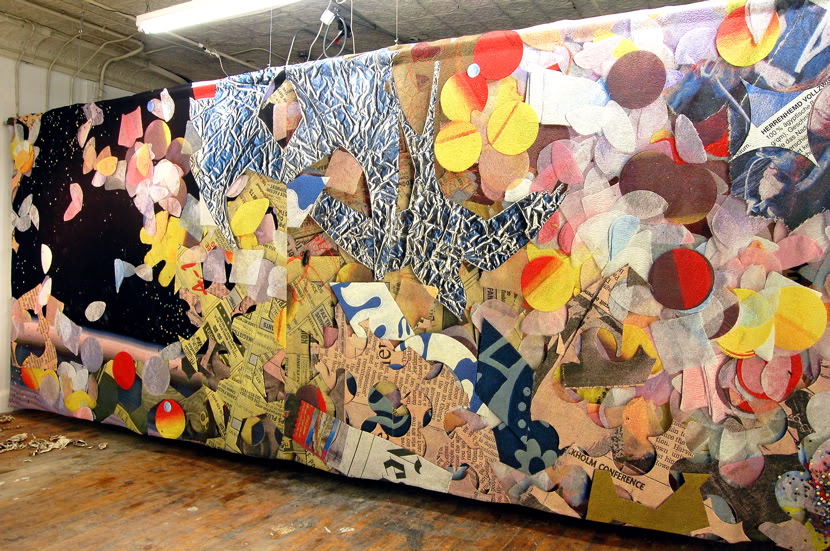 Pae White,

Studio A-Z, MMVII Tapestry 2

, 2007. Cotton and polyester.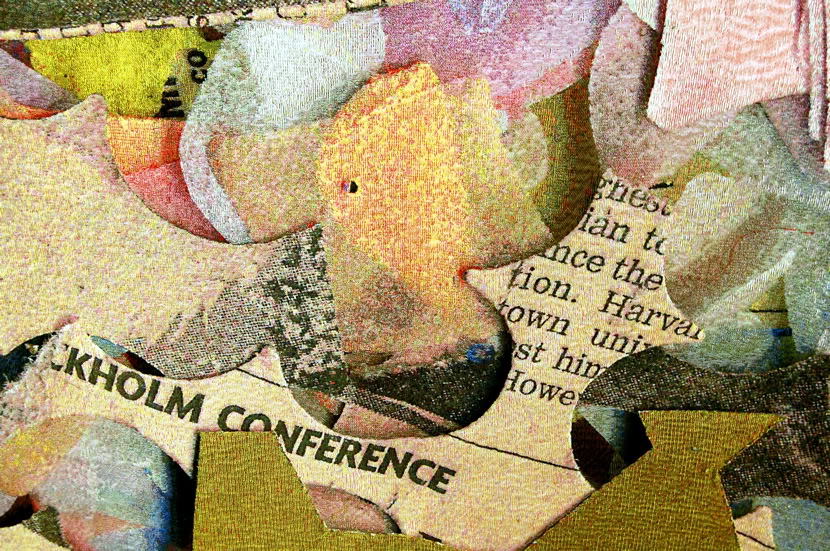 Many of the artists here are venturing — or have already been welcomed — into the upper tiers of the art world. They show on the contemporary art circuit, picking up ideas while on tour, and the geographic association offered sometimes feels incidental or forced. If there's an L.A. aesthetic or style, it's not discernible here, though there are some works that feel uniquely indebted to the city, like
Alex Prager
's rigorously staged melodramatic photographs, which are pure Hollywood product. Prager was featured in
MoMA
's
recent "New Photography" show
, and as
Roberta Smith
notes in her review of "Greater LA,"
she is not the only name that will be familiar to New Yorkers.
Matthew Chambers
has had solo shows at Mesler's New York galleries each of the past two years — at
Untitled
in 2010
, and at
Rental
in 2009
. He's represented here by a beige-colored triptych, with panels that — moving from left to right — ape the styles of
Frank Stella
,
Eric Fischl
, and
Mark Grotjahn
.
Patrick Hill
is another familiar name,
and a positively thrilling sculptor
, but his work here is unusually weak, lacking the erotic charge of the marble-and-wood works he showed at
Bortolami
a few months back. (Another piece from that series, an exciting one, is at
Nicelle Beauchene Gallery
, just a few blocks away,
through July 8
.)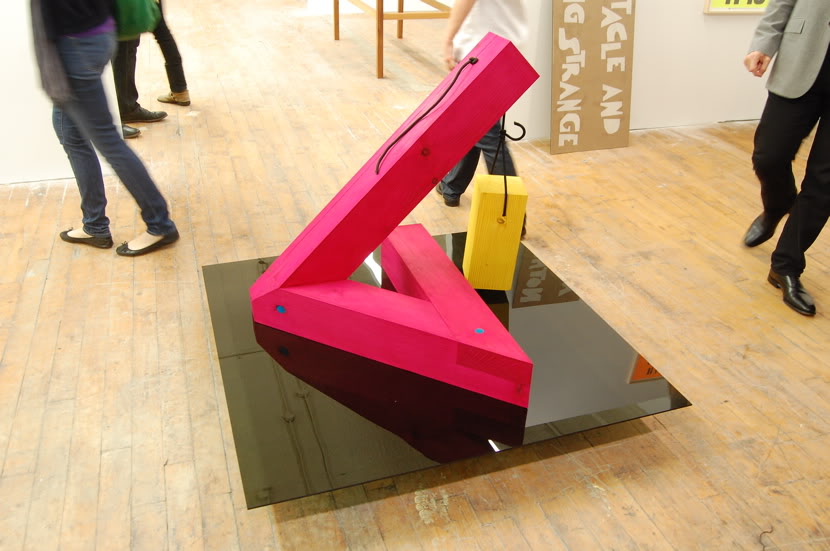 Hill,

Flirty Fishing

, 2011. Wood, glass, rope, dye, and glue.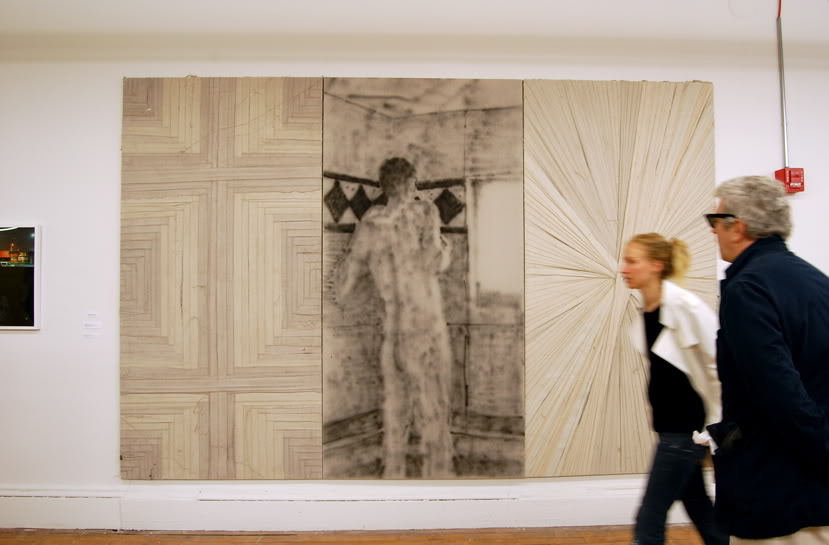 Matthew Chambers,

Exacting Shorthand

, 2011. Oil and acrylic on canvas.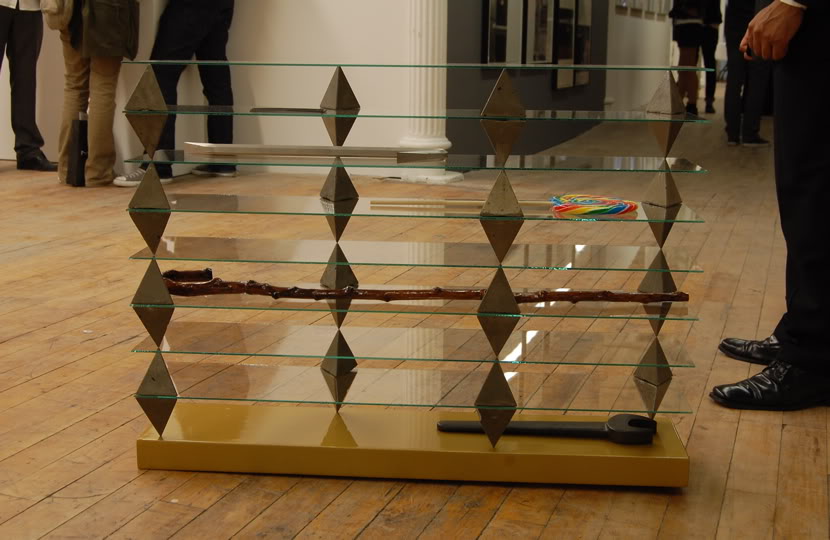 Patrick Jackson,

City Unborn (gold)

, 2008
Kaz Oshiro,

Untitled Still Life (Abstract Painting with Duct Tape in Grey)

, 2009. Acrylic on canvas.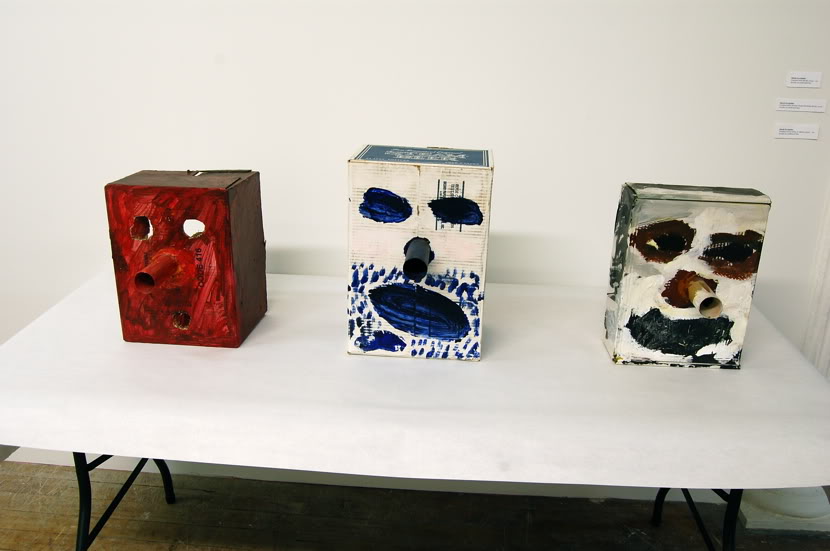 Mark Grotjahn
Partial installation view of Alex Israel,

Property

, 2011. Rented cinema props.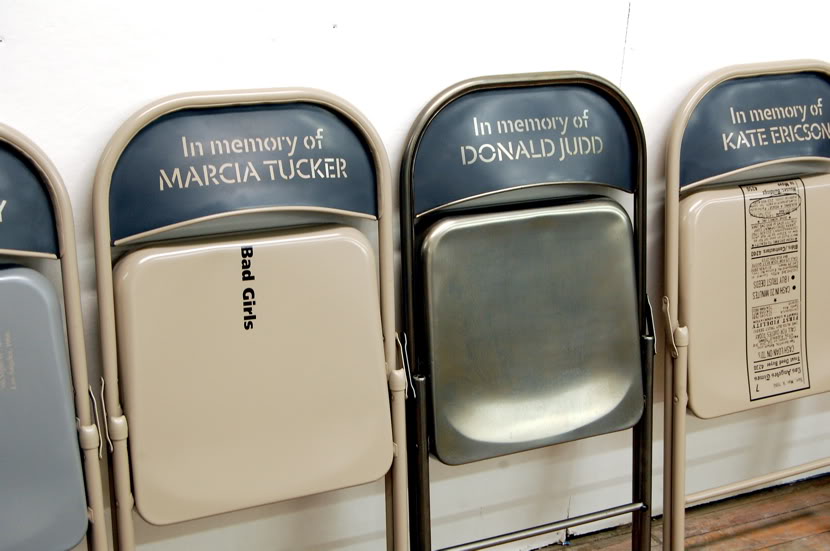 Partial installation views of Andrea Bowers,

14 Chairs

, 2010. Fourteen metal folding chairs and spray paint. Edition of 10 plus 2 artist's proofs.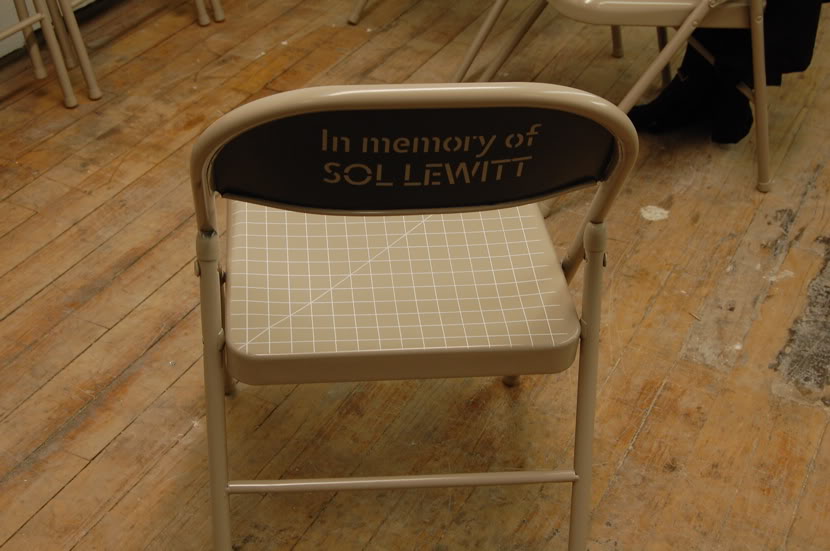 Another well-known figure is
Andrea Bowers
, who presents a witty fourteen-folding-chair tribute to seminal artists and art-world denizens. A chair for
Sol LeWitt
is covered with grids, one for
Marcia Tucker
is inscribed "Bad Girls," and
Donald Judd
gets immaculate, polished metal.
Other welcome sights include a super-fragile stacked-glass piece by
Patrick Jackson
(which was dutifully attended by a security guard at the opening); a trio of Grotjahn sculptures — messy, silly asides to the nine gorgeous and carefully wrought paintings
now at Anton Kern
; and a tiny annex space for the
Dan Graham
Gallery
,
a heady conceptual experiment in exhibition making
that I would have expected to come from New York. I'm also intrigued by
Eduardo Sarabia
's contribution, less by the actual work — pretty photorealistic paintings of a woman in front of a verdant landscape covered with abstract daubs and blurs — than by his steadfast and admirable refusal to repeat his glorious 2008
Whitney Biennial
homemade-tequila bar
, which would no doubt be a certain success. (He's been absent from New York since then, and his last solo outing was at I-20 in 2006.)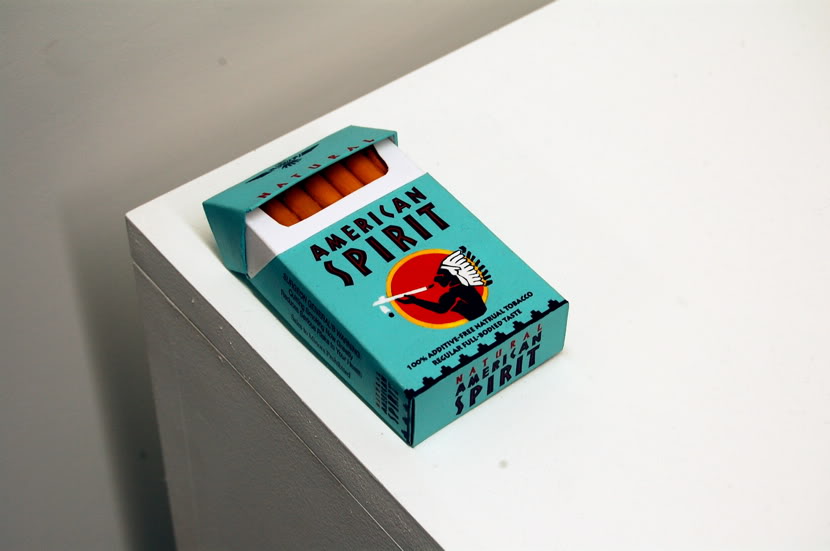 Matt Johnson,

American Spirits

, 2010. Paper, plastic, foam, paint, and magnets. At the opening, this was set to the side of the pedestal; usually, though, aided by those magnets, it spins magically in the air.
Exactly 30 years ago,
Peter Schjeldahl
wrote a piece about the Los Angeles art world for the

Village Voice
. "This is never going to be a real art center unless, in the process, it ceases to be L.A.," he said. "The very word
center
is solecism here." "Greater LA" does not prove that the city has become an art center. There's no way it could: that term has become difficult to define, even meaningless, in the intervening three decades. There are centers everywhere today, in countless metropolitan areas and online, and they are almost as likely to be organized around web sites and curators as they are to be based in specific neighborhoods. Which makes the exhibition a refreshingly unusual and bravely retrograde affair, aiming as it does to identify and share the leading young artists of a single distant city. I hope it returns next year, with Mexico City as its focus this time, or perhaps Brussels or Brooklyn or Budapest.