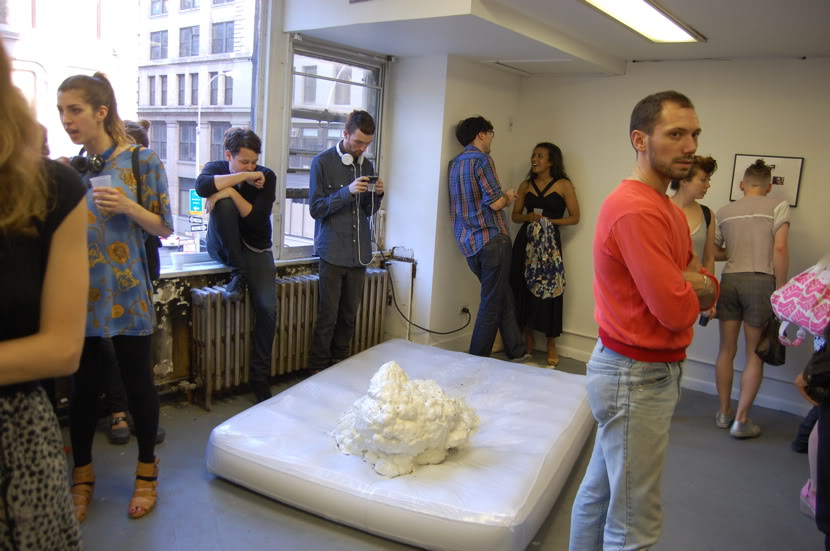 Brian Clifton,

Us

, 2011. Inflatable mattress, psychological dross, fat, blood, mattress cover, plastic, 80 x 60 x 34 in., in "Skin So Soft," at Gresham's Ghost, through June 25, 2011.
If you have spent even a small portion of your life going to contemporary art galleries, you may occasionally have had the feeling that you have seen it all. Everything has been done, you may think. We're just playing out the endgame. But then, inevitably, for better or worse, something shocks that suspicion out of you — like, for instance, a group of five girls enthusiastically performing a variation of the official dance of the perhaps-dubious wellness company
Herbalife
to small groups in a TriBeCa office building as part of a pop-up gallery show. Which is what happened to me on Wednesday night.
The evening began in a compact second-floor office at 401 Broadway, where
Gresham's Ghost
, the itinerant art gallery, has set up its latest exhibition,
"Skin So Soft,"
which was curated by artist
Josh Kline
and is on view through June 25. Guests arrived around seven and, as they waited for the performance by the "Tweens of Herbalife™" —
as one announcement from the organizer
,
DIS Magazine
, billed them — inspected the art on view, which includes typically tony photographs by
Michele Abeles
, a viscous–looking bed by
Brian Clifton
, and a self-destructing sculpture by
Paul Kopkau
, with a candle slowly melting away a block of ice.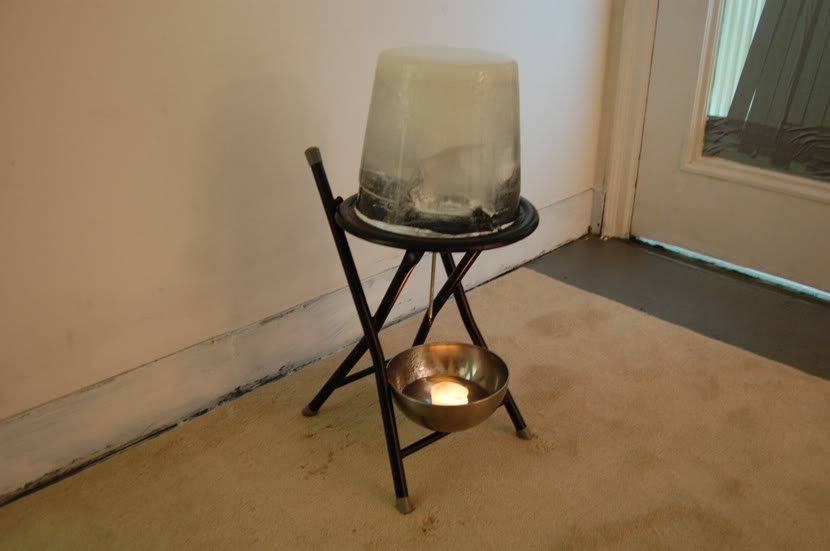 Paul Kopkau,

lodestone/narrator

, 2011. Rubber, stainless steel, ice, galvanized metal, 26 x 12 x 12 in.
About a quarter past seven, word spread that we'd soon be whisked up to the sixteenth floor for the performance, and one group was ushered upstairs as the rest of us waited. After about ten minutes, I rode up for the second viewing, finding a seat in a long narrow room, along with about twenty other people. Once we were seated, the dancers burst through a door at the end of the room and performed as Herbalife's (apparently) model performer danced away in a projection behind them. Audience members recorded the action on their iPhones, cheered occasionally, and shared lots of nervous looks. After five minutes, the dancers skipped out of the room to applause, and we headed toward the exit, passing a mother waiting in the hallway, bottle-feeding a baby.
Excerpt of performance by Tweens of

Herbalife

™

, choreographed by Richard Kennedy,
presented by DIS Magazine and Alaina Feldman
, June 15, 2011, in "Skin So Soft," organized by Josh Kline, at Gresham's Ghost, 401 Broadway, 2nd floor (performance on 16th floor), New York, through June 25. Video: 16 Miles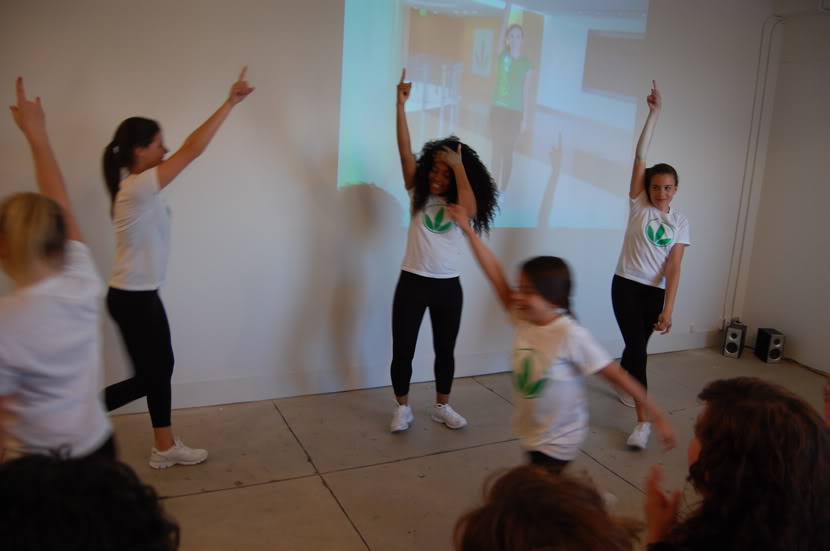 Still of performance by
Tweens of

Herbalife

™

, choreographed by Richard Kennedy, presented by DIS Magazine and Alaina Feldman
, June 15, 2011.
"I have some problems with that," an audience member said on the street below, expounding on the exploitative nature of the performance. For a moment, I wholeheartedly agreed. Thoughts of
Santiago Sierra
came to mind. But then it occurred to me that the dancers — the tweens, to use DIS's term (its just-released
"Tweenage Issue,"
was the justification for the performance) — may have known that the dance was obviously ridiculous, that they were mocking a bit of corporate cheerleading by dramatically parroting it. They may or may not known that Herbalife is considered by some to be a
pyramid scheme
that promotes
medical quackery
, and that
its founder
overdosed on alcohol and anti-depressants in 2000, but it seems possible that they knew that they were presenting a joke. With DIS and choreographer
Richard Kennedy
, they took a castoff cultural fragment with a questionable past and recast it in a space in which irony and sincerity coexisted and bolstered one another: the dance was terrible, and their performance was awesome.
That may, of course, just be wishful thinking. If that's the case, I shudder to think about what comes next.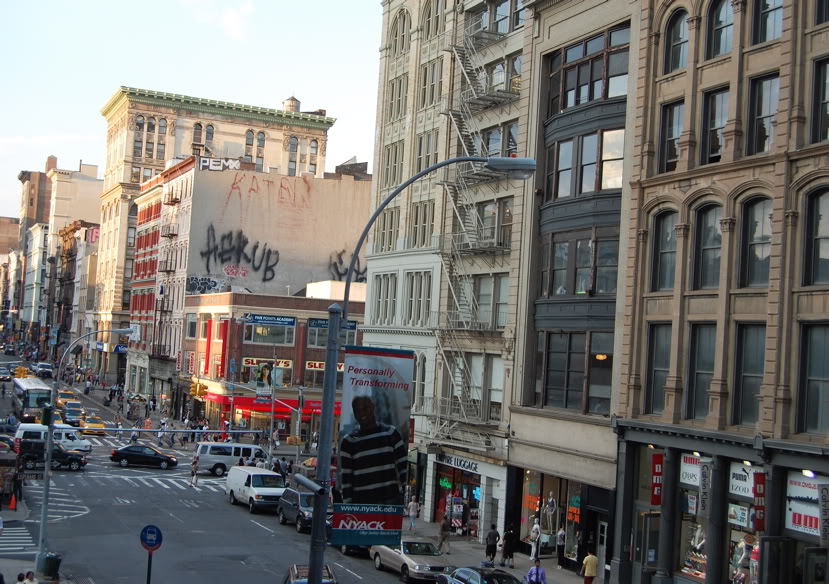 The view from Gresham's Ghost, looking north on Broadway toward SoHo.