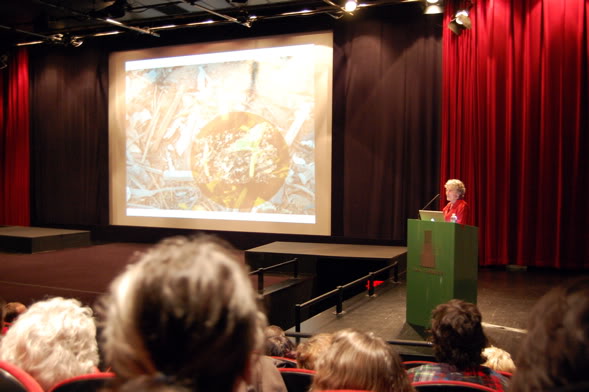 Lucy Lippard presenting her lecture "Ghosts, the Daily News, and Prophecy: Critical Landscape Photography" at the School of Visual Arts Theatre, New York, April 7, 2011. Photo: 16 Miles
"She is a radical who has survived," writer
David Levi Strauss
said last night, introducing the legendary
Lucy Lippard
before her lecture at the
School of Visual Arts Theatre
on West 23rd Street. Lippard presented a succinct lecture that she titled "Ghosts, the Daily News and Prophecy: Critical Landscape Photography," which focused on the different ways that contemporary photography attempts to engage the politics of land use and inculcate in viewers a sense of responsibility for the environment.
Her passion is for "polemical art," Lippard explained, especially since there are plenty of people writing about non-polemical art. Polemical, politically engaged art can still be visually appealing, she argued, quoting
Walter Evans
's famous line that "Art is never a document, but it can adopt that style." As she clicked through a PowerPoint presentation that included works by
Amy Stein
, duo
Andrea Robbins and Max Becher
, and dozens of others, she noted that her interest is in pieces that "look like artworks, not activism."
The art she is looking for today "escapes the art world and elopes with life," though she humorously admitted, "We don't know much about them because it's outside of the art world." Though she declared that she doesn't keep up with contemporary art (she lives in rural New Mexico), and she doesn't spend copious amounts of time on the Internet ("I still love to read — and walk."), she did have a
Bruce High Quality Foundation
slogan at the ready to make her point: "What happens in the art world stays in the art world."
There are, of course, major crises taking place outside that cloistered space. As
Peter Schjeldahl
put it
, following the earthquake and tsunami last month, "[I]t feels a little frivolous to be doing art criticism under the ongoing, terrible circumstances." Before Lippard began her lecture, she mentioned that someone had suggested that she address the issue of
Ai Weiwei
's current detainment in China. "I haven't got any immediate suggestions," the lifelong activist said. Then she added excitedly, "But start thinking."