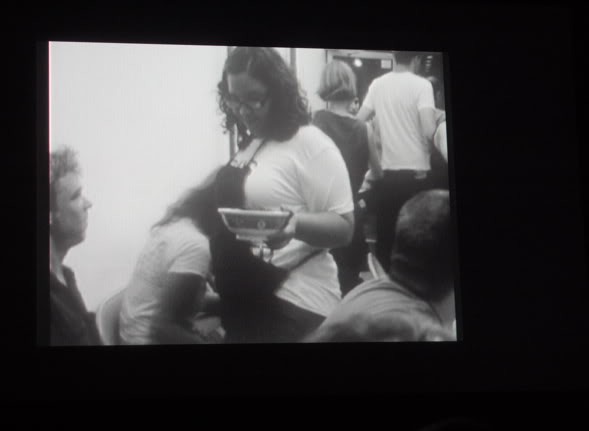 A still from Anton Vidokle's

New York Conversations

, 2010, which was screened during his lecture at Parsons, April 27, 2011. The lights were off during the lecture, so picture Vidokle sitting in the lower-right corner using a small light to read his statements. Photo: 16 Miles
An
email announcement
from
e-flux
just landed in my inbox a few minutes ago. I opened it, read it, and learned about the debut of a new German and English version of
frieze
, succinctly titled
frieze d/e
, which will cover the contemporary art scene in Austria, Germany and Switzerland. As with many of the products presented by e-flux, I think it sounds awesome. I read e-flux announcements at least once a day, and there are, according to my Gmail account, thousands of press releases — trumpeting museum exhibitions, professorships, gallery shows, publications, biennials, and museums — currently residing in my email archives.
Over the past 12 years, e-flux has morphed from a modest listserv into a global empire, achieving in the art world what companies like Groupon are hoping to achieve in a wider marketplace: a global reach and a system for effortlessly disseminating specialized information to an audience that yearns for it. Meanwhile, it has used some of the profits from that enterprise to fund a variety of projects: an art-video rental service, an exhibition space, and, more recently, a journal. Last night, e-flux co-founder and artist
Anton Vidokle
visited
Parsons
as part of the school's
visiting lecture series
to discuss his company's projects. Here are some highlights from the occasionally provocative talk, which doubled as a brief primer on the history of e-flux and its manifold activities.
The Holiday Inn
Add e-flux to the list of art projects launched in a hotel room (like the
Gramercy International Art Fair
and the
Dependent Art Fair
). Vidokle noted (as he had told
Hans Ulrich Obrist
in
a 2006 interview
) that the idea for e-flux originated in November 1998, when Vidokle,
Regine Basha
, and
Christoph Gerozissis
decided to hold a one-night exhibition, titled "The Best Surprise Is No Surprise," from 10 pm to 10 am, in a Holiday Inn in Chinatown. (Add it to the
Lost Art Map
.) Unable to afford a mass mailing of press releases, they opted to send emails to their few dozen friends who had email accounts . (At Parsons, Vidokle revealed that he was a Hotmail user at the time, so a free email service — one owned by Microsoft, no less — is part of the success story.) The organizers told hotel staff to expect some foot traffic throughout the night because they were holding auditions for a reclusive Japanese film director who was in town for only a single night. The turnout was sizable, and in January 1999 e-flux announcements began.
The Video Rental Shop and Martha Rosler's Toilet Paper
In 2004, artist
Julieta Aranda
convinced Vidokle to give up a studio they shared and open a street-level space on Ludlow Street on the Lower East Side. They inaugurated an art-video rental shop, which eventually traveled as an exhibition to a variety of museums over the course of five years. A visit by Vidokle to Marfa, Texas, where the
Judd Foundation
maintains
Donald Judd
's massive library in the exact configuration that he left it on the day that he died, inspired one of the next e-flux projects in its space, an exhibition of more than 8,000 books from
Martha Rosler
's personal library. Many of the marginalia–filled books harbored toilet-paper bookmarks, according to Vidokle, apparently because Rosler likes to study while in the restroom. "You really get to enter her world!" he said.
Essex Street and Gentrification
As
Martha Schwendener
notes in the

Village Voice

this week
, e-flux can be seen as a factor in the rapid, ongoing gentrification of the Lower East Side. The e-flux office moved from Ludlow to Essex Street, and it now resides in a building nearby many that feature illegal apartments with poor living conditions. As e-flux hosted a three-day series of conversations in 2008 theorizing "de-material labor," one of their neighbors was going through the detritus left by a
Rirkrit Tiravanija
cooking session, foraging for bottles and cans to recycle in exchange for cash – "very manual labor." That neighbor appears in a few instances in the film produced during those talks,
New York Conversations
, which played silently on a screen above Vidokle as he spoke.
Some Thoughts on the Festival of Ideas for the New City
All of this talk about non-art taking place in an art context led one audience member to ask Vidokle about the
Festival of Ideas for a New City
, an initiative scheduled to run from May 4 to 8 that will bring together scores of arts and community organizations to, in the words of its organizers, "effect change" in downtown Manhattan. According to Vidokle, e-flux was approached by the planners of the festival, which is being led in large part by the
New Museum
. "It sounded okay," Vidokle said. The idea almost sounds like it could be another e-flux project, redirecting and reusing the art world's existing infrastructure and resources to new ends. But then Vidokle learned that the festival was not actually providing any funding in most cases, only asking groups to organize various projects that it could then publicize as a special event. It is a spectacle, Vidokle said, and spectacles have become integral to fundraising at contemporary art museums. He added, speaking of the festival, "It's a new model of being a parasite."