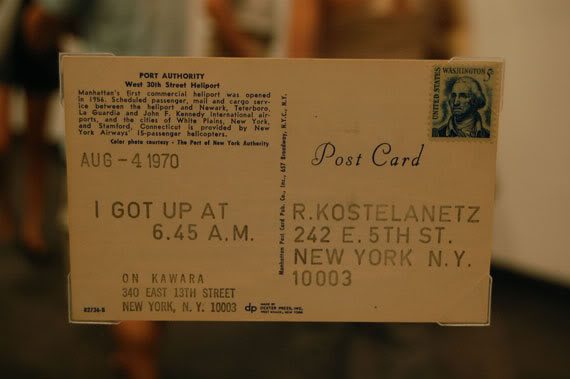 On Kawara, I GOT UP, 1970. Forty-seven photomechanical reproductions (postcards), 3/14 x 5 1/2 in. Photos: 16 Miles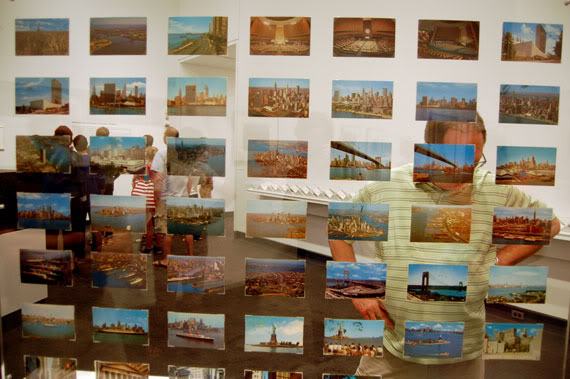 We all go to the
Metropolitan Museum of Art
for its blockbusters and its permanent collection, but the smaller shows that we happen upon are sometimes the most exciting part of a visit,
Holland Cotter
noted earlier this month
. The museum currently has plenty of those shows on view, though one that Cotter didn't mention in his review of six of them was "
Between Here and There,"
a smart, pocket-sized photography exhibition that runs through February 13, 2011.
"Between Here and There" is on view in the museum's
Joyce and Robert Menschel Hall for Modern Photography
, the small second-floor space that has become a dependable venue for tightly focused shows in recent years. Its modest size forces every work to count, and the Met's curators have been meeting its challenge admirably. The previous show there,
"Surface Tension,"
offered a succinct overview of photography devoted to its own physical presence and its status as an index. A
Walker Evans
photograph of a ripped billboard
hung not far from
Gerhard Richter
's
abstract riffs
on
chromogenic prints
. And there were deserving younger artists too, like
Eileen Quinlan
and
Tim Davis
, whose close-up of an
Eakins
canvas
looked pleasantly weird
hanging not far from the Met's painting galleries.
The current show is concerned with photography that acts as a record of travel or movement, and it is at least equally as strong as "Surface Tension." Familiar joys, like an early
Ed Ruscha
book, are shown near lesser-known pieces, like a tiny snapshot by
Felix Gonzalez-Torres
, an inclusion that should serve as a call for a survey of his rarely displayed work in the medium. There is also a set of
On Kawara
postcards, providing a readymade tour of New York City via invisible journeys through the postal network. Two other surprises were earning long stares from visitors when I stopped by the gallery:
Dennis Oppenheim
's 1970
Material Interchange for Joe Stranard, Aspen, Colorado
, which documents the travel of human blood via mosquito, and a haunting
Darren Almond
video, with sound provided by a cleverly placed speaker hanging overhead.