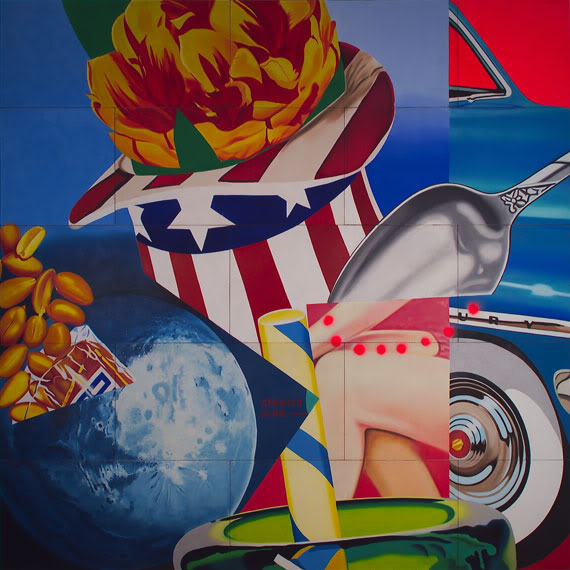 James Rosenquist, World's Fair Mural, 1964. Oil on Masonite, 240 x 240 in. Courtesy of the Weisman Art Museum, Minneapolis.
I still don't have an answer to the question of who made
the bizarre Warhol mosaic
in
Flushing Meadows–Corona Park
, but I did come across a strange little
1964 World's Fair
side story that involves art dealer
Leo Castelli
and his connections to Minneapolis. First, we need a little bit of background.
In her new biography of Castelli, titled
Leo & His Circle
, writer
Annie Cohen-Solal
posits 1964 as one of the dealer's most triumphant years, marked by
Robert Rauschenberg
winning the Golden Lion at the
Venice Biennale
. Oddly, though, she does not make a single mention of the 1964 World's Fair, in which Castelli was almost equally dominant, thanks to some help from his friend
Philip Johnson
(a connection highlighted by reader
@allllliee
).
Johnson was designing the New York State Pavilion and the fair and picked three Castelli artists —
John Chamberlain
,
Roy Lichtenstein
, and
Robert Rauschenberg
— to be among the ten artists responsible for decorating his building's exterior. By the end of the year, with the fair still running, Castelli had shown two more artists adorning the pavilion (
James Rosenquist
and
Andy Warhol
), meaning that half of the artists on the prominent building — visited by more than 100,000 people by the time it closed in October 1965 — were represented by Castelli.
While having Rauschenberg win the Golden Lion no doubt earned Castelli an extra boost of credibility in the art world, having five of his artists (or at least, four, since Warhol's contribution was painted over, then covered with a tarp, and finally removed) shown at the government-sanctioned fair couldn't have hurt his standing with the general public, and with potential collectors.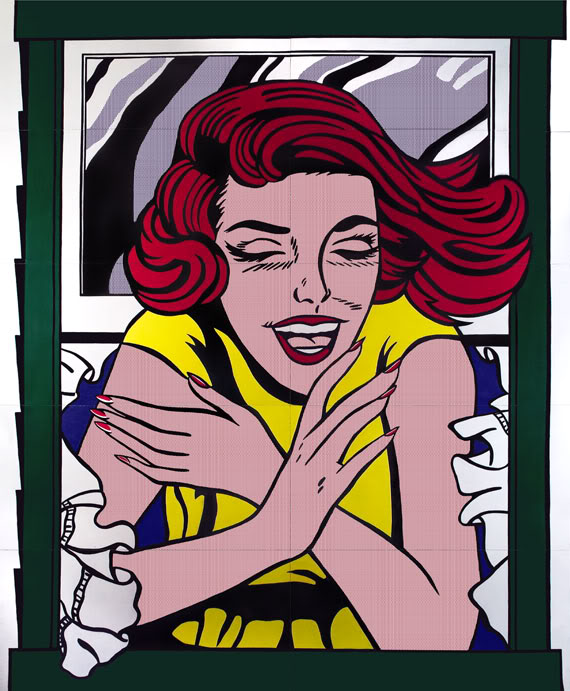 Roy Lichtenstein, Girl at Window (World's Fair Mural), 1963. Oil and Magna on plywood. Courtesy of the Weisman Art Museum, Minneapolis.
In any sense: why the World's Fair obsession? I was at the
Frank Gehry
-designed
Weisman Art Museum
a few weeks ago and had the
pleasure of seeing two wonderfully massive murals
that had been created by Rosenquist and Lichtenstein for the World's Fair. What are they doing in Minneapolis, 1,200 miles from the fairgrounds and Castelli's adopted hometown, I wondered?
Christopher James
, the museum's director of communications and events, was kind enough to investigate and shared that Castelli apparently asked
Walker Art Center
director
Martin Friedman
to commission (read: pay for) the Lichtenstein and Rosenquist murals. Friedman agreed. However, after the fair, Friedman generously offered the murals to
Carl Sheppard
, the chair of the
University of Minnesota
's art history department, if he wanted them for the university's art museum (which was not yet named the Weisman). "Sheppard was glad to accept them," James writes. He would have been crazy not to: they're incredible pieces, well worth a visit to the Land of 10,000 Lakes. (Bonus:
admission to the Weisman is free every single day
.)