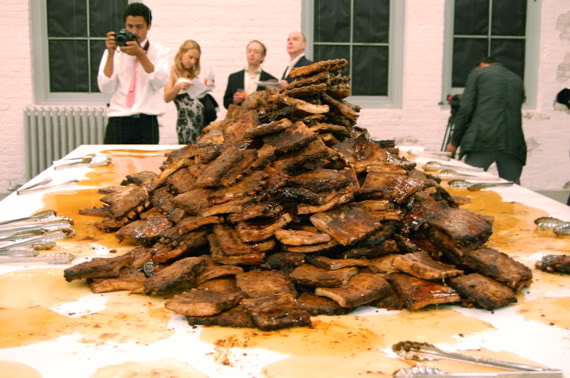 Two thousand pounds of ribs at the Performa 09 opening dinner, October 29, 2010. Photo: 16 Miles [more]
Should
New York Times
restaurant critic
Sam Sifton
be writing about art? Sifton been on the job for a little less than a year and has spent that time dropping lines that suggest he has a thorough knowledge of the sociology, history, and current playing field of the New York art world. Also, he is a former deputy culture editor and
written favorably
of the Trustees Dining Room at the
Metropolitan Museum of Art
. Can someone convince him to jump to the art section? There's less glamor there, but he'd be more likely to win a Pulitzer (only
Jonathan Gold
has
earned one for food writing
), and art blogs don't
stalk critics as they try to enjoy a delicious lunch
at
KFC
.
Enough lobbying. Here are, in my humble opinion, are Sifton's
five
21 best references to art in his reviews, in no particular order:
21.
The Dutch
"Mr. Carmellini's rabbit potpie, the size and shape of a football, holds amazing richness beneath its Christopher Wren-like dome: butter, rabbit and divinity in equal measure."
–
July 5, 2011

20.
The Dutch
"But for dinner you should endeavor to be seated in back, along Sullivan Street, where the lights hang low in shades that might be pencil tops as rendered by Claes Oldenburg."
–
July 5, 2011
19.
Nectar
"There are a few diners within walking distance of the Met, one of them quite close: the Nectar, on Madison Avenue at 82nd Street. I would not order a corned beef sandwich there, but a cheeseburger deluxe with well-done fries, some mayonnaise on the side and a Coke. To eat this meal while wearing a good suit, with a brimmed hat sitting on the seat beside you, while thinking vaguely about the Georg Friedrich Kersting paintings you saw at the Met's "Open Window" exhibition just a few minutes before? It is to experience precisely what makes New York the greatest city in the world."
–
July 1, 2011, Hey Mr. Critic
18.
Desmond's
"Only the art on the walls distracts: paintings of the limp Euro-pop variety and, across from them, a large square of pastel fabric that hangs with a kind of pregnancy on the restaurant's large western wall. If you knew there was a
Lucian Freud
hanging behind it, it might be interesting. There is not. You may be on the Upper East Side, but not at the
Met
or a private home."
–
June 21, 2011
17.
Barbecoa
(London)
"Better to come here at lunch for the ribs alone, or a steak, and for a look at the artist
Gavin Turk
's towering new work just outside the front door: a 40-foot bronze nail seemingly driven into the concrete at the foot of the building. Take a brisk walk across the Wobbly Bridge to the
Tate Modern
afterward."
–
May 24, 2011
16.
St. John Hotel
(London)
"Tom Harris ... cooks lamb sweetbreads with butter beans and wild garlic that can set off an episode of synesthesia if you are so inclined: a
Constable
landscape of flavors and textures, of menacing clouds and plump trees and soft grass for the lamb, Britain on a plate."
–
May 24, 2011
15. The National Bar and Dining Rooms
"But I also make mention of
'New York — Night,'
a painting by
Georgia O'Keeffe
that takes as its subject the hotel in which the National makes its home, the Benjamin. (It was the Beverly, then.) I did so because I thought about that painting a lot, coming and going from the National, thinking about O'Keeffe up in her hotel room a couple blocks south, where she lived with her husband,
Alfred Stieglitz
. I thought of her looking out the window into the inky black, trying to make sense of this vast city laid out before her, and I was very glad that all these years later I could have a hamburger in the lobby of the building she stared at and made into art.
"Which leads to this week's question: What's your favorite painting of New York City? Do you favor
Childe Hassam
or
George Bellows
, maybe
Pamela Talese
or
Henry Farrer
? How about
Gordon Matta-Clark
? (Not paintings, maybe, but still!) Share your thoughts in the space below. Include links. And explanations. Then we can all go get dinner."
–
May 10, 2011, Diner's Journal
14. The National Bar and Dining Rooms
"The National is on the ground floor of the Benjamin Hotel, which limber-necked art history students may look up to recognize as the subject of a painting
Georgia O'Keeffe
made in the mid-1920s, when she was living a block south, in the Shelton, with her new husband,
Alfred Stieglitz
. the painting is called "New York — Night." It depicts a dark, forbidding city of skyscrapers, the Benjamin at the center, dotted with warm yellow light of office desk lamps twinkling 30 stories up, and glowing at its bottom with a hearthlike orange that promises warmth and fellowship, and the city at its loveliest.
"Mr. Rockwell captures the quality of this light and uses it to animate the warm colors of the restaurant's floor and burnished treads on his beautiful stairs, and to soften what might otherwise be a transitory, hotel-lobby feel."
–
May 10, 2011
13. The Chef's Table at Brooklyn Fare
"The restaurant opened two years ago. For much of the time since, the reservation line was attached to the mobile phone of Heidi Issa, whose husband, Moe Issa, owns Brooklyn Fare. (He plays
Medici
to Mr. Ramirez's
Donatello
.)"
-
April 26, 2011
12. Graffit
"Entrees offer a return to whimsy, with platings that owe something to
Kandinsky
. They are brightly colored, severely abstract, occasionally Bauhaus."
-
April 19, 2011
11. Graffit
"The food at Graffit, Jesús Núñez's new modernist restaurant on West 69th Street, is carefully designed and plated, the sort of food you could spray with lacquer and put in an art show as sculpture — three-dimensional
Kandinskys
."
-
April 19, 2011, Diner's Journal
10. Graffit
"'Not your average egg,' says the menu. If Graffit were French, the better title might have been, 'Ceci n'est pas un oeuf!'"
-
April 19, 2011, in a Diner's Journal caption
9. Vandaag
"A stroopwafel is probably best, though, with a cup of coffee, the thin waffle warming in the steam. Eating it in this room is to be thrilled by the unfamiliar, and to experience what the art critic
Robert Hughes
called the shock of the new. That's what good design is for, too."
- September 21, 2010
8. La Petite Maison
"But as such, if you are, for instance, gearing up to see the German expressionism show at
MoMA
when it opens on Sunday, La Petite Maison may serve as a perfect place to allow the mistral to push away the darkness, and to eat zucchini-flower beignets with a glass of rosé."
- March 22, 2011
7. M. Wells
"Back on that night in the rain, as the smoke drifted down, M. Wells took on some of the aspects of an animated hipster version of
Hopper
's 'Nighthawks,' a Paul Thomas Anderson pilot for HBO."
- April 6, 2011
6. M. Wells
"You know those biographies where the great artist first moves to New York, has a cold-water flat in a desolate part of town?"
- April 6, 2011
5. Pulino's Bar & Pizzeria
"In McNallyworld, everyone sits in the catbird seat. We are all
Julian Schnabel
here."
-
May 4, 2010
4. Recette
"As in Chelsea galleries, though, perhaps so too in West Village kitchens: The artists who make the work are rarely the people who ought to explain it."
- March 31, 2010
3. Má Pêche
"Eating there is a little like visiting your formerly bohemian artist friend, whom you haven't seen since he signed with
Deitch
and bought a double loft in TriBeCa."
- July 12, 2010
2. Recette
"A deconstructed s'more that looks like an
Elizabeth Peyton
canvas is another, with graham-cracker ice cream, toasted marshmallow cream and a knife-cut of cayenne-hyped milk-chocolate ganache."
- March 31, 2010
1. Novitá
"And a small plate of hand-cut prosciutto with airlifted melon slices tastes like Manhattan's past made living, like a delicious early dinner at
Mezzogiorno
, in fact, with Marlboro smoke drifting out through the open windows on Spring Street and people arguing about
Mary Boone
."
- February 10, 2010