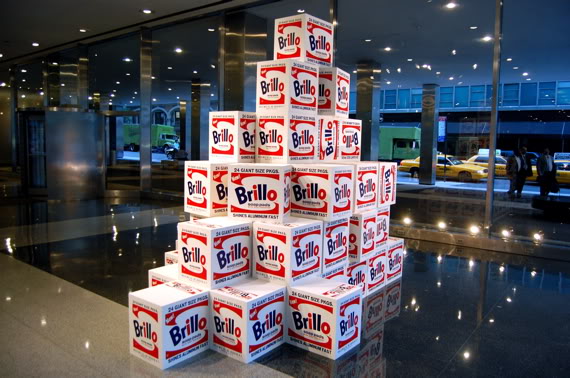 Mike Bidlo, installation views of Not Warhol (Brillo Boxes, 1964), 2005, at Lever House, New York. Photos: 16 Miles [more]
"The things I make are / variable / as simple as possible / reproducible. / They are components of a space, since they are like building elements, / they can always be rearranged into new combinations or positions, thus, they alter the space. / I leave this alteration to the consumer who thereby again and anew participates in the creation."
– Charlotte Posenenske, in Offenbach, Germany, published in Art International 12 (May 1968)
It's too bad that German sculptor Charlotte Posenenske and
Andy Warhol
never collaborated. Reading the 1968 manifesto that is published in the pamphlet accompanying
Artists Space's smart show of Posenenske's work
, it just about perfectly describes Warhol's
Brillo Box
sculptures. Explaining her own sculptures, Posenenske writes that they are "reproducible," that "they can always be rearranged into new combinations or positions," and that she has left "this alteration to the consumer."
Having only seen Warhol's sculptures displayed in regular grids, their mutability only occurred to me after a trip to the
Lever House
, where collector
Aby Rosen
has put
Mike Bidlo
's faux Warhol Brillo Boxes on display. Check out the three pieces that are turned on their sides! (There's even one that is upside down.) I also hadn't realized that some sets of the boxes were sold (or at least authorized) in complete editions of ten or more. Single boxes,
like this one
, which was once in the collection of Swiss dealer
Bruno Bischofberger
, turn up at auction occasionally.
A catalogue writer at
Christie's
nicely summarizes the mutability of the works
in an entry about a set of 10 boxes
, breathlessly explaining that this is "an art that is open to all, that we can arrange and rearrange like building bricks at our own discretion…" The Pop artist, the writer says, "insist[ed] that we have the right as much as he does to take part in an artistic process that, as we can see from the subject matter, has been democratised and made open for all."
For a thorough look at the various editions of the Brillo Boxes,
Greg Allen
is
the key source
. He also links to
The Moment
's
interview with Bidlo
, who briefly describes the various versions of the work, proving that appropriation artists tend to be the most discerning connoisseurs.
Charlie Finch
has
also weighed in
, detailing Rosen's "champagne vernissage" for the lobby show, which was attended by philosopher and
Brillo Box
expert
Arthur Danto
. Finch calls for a reevaluation of Bidlo's work, and asks, "Is Mike Bidlo ready for his auction moment?" This much is clear: if a Bidlo Brillo Box ever beats the price of a Warhol
Brillo Box
in an auction room, it is going to be a very special day.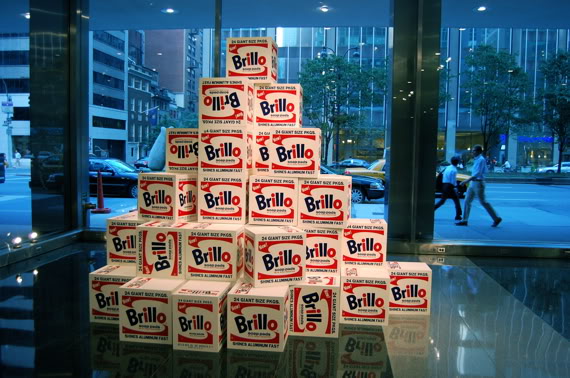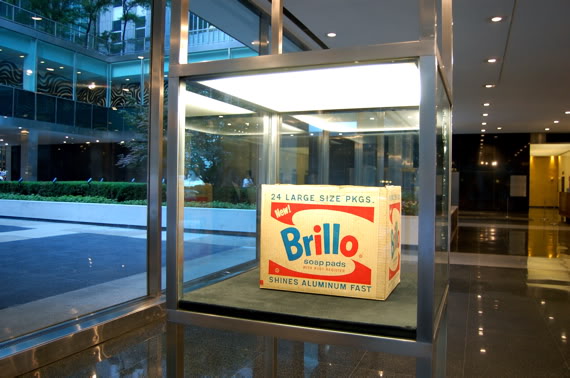 A real Brillo Box is securely enclosed in glass in the Lever House lobby.
Mike Bidlo, "Not Warhol (Brillo Boxes, 1964)"
Lever House Art Collection
New York, New York
Through September 11, 2010