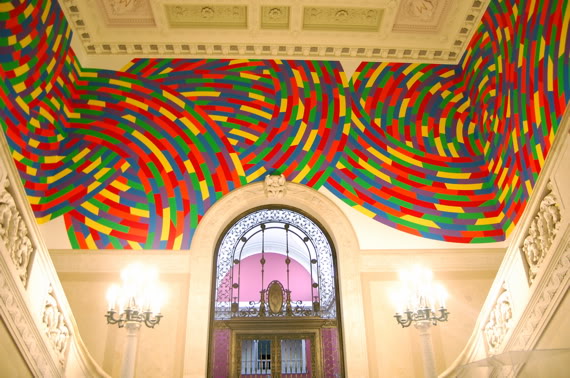 Installation view of Sol LeWitt, Wall Drawing #1131, Whirls and Twirls (Wadsworth), 2004, at the Wadsworth Atheneum. Acrylic on existing museum walls, 219 x 1380 in. Photos: 16 Miles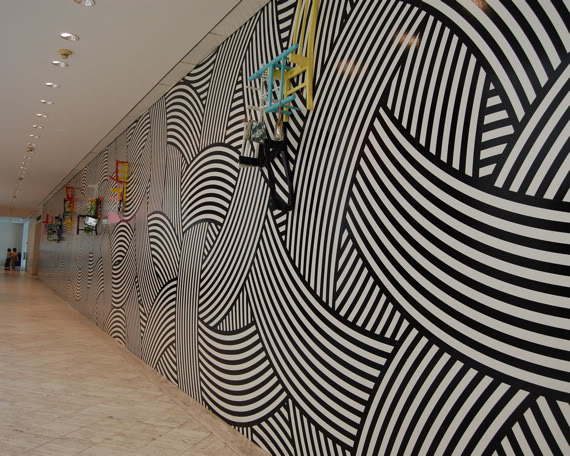 Installation view of Jim Lambie's work for "RSVPmfa" at the Museum of Fine Arts, Boston
"Certainly Sol LeWitt is far and away the greatest artist the City of Hartford and surrounding area has ever produced. In so saying, I am most certainly aware of the work of Frederic E. Church, a betterknown artist in certain circles, whose large and currently very expensive canvases are simultaneously vulgar and overworked, without a trace of poetry or genuine feeling for nature."
– John Caldwell, "Sol LeWitt and the Walls of the Wadsworth Atheneum," The New York Times, September 27, 1981
MASS MoCA
may be the
high temple of Sol LeWitt these days
, but the Wadsworth Atheneum, in Hartford, Connecticut, is also doing an able job of celebrating the artist, hometown hero. Through August 15, the museum is showing "Sol LeWitt: Hartford's Native Son," a concise overview of the artist's career. The museum also has on view three of the five LeWitt wall drawings it owns. The museum has been a longtime supporter of the late Minimalist, having rescued a wall drawing he made for Hartford's Civic Center, when
the municipal government rejected
it as
"too intellectual."
The Wadsworth happens to be a little over two hours from New York by car, making it a perfect place to stop for a lengthy break on a four-hour drive to Boston, where the
Museum of Fine Arts
just so happens to have a
Jim Lambie
installation on view
that riffs on LeWitt's design. The Lambie, which is made of vinyl tape, went up in November 2007. Less than a year later, the artist used the design for the floor of
his show
at
c/o Atle Gerhardsen
in Berlin.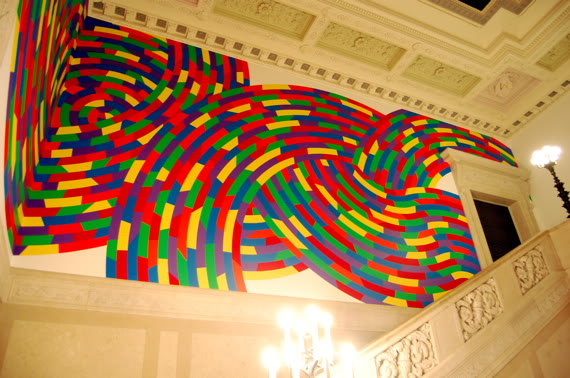 Installation view of Sol LeWitt, Wall Drawing #1131, Whirls and Twirls (Wadsworth), 2004, at the Wadsworth Atheneum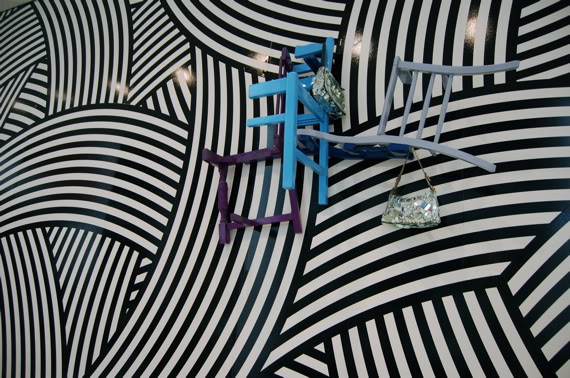 Detail view of Jim Lambie's work for "RSVPmfa" at the Museum of Fine Arts, Boston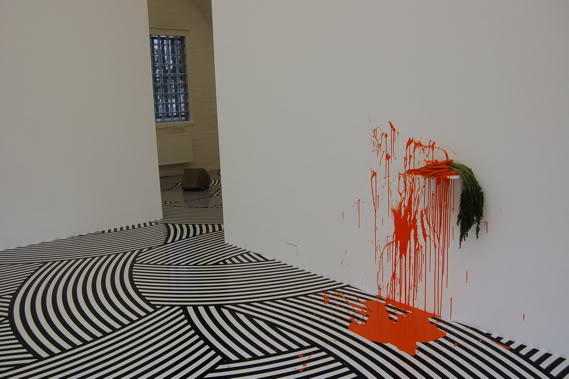 Installation view of Jim Lambie's "Rowche Rumble" show at c/o - Atle Gerhardsen in Berlin