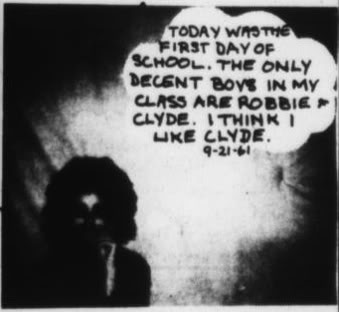 Adrian Piper, ad in the Village Voice, September 27, 1973, from "The Mythic Being: 4 Village Voice Ads" series
In the early 1970s,
Adrian Piper
created a persona she dubbed the "Mythic Being" for,
in her words
:
"a street performance I did over a four-year period, from 1972 to 1976, in drag as a young male of color. I wore Afro, shades, moustache, and smoked a Tiparillo. I visited certain culture-related locales around the city: art gallery openings, concerts, films, plays, etc., as well as took the subways and buses and walked the streets at night in different neighborhoods."
She also
recorded sections of writing from her childhood journals
and published excerpts in the
Village Voice
from 1973 to 1975. According to Piper's
extensive curriculum vitae
, the project began with four ads that ran on
September 27, 1973
;
November 29, 1973
;
January 3, 1974
; and
January 31, 1974
. (They are posted above and below.) Thank to the magic of the
Village Voice
archive on Google Books
, it is now also possible to see them in context of the other advertisements that were running at the time, without having to trudge off to a microfilm archive.
After slicing out those four ads, I had the pleasure of discovering that
Thomas Erben Gallery
has
posted the complete set
of "Mythic Being"
Village Voice
ads online (many more ran after that first set of four), including
one that was censored from the newspaper
. (In its place, she
ran an ad telling readers
that the banned work was available for viewing at a bookstore at 157 Spring in SoHo, where
Sunglass Hut
is located today.) The
April 25, 1974 ad is a personal favorite
. It reads: "I really wish I had a firmer grip on reality. Sometimes I think I have better ideas than anyone else around with the exception of
Sol LeWitt
and possibly
Bob Smithson
, whose ideas I really respect."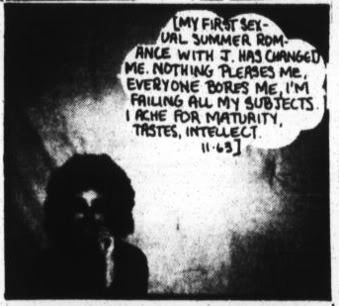 Village Voice, November 29, 1973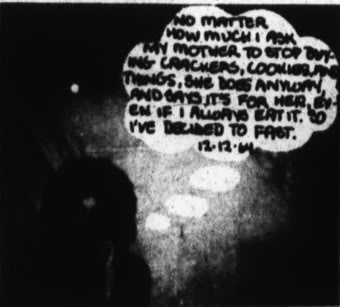 Village Voice, January 3, 1974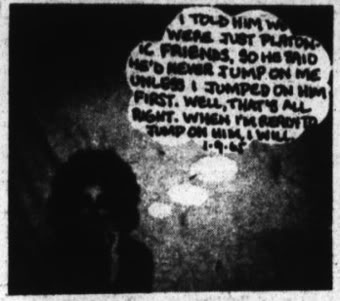 Village Voice, January 31, 1974
But wait! There is more. Digging through the
Voice
archive, it turns out that Piper actually placed her first ad years before starting her "Mythic Being" series. A tiny ad, shown below, was
published in the March 20, 1969 edition
. It reads: "ADRIAN PIPER from March on." According to Piper's CV, she had her first solo show — a "postal art exhibition" — with the
0 to 9 press
, the magazine run by
Vito Acconci
and
Bernadette Mayer
, in March 1969, making the ad an opening announcement for what would be a triumphant career: two months later, her work appeared in group shows at
Paula Cooper
and the
Dwan Gallery
.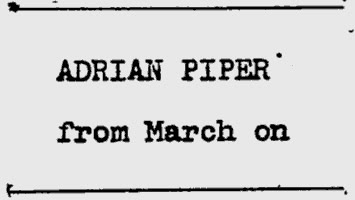 Village Voice, March 20, 1969